With the announcement of the Wi-Fi CERTIFIED™ ac certification program with wave 2 features, we expect to see the market adoption for 802.11ac wave 2 accelerates, especially with the availability of wave 2 capable mobile devices. This wave will deliver better utilization and performance to meet the needs of today's mobile-first networks.
Like other Wi-Fi predecessors – 802.11a/b/g/n, 802.11ac will eventually be augmented by the next generation Wi-Fi standard. So, what's coming next and when can we expect it?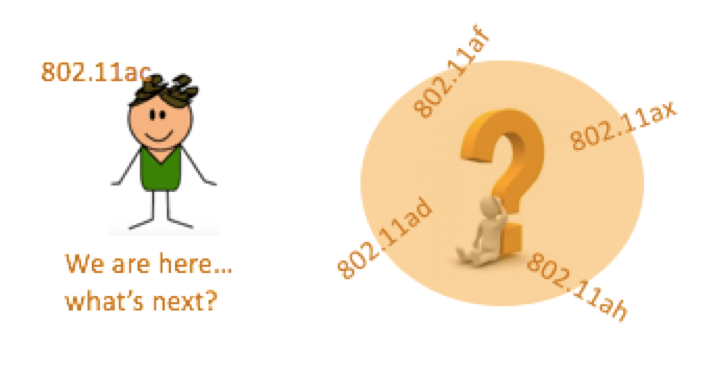 Among many other standards in IEEE's schedule pipelines, 802.11ax is the definite successor of 802.11ac. It is built on top of 802.11ac with additional features to enhance Wi-Fi performance in dense environments. To put simply, it is an extension of 802.11ac but with advanced technologies and higher data speeds that can go up to around 10Gbps – that is about 4X of the maximum data rate a wave 2 access point can support today in the 5GHz band. It will be backward compatible with the previous Wi-Fi standards. Let's take a look at the details.
What's new in 802.11ax exactly?
Different from other IEEE Wi-Fi standards that intend to improve the PHY data rate of the network, the goal of 802.11ax is to increase the MAC layer speed for multiple users. In other words, 802.11ax will use what we have, such as frequency, channel, and space, more efficiently rather than blindly increase the data rate. It provides medium controlled access to maximize Wi-Fi capacity via OFDM-A and improved MU-MIMO.
With a limited number of 40/80/160MHz channels in 5GHz, how to increase spectral efficiency for existing channels is the key to Wi-Fi performance. The new OFDM-A feature in 802.11ax supports sub-channelization with new smaller data rates, allowing a 4X more efficient data transmission. 802.11ax also extends 802.11ac's MU-MIMO capability with additional 4 spatial streams and adds the Uplink (UL) MU-MIMO capability. Given all those improvements in 802.11ax, the maximum data speed for a single 802.11ac stream in 160MHz will be increased from 866Mbps to around 3.5Gbps; or about 14Gbps for 4 spatial streams. Figure 1 shows the data rate increase for a single stream at 40/80/160MHz from 802.11ac to 802.11ax.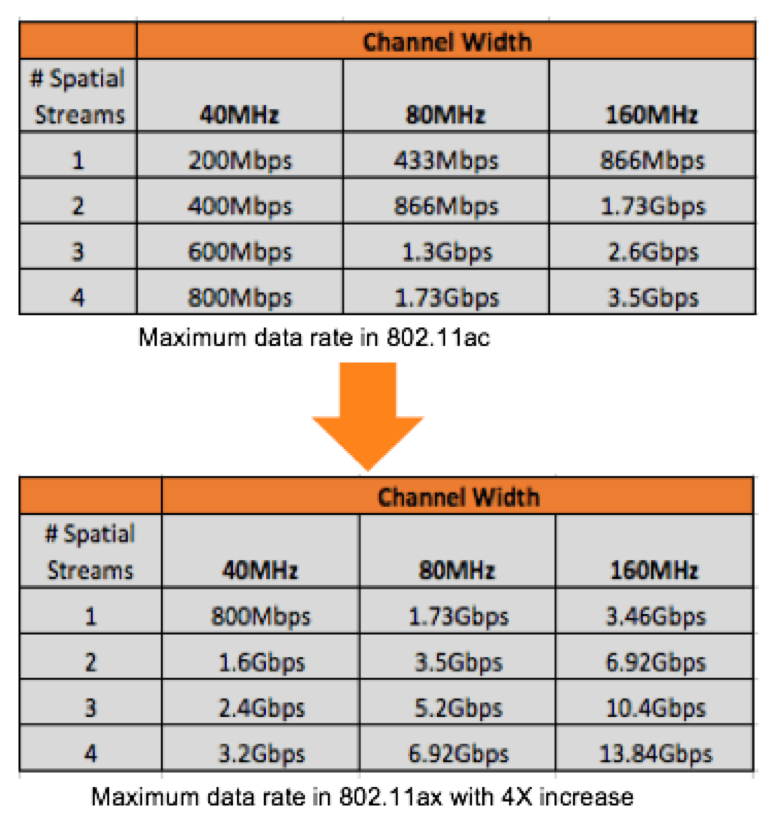 Figure 1: Single stream data rate increase from 802.11ac to 802.11ax
Now we know that 802.11ax delivers the blazing fast data speed and will jack up Wi-Fi performance with a great margin. Questions are:
How are we going to use it?
Does it have any limitations compared to its predecessors?
Where to use 802.11ax?
Density, density, density! With its super high data rate and bi-directional (Downlink and Uplink) MU-MIMO capabilities, 802.11ax will be ideal for very dense indoor and outdoor environments, including multitenant residential buildings, enterprises, larger venues, and hotspots, etc. It delivers not only the faster data transmission but a solid Wi-Fi connection even in a mixed deployment environment with severe interference in which Wi-Fi has to co-exist with other access technologies.
Enterprises can take advantage of the improved multi-user performance in 802.11ax to expand their existing Wi-Fi for better user experience without tearing down their previous networks. With the growth of BYOD, IoT, video and mobile applications, enterprise employees expect the same high performance without any delay for each of their devices anywhere and anytime. Many enterprise applications, such as Skype for Business, also depend on the fast and reliable Wi-Fi networks. The number of IoT devices is expected to exceed 38 billion by 2020.  With 802.11ax, even a single stream device can deliver over 1Gbps data rate – that will surely meet the data requirement in the dense enterprise environment in near future. Figure 2 shows a sample 802.11ax use case in dense environments.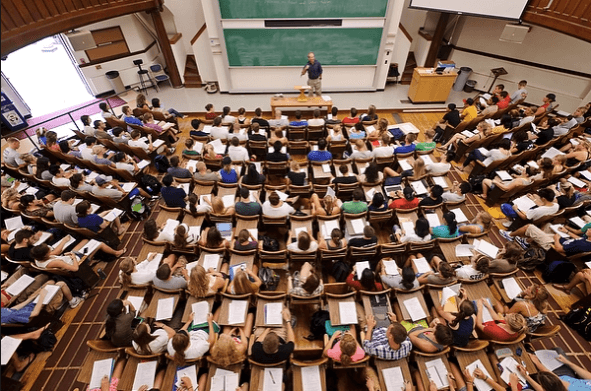 Figure 2: 802.11ax in the dense lecture hall - sample
The nature of 802.11ax also makes it an ideal data solution for managed Wi-Fi services for residential, multi-dwelling buildings and large retail stores. Its ability to stay connected during severe interference and the efficient data transmission allow mobile operators to better leverage their resources while providing reliable data connections for numerous mobile devices. Figure 3 shows a sample use case for the managed 802.11ax Wi-Fi service in a mall.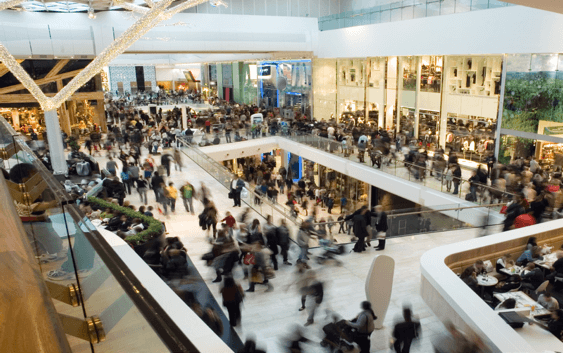 Figure 3: Managed 802.11ax Wi-Fi in a mall - sample
What's next?
ABI Research forecasts that 802.11ax will account for 57 percent of Wi-Fi chipsets by 2021 while the first 802.11ax chipsets won't be ready till 2018. Based on IEEE's standard schedule, 802.11ax certification will be finalized in 2019. We expect the 802.11ax hardware to be released before the certification programs. However, as we see in today's 802.11ac market, the device vendors often move slower than infrastructure vendors. That may slightly delay the market adoption for 802.11ax for a few months to a year. Nevertheless, sooner or later, 802.11ax is coming as the next exciting technology to bring Wi-Fi to a new level.
Should I wait for 802.11ax?
No! Before its debut, let's embrace the gigabit Wi-Fi with the maturing 802.11ac, especially wave 2 that delivers very high performance already. Wave 2's multi-gigabit speeds and the Downlink(DL) MU-MIMO gains significantly benefit customers who have urgent needs for higher overall network capacity and superb application experience. For wave 2 product and solution details, check Aruba 802.11ac portfolio.
Aruba is one of the IEEE participating organizations and has been actively involved in 802.11ax standard formalization.  For 802.11ax tech dive, please watch Aruba IEEE representative Chuck Lukaszewski's presentation at Wireless LAN Professional Conference.