The emergence of maturing virtualization solutions has opened the potential for the software-defined data center (SDDC) — a comprehensive abstraction of a complete data center.  The SDDC offers an integrated architecture that allows the merger of legacy architectures, cloud computing, and workload-centric architectures into a single manageable domain.
Network virtualization is a foundational technology that helps enable the SDDC.
In a recent IDC Network Virtualization survey, more than 30% of enterprise respondents identified their primary motivation for considering network virtualization was the need for the network to have greater agility to support virtualized applications and private cloud.   Moreover - this survey goes on to cite that many of these organizations who have already undertaken network virtualization initiatives are seeing the following benefits:
Increased agility: needed 67% less time to deploy apps
More efficiency: networking staff were 37% more efficient
Application availability: reduced the impact of unplanned network-related downtime by 84%
Cost savings: consolidated network port/switch base and cable base by 52% and 58%, respectively
Network Virtualization can help deliver a completely new operational model for networking that breaks through current physical network barriers allowing data center operators to achieve order of magnitude better speed, economics and choice.
HPE Aruba and our partners are on the forefront of this trend, leveraging our extensive investment in joint research and development to deliver on our vision of the SDDC.  From enterprise to service providers, customers have unique requirements that drives their infrastructure choices. In turn, customers require a tailored network virtualization solution that fits their specific business outcomes. In order to meet our customers need, HPE has brought to market a portfolio of network virtualization solutions.
HPE Virtual Cloud Networking (VCN)
HPE Virtual Cloud Networking (VCN) is an enhanced Neutron networking stack that is deployed together with our HPE Helion OpenStack® distribution. VCN offers unique enhancements such as multi-hypervisor support, distributed virtual routing, high availability, VXLAN gateway, VPNaaS and security group enhancements, and improved scalability, much of which has been contributed back to the open source community.
HPE is now a top contributor to OpenStack Neutron, with ongoing work planned to support additional hypervisors, bare metal functions, service chaining, and SDN application integration to support network and security operations.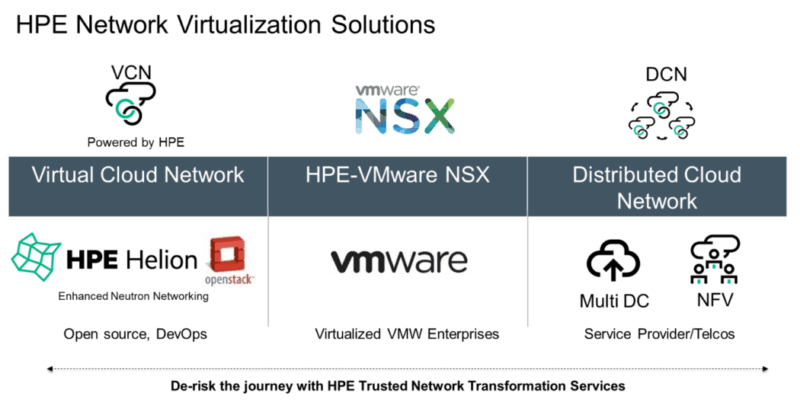 HPE-VMware Networking Solution
In the same way that HP and VMware led the industry in fostering mainstream adoption of x86 server virtualization, HP and VMware are now focused on unlocking the untapped potential and innovation in today's data center by accelerate the adoption of network virtualization.
Our HPE FlexFabric 5930 Switch Series is currently undergoing (OVSBD) NSXv certification from VMware.
This certification is a follow-on to the HPE VMware (NSX) OEM agreement announced last year which allows HPE to design, sell and support the full gambit of VMware data center virtualization solutions (ESX, NSX) helping customers deploy applications faster, simplify and automate their data center network fabric and improve security. - HPE-VMware NSX OEM intro video at VMware 2015   
HPE Distributed Cloud Networking (DCN)
With HPE Distributed Cloud Networking, large enterprises and service providers can unify private, public and hybrid Data Centers through software-defined networking (SDN).  DCN helps Telco's increase network resiliency and high availability while accelerate their journey to Network Function Virtualization (NFV) by optimizing network resources and providing increased security via micro-segmentation.  The Advantage of HPE Distribution Cloud Networking in HPE Helion
To get started on your journey, our HPE IT consulting services can guide your way with a Transformation Workshop - which an end to end approach that's based on HPE's own network transformation and lessons with global customers in myriad industries and environments.
Get started by scheduling an HP Network Transformation Experience Workshop – today.
And if you're coming to HPE Discover Las Vegas 2016 – make sure to check out our Data Center Networking session and demos within the HPE Transform to a Hybrid Infrastructure area.
HPE Data Center Networking Breakout Sessions
9663 HPE Cloud-first Data Center Networks
9664 Deploying HPE DCN and an introduction to container networking
8209 Virtualize your data center network with HPE and VMware NSX
HPE Data Center Networking Demos
8701 Enabling cloud-based business agility with network virtualization
8705 HPE Cloud First Data Center Network Architectures