'Twas the night before network unboxing day, and all through the network, not a VLAN was stirring, not even VLAN0. That may be one of my weirdest introductions ever, but to be honest we're talking about people's use, misuse or misunderstanding of SDN here, so I feel it may be apt.
I don't know how familiar you are with SDN. You might be thinking, "Yea, that's the thing the DevOps guys say we need." Or, "SDN, that's something I can buy right? Like, may I please have one SDN. Thank you." Or even, "Isn't that just a CLI on steroids?" And you're not wrong in any of those circumstances. You're not entirely correct, but you're on the right track when you start even thinking about SDN!
So, what does the ghost of SDN Past have to say about this? Luckily there are plenty of ghosts to choose from and they've certainly had a lot to say on the matter! Kapildev Erampu, in his August 2018 post, "Using ArubaOS 8 APIs to set up a WiFi Network," gets you started on interacting with Aruba's SDN and the Swagger interface. One other ghost going back even a little further is Christopher Kusek's (shameless plug, sorry – not sorry) August 2017 post, "Moving beyond the CLI with Aruba 8400 (Enabling SDN for NetOps)."
The Ghost of SDN Present
At this point you might be thinking, "Wow,we must be getting ahead of ourselves. What is SDN, and what is Swagger?" Fast forward to the present and allow me to paint a picture for all the network and system admins out there.
Imagine a world where you can use a REST API to write JSON code to query, report on, manipulate and configure your switches. Also imagine in this world, if everything I said actually made sense and was something you could put into action.
Welcome to the Ghost of SDN Present! We know our CLI, and we know it cold. That's because every GUI we've ever touched hardly comes close to the capability of the CLI. Imagine now, in the world of the ArubaOS-CX operating system that we have 100% REST API coverage, so anything we can do via the CLI, we can do via a web-based GUI interface, programmatically and easily.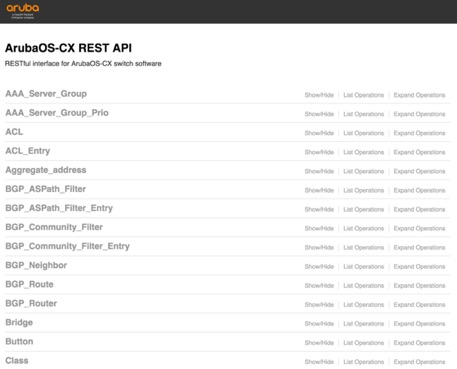 Image source: https://gestaltit.com/wp-content/uploads/2017/08/cxinfdx1.png
Your first thought is probably, "Easy? Hah, I don't think so!" And you'd be right to be apprehensive. But thanks to wise investments made by the Aruba team, it's a true! You can even get started with executing a traceroute!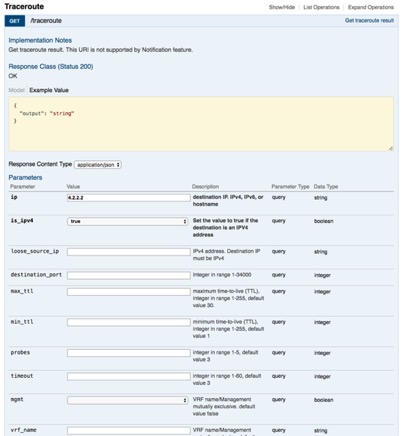 Image source: https://gestaltit.com/wp-content/uploads/2017/08/cxinfdx2.png
The SDN Ghost of the Future
Okay, okay. If we're sticking with this weird SDN Ghost metaphor, and you showed us what we can do in the past (got it), and you've shown us some examples of how we can do this in the present (sure, I'm along for the ride…). How on earth do you expect us to believe there's a ghost of SDN Future?!
The Ghost of SDN Future frankly is you. The first step in that journey is checking out this amazing "Getting Started with Swagger, Python and ArubaOS-CX" video.
In fact, I want you to stop reading at this point, go watch this video and then come back and tell me what you learned. It will be like your future self, telling your present self about all of the SDN lies we've been told for years.
I would love to hear your thoughts. How many of you have already been taking advantage of the Swagger interface, or doing SDN activities with your infrastructure? What do you find easy, difficult, fun, adventurous? Share your stories, share your woes. Together we can be stronger and keep the network ghosts at bay.
"No space of regret can make amends for one life's opportunity misused."

― Charles Dickens, A Christmas Carol