If you're like most datacenter network engineers – I'm guessing that you very often feel like Tom Cruise in the 1986 Movie Classic - Top Gun
© 1986 Paramount Pictures

Maverick: I feel the need...

 

Maverick, Goose: ...the need for speed!
Image Source: http://www.sliptalk.com/top-gun-facts/
 Ok - that might be a stretch … but my point is that with the rise in the volume of mobile data and video and the frequency in which it's accessed, current approaches to handling the increasing data center traffic requires more and more bandwidth … but this additional bandwidth can be cost prohibitive, restricting organizations as their needs grow.
25GbE to the rescue …
25GbE is a new standard the leverages technology defined for 100 Gigabit Ethernet implemented as four 25Gbps lanes (IEEE 802.3bj) running on four fiber or copper pairs.
25GbE uses a single-lane connection similar to existing 10GbE technology – but it delivers 2.5 times faster performance. Compared to 40GbE solutions, the 25GbE technology provides superior switch port density by requiring just 1 lane (vs. 4 with 40GbE) along with lower costs and power consumption.
Understanding the technology

The proposed 25GbE (and 50 GbE) solutions will be backward and forward compatible with 10, 40/100, and 400 GbE products since they use the same IEEE 802.3 frame format.
Anticipated market adoption
The data center is on the verge of experiencing a major speed upgrade cycle, driven by server migration to 25GbE. This migration will be first driven by large mega-scale data centers, with the rest of the market following suit quite rapidly, as the price premium of 25GbE over 10GbE collapses on the switch side.
 We predict that 25/50/100GbE will comprise over a third of server access ports, within just three years of shipments - Sameh Boujelbene, Dell'Oro Group
 Show me the money! … Actually, the savings
25GbE – cost effective bandwidth scaling for next-generation server and storage web-scale cloud data center environments.
25 GbE – Datacenter economics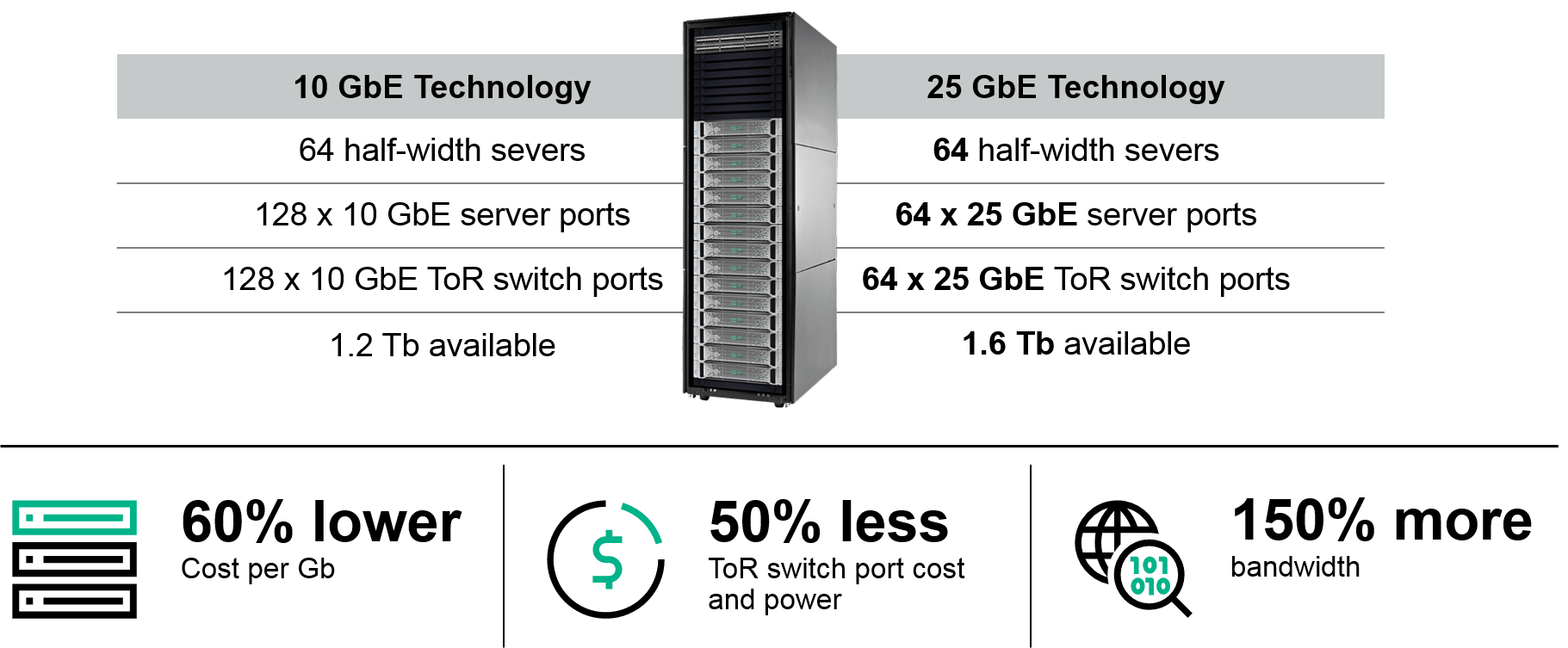 In the coming weeks, HPE will be announcing a host of new 25/100 GbE solutions in addition to the recently announced to the HPE Altoline portfolio that supports 25/100 Gbps
So stay tuned for more information on these exciting new HPE solutions – and if you happen to be joining us at Discover come check them out "live" in the HPE Transformation area https://www.hpe.com/events/discover/
HPE Cloud First Data Center Network – Booth# 8705
HPE 25GbE Server Networking and HPE Server Storage Demo #354
Tags: