Having choices is important.  Menus at restaurants give us choices.  My closet provides me many shoe choices. Boots, tennis shoes, heels and sandals.   What I choose depends on my day's activities.  Having solid choices is essential for network management platforms too because every business is different, from size to location to IT resources.   Read on to learn about the Aruba Central cloud-based network management choice supported on the newest member of our mobile first solution, the Aruba 2930F Switch Series.
What Cloud-based Network Management Can Do for You
As workplaces become more digital, and the adoption of mobile and cloud applications grow, the network and IT staff supporting them need to meet the rising demands for secure, high-speed network access. Aruba Central is a powerful cloud-based network management solution that offers built-in analytics for actionable network and business insights. With Central, managing Aruba Instant access points, switches, and branch controllers from the cloud ensures 24 by 7 access, visibility and control. Some of the benefits are:
Fast Network Set Up - Simplify network set-up and offload IT resources simply by shipping Aruba Instant APs, switches and branch controllers to remote sites, then unpack and power up. No technical experience needed. Once connected to the Internet, the configuration and firmware is automatically downloaded from Central. Your network can be up and running in minutes.
Maintenance and Firmware Management - Streamline and automate your network management while maintaining complete control. Perform one-click firmware updates or schedule specific updates. With Aruba Central, you can monitor, troubleshoot, provision and configure your network – all in the cloud. Central simplifies the deployment and management of Aruba Instant wireless LANs, Aruba 2920 and 2930F switches and branch gateways, while providing rich analytics for smarter business decisions.
Network Health Monitoring and Troubleshooting - Get an at-a-glance summary of your entire network health via an intuitive dashboard. Drill down for more detailed information with just a few simple clicks. The task-oriented design provides complete visibility into the operation of access points, switches, and clients – along with any alerts, location mapping and connections. You can isolate problems and troubleshoot quickly with simple workflows, granular detail and search capabilities.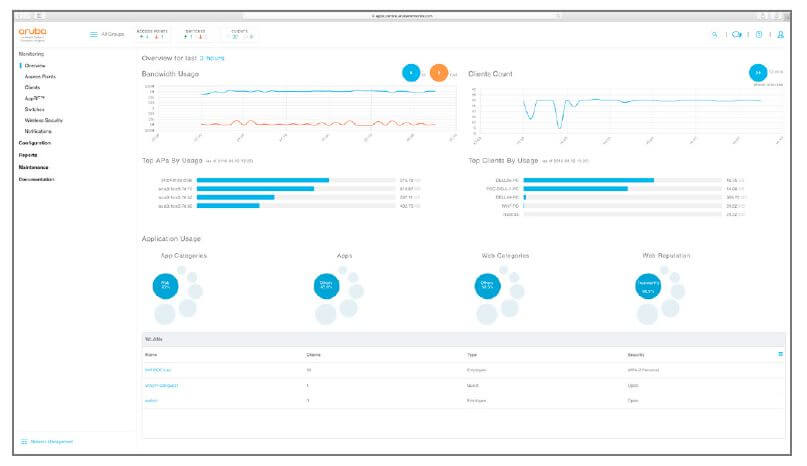 With the new Central mobile app for iOS, your network is always at your fingertips. You can monitor your entire network, receive notifications and provision an AP, switch or branch controller with easy barcode scanning. Network management has never been easier!
Is Zero Touch Provisioning Real?
Yes!  You can simplify and speed deployment of Aruba 2930F and 2920 Switches and Aruba Instant APs with 4 quick steps shown here: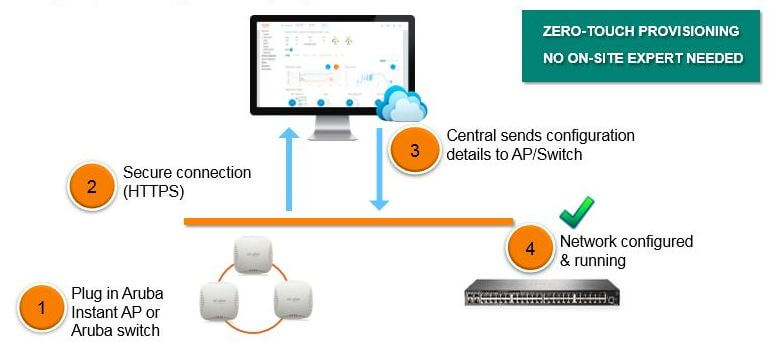 More Choices: Manage multi-vendor wireless and wired networks
Cloud-based Central is not your only choice for switch management.  With Aruba AirWave, you can centrally manage controller-based and controller-less wireless networks and generations of wired networks from just about any vendor. With granular visibility on mobile device and app health, AirWave lets IT operations focus on proactively optimizing performance and heading off problems before they occur.
The Cloud-manageable 2930F
The Aruba 2930F Switch Series is a basic Layer 3 switch series with enterprise-class features that is simple to deploy and manage with Aruba AirWave and cloud-based Aruba Central.  It includes support for static and RIP routing, Access OSPF, Tunnel Node, Activate support, IPv6, ACLs, and PoE+/non-PoE models with built-in 1GbE or 10GbE uplinks.

For details:
Speaking of choices, I know you have a choice who you partner with.  I hope you will choose us!  For more information, check out the Aruba 2930F Switches, Aruba Central and the Aruba Digital Workplace solution.
Sue Gillespie is a senior product marketing manager for campus switching at Aruba, a Hewlett Packard Enterprise company. When Sue is not perfecting her chocolate chip cookie recipe or volunteering at swim meets, she continues to enlighten the world on the advantages of Aruba's switches.