With the high bandwidth applications and soaring number of devices that #GenMobile is bringing into the Digital Workplace, it's time to rev up your network with Aruba 802.11ac Wave 2 APs!
Still on the fence about whether to deploy 802.11ac Wave 1 or wait for Wave 2? Don't wait any longer — Wave 2 is here. Now you can choose from both technologies to rightsize your wireless network, with our full 802.11ac portfolio for the range of deployment requirements you have. Now with Wave 2 (and its MU-MIMO capability), you're covered even in the highest density areas.
On May 27, we announced our 802.11ac Wave 2 capable 320 series access points that expand our #11ac portfolio to provide higher data rates and superb wireless performance, especially for your high device-density environments. The new  is enhanced with MU-MIMO that brings a switch-like experience to the wireless world. IT organizations of all sizes can embrace the all-wireless experience. By leveraging the new Wave 2 technology with your existing resources, you can create a high performance and efficient wireless network to meet exploding data needs, without heavy upgrades of your existing network infrastructure.
The Aruba  supports data rates up to 1,733 Mbps on the 5 GHz radio (with 4SS and 80 MHz channels) while simultaneously supporting up to 800 Mbps on the 2.4 GHz radio. (However, the recommended 2.4 GHz configuration is for 20 MHz channels delivering 217 Mbps).
What's new:
Multi-user MIMO (MU-MIMO)
MU-MIMO is supported in 802.11ac Wave 2 to enable simultaneous data transmission to Wave 2 capable clients, greatly improving overall use of network capacity. In extremely high device-density environments, multiple streams will reach multiple clients at the same time, reducing the data transmission time and opening up more bandwidth for more device connections. It is critical for live video streaming that demands higher bandwidth and lower latency, ensuring a better experience for end users.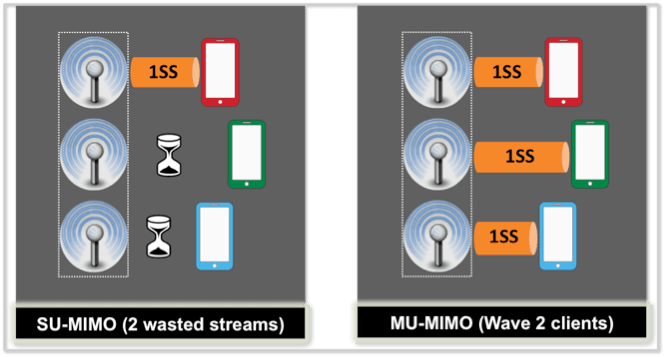 4 spatial streams
The  adds a 4th spatial stream that can boost the single client performance by 33%. However, we don't realistically expect to see this boost until 4-stream client devices enter the market, which likely won't be until 2016. The majority of clients will likely have a max of 1-, 2- or 3 streams. With the support of 4x4:3 streams for MU-MIMO, the  will maximize the data throughput of those 1- or 2-stream clients in concert with MU-MIMO, delivering a switch-like experience to the wireless network.
Enhanced ClientMatch®
To realize the true potential of MU-MIMO, Aruba has added enhanced ClientMatch® technology, which automatically identifies MU-MIMO capable mobile devices and steers those devices to the best Wave 2 capable Aruba access point. This results in performance improvements not only for the Wave 2 APs and clients, but for the entire Wi-Fi network. The enhanced ClientMatch® software continues to be a standard, integrated part of Aruba controller-based and controllerless WLAN solutions, and is compatible with our full portfolio of 802.11ac and 802.11n APs.
Without enhanced ClientMatch® (3 clients)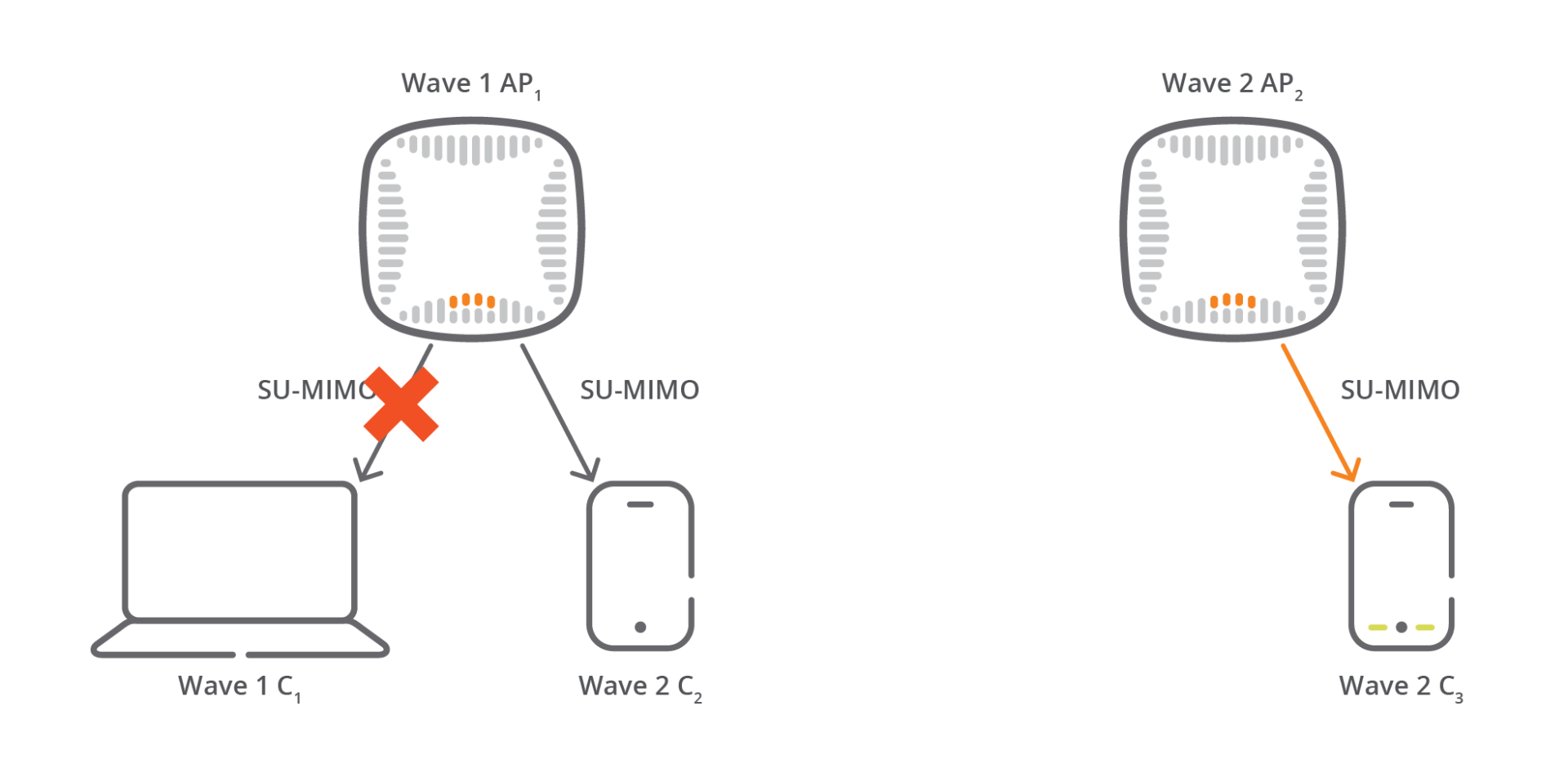 With enhanced ClientMatch® (3 clients)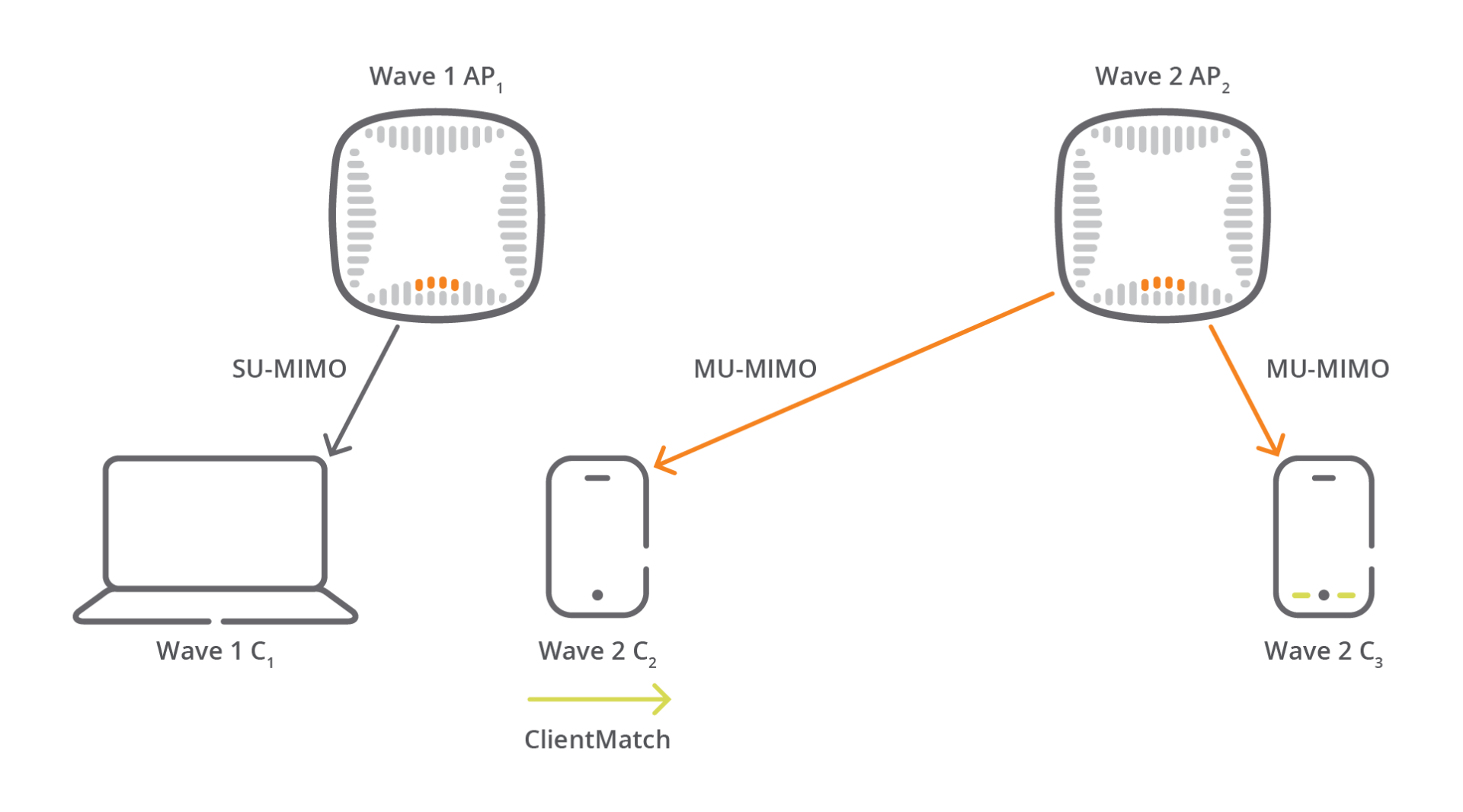 For more information, check out our new ClientMatch® Tech Brief 
Integrated Aruba Beacon (BLE)
Starting with the 320 series, a Bluetooth Aruba Beacon will be integrated into our new AP platforms to simplify the management of a network of battery-powered Aruba beacons, and to infuse location context. The integrated Aruba beacon will also provide advanced location and indoor wayfinding as well as location–based push notifications. Businesses can now leverage mobility context to develop applications that will deliver an enhanced user experience and increase the value of the wireless network.
Learn more about Aruba Mobile Engagement
Minimum Software versions
ArubaOS™ 6.4.4.0
Aruba InstantOS™ 4.3.0.0
For the  product details, please see: