Have you added new 802.11ac access points, cameras or other IoT devices to your network lately? Is your daily business dependent on a reliable, fast and secure network?  Many of our customers ask for more PoE+ power for more networked devices, more redundancy to ensure continued uptime, and more capacity to support faster devices.  If that sounds like you or you're interested in growing your network that is simple, agile and cost less to operate, read on about how our new Aruba 2930M Switch Series can help solve these problems.

Designed for customers who want to create digital workplaces optimized for mobile users with integrated wired and wireless access, the 2930M provides:
Simple deployment, provisioning and management with advanced security and network management tools like Aruba ClearPass Policy Manager and Aruba AirWave and cloud-based Aruba Central with Zero Touch Provisioning.
Enhanced security with Tunnel Node so you can use the mobility controller as a unified policy enforcement point for traffic from both wired and wireless clients. I wrote a blog about it how it simplifies policy management and ensures consistent access and permissions.
Plenty of PoE+ that keeps running with dual redundant, hot-swappable power supplies with up to 1440W to power IoT devices, 802.11ac APs and cameras.
Pay-as-you-grow modular wire-speed 10GbE and 40GbE uplinks for scalable capacity back to a larger aggregation switch.
Multi-gigabit Ethernet support with HPE Smart Rate module so you can deliver higher speeds to the latest Aruba 802.11ac 330 Series APs.
Enormous stacking capability with up to 10 chassis so you can quickly grow your network when new devices show up.
No hidden costs with license-free fully featured software and an industry leading limited lifetime warranty.

More about the 2930M
The Aruba 2930M Switch Series are Layer 3 switches that support Tunnel Node, robust QoS, and static, RIP, Access OSPF routing, PIM, VRRP and IPv6 with no software licensing required. You can manage your network either on-premise with Aruba AirWave or in the cloud with Aruba Central. With Central, you can quickly set up remote branch sites with little or no IT support. The 2930M is built on a powerful Aruba ProVision ASIC that delivers performance and value with the support of the latest SDN apps with programmability for tomorrow's applications. So the 2930M is ideal for customers wanting to create digital workplaces optimized for mobile users with wired-wireless integration and who want the flexibility to grow their network.
So what does the M stand for?
The M in 2930M stands for Modular. Modular uplinks.  Modular stacking.  Modular power.  Together, the 2930M and the Aruba 2930F Switch Series provide you great choices so you can optimize for your specific environment. Here is an overview of the Aruba campus switch portfolio: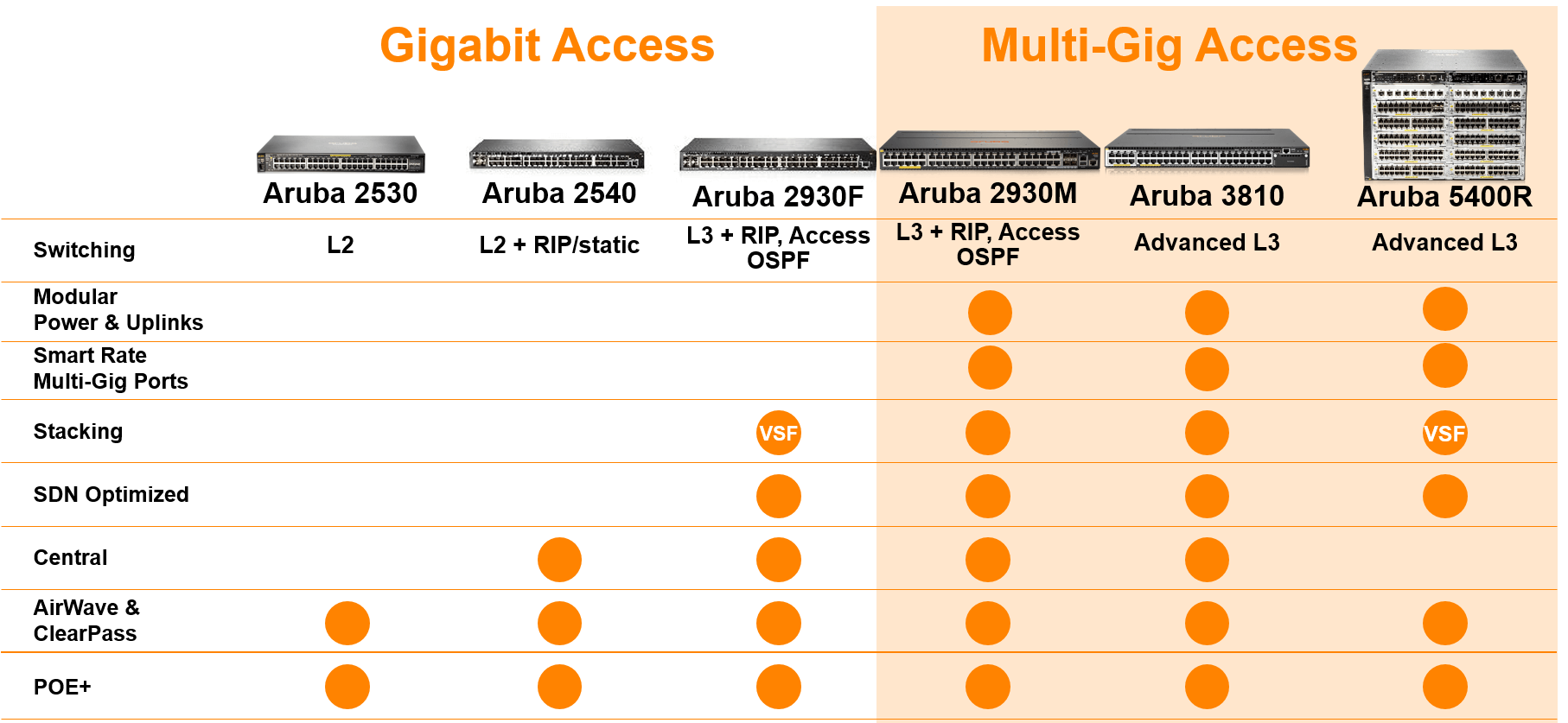 For details:
Learn more about the Aruba 2930M Switches and the Aruba Digital Workplace solution.
Sue Gillespie is a senior product marketing manager for campus switching at Aruba, a Hewlett Packard Enterprise company. When Sue is not perfecting her chocolate chip cookie recipe or volunteering at swim meets, she continues to enlighten the world on the advantages of Aruba's switches.