I love network sensors. I have several sensors deployed on my home and work network that give me all sorts of information. I especially love network sensors that come in a simple, small package, and give tremendous insight into the current well-being of the network. There are several open-source projects as well as commercial-grade network sensors out there that pack a serious punch and give you all the data you need to ensure your network is operating at peak performance.
I have several favorite go-to sensors, one of which is the Aruba UXI sensor. UXI stands for User Experience Insight.
From Humble Beginnings
I had the privilege of learning about how the UXI began its journey in the basement of a house a few years ago while a delegate at Mobility Field Day 2. If you want to learn about the UXI's humble beginnings, check out this video from MFD2.
The UXI has come a long way in a few years. Not long after its start in a basement, Aruba purchased the sleek AP look-a-like from Cape Networks.
There are now two iterations of the Aruba UXI: the F-Series and G-Series.
The F-Series is the same AP look-a-like sensor that can be mounted on a ceiling or wall, while the new G-Series has a tall cylindrical look and may be considered "more aesthetically pleasing."
Both sensors offer dual-band Wi-Fi radios as well as Gigabit Ethernet. Both versions of the sensor also offer out-of-band 3G/LTE capabilities with "fully managed SIM and service." One thing that differs between the models is the G-Series support for BLE and the ability to be managed with the UXI app. The app can be leveraged to configure G-Series sensors via the Bluetooth radio. Both model lines can be powered via PoE as they are both 802.3af-compliant.
One thing I really like about the UXI experience is the dashboard. The dashboard is sleek, simple, and elegant. It displays whether your network is operating as it should with a simple, green, happy face. When issues occur, the face will change with the color.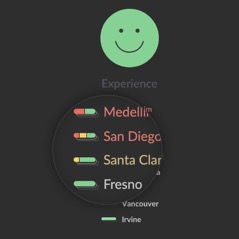 Testing and Monitoring User Experience
Configuring tests is very easy. Recently, I had a latency issue with an upstream DNS server. When the threshold was broken, I received an email notifying me that there was an issue. I logged into the dashboard, saw the issue, and was able to quickly remedy the problem. I also used that time to adjust the threshold tighter for my primary internal DNS server.
Tests can be configured using predefined templates or you can create your own. Both wired and wireless networks can be monitored as well. There is a limitation, however, allowing monitoring for only three wireless networks and a single wired network.
Configuring network monitoring is just as easy as configuring tests. One of my favorite insights is how the sensor can give detailed information about association, authentication, DNS and DHCP. Having data that is simulating the exact user experience can prove the network is working fine or can help you quickly alleviate issues that may be occurring.
Deploying UXI
Aruba has some guidelines as to how to deploy the UXI sensor in various scenarios. These guidelines should be used as guidance, as every network is different and has varying requirements. Aruba recommends one sensor for every five access points in a "typical carpeted office" or one sensor for every 10 access points in a "large public venue." Again, design and requirements should be evaluated before deployment. It should be noted that the Aruba UXI supports any network vendor, not just Aruba.
Everyone's favorite subject right now is licensing. Licensing of the UXI sensor is pretty simple and straightforward. Subscriptions range from one, three and five years for each sensor. This subscription also gives you access to the dashboard. A separate LTE subscription with the same timelines is required for the cellular option.
The recent integration of the UXI sensor into Aruba Central has unleashed the sensor's potential. Combining all the features of the sensor with Aruba's powerful Central dashboard can really speed up the triage of your network, as well as gather very detailed analytics.
Go Deeper 
This is a very high-level overview of the UXI sensor. I recommend doing your own research on how Aruba Central coupled with the UXI sensor can help you or your organization. Below is some additional reading that may be useful!
Aruba User Experience Insight (UXI) Data Sheet
Cutting Through the AI Mist: AI is Only a Tool. The Payoff is Automation, Network Assurance and Great User Experiences
Cutting Through the AI Mist: Toward AI-Operated Self-Optimizing Networks
Cutting Through the AI Mist: How AIOps Leverages Network Environment Factors to Deliver Reliable Automation
Don't Miss ATM Digital!
Watch sessions about AIOps, Unified Infrastructure and Zero Trust Security from ATM Digital.