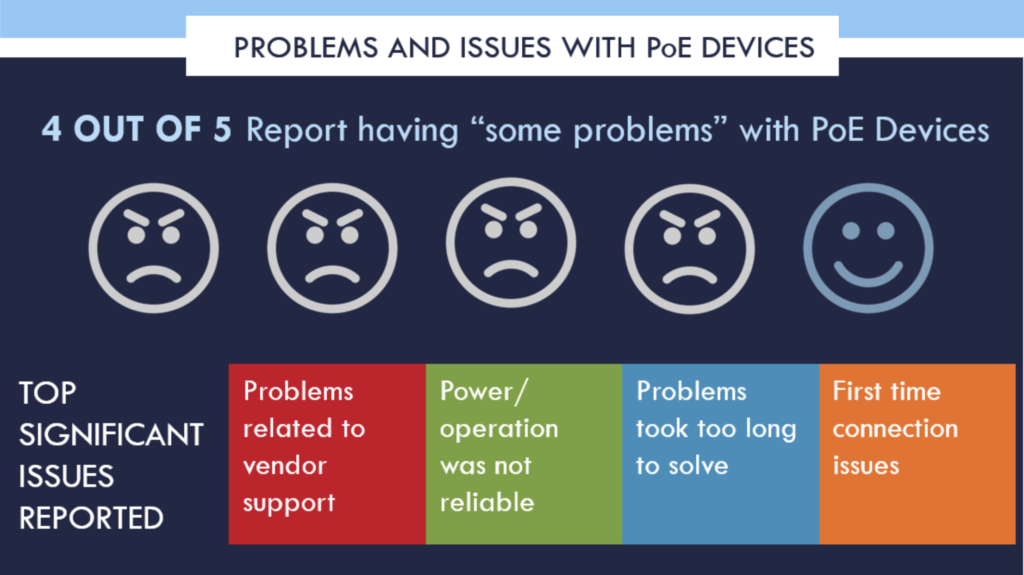 Over the past 7 years, I've had the pleasure of chairing the PoE Subcommittee within Ethernet Alliance and guiding a talented group of PoE technology company representatives in launching the Ethernet Alliance (EA) Gen 1 Power over Ethernet (PoE) Certification program in September 2017.  The EA Certified program is the Ethernet manufacturers' response to improving multivendor interoperability of Power Source Equipment (PSE) and Powered Devices (PD) based on IEEE 802.3 PoE standards.
Today, I'm excited about the recent announcement for the launch of the Gen 2 PoE Certification program because it expands test coverage and EA Certified logos to include all PoE standards: IEEE 802.3af™, IEEE 802.3at™, and IEEE 802.3bt™. I anticipate a significant increase in the Gen 2 adoption rate as new IEEE 802.3bt™ products are released to market and new applications look to take advantage of up to 90W power demands. According to a recent PoE Survey completed by the EA in January 2020, 96% indicated that they plan to deploy IEEE-standard PoE devices, while 59% expect the same or more problems with IEEE 802.3bt. The EA Certified program, now more than ever, will play a vital role in reducing PoE deployment issues, simplifying product integration, and increasing reliable operation.
One of the reasons I volunteered to chair the PoE Subcommittee was the opportunity to tackle real world PoE issues arising from increasing multivendor deployments, confusion in the market using different PoE brand names, and non-standard implementations leading to a negative PoE customer experience. The EA PoE subcommittee members include PoE leaders ranging from system providers to component manufactures and test sites who share a very similar mindset and have jointly developed a rigorous Gen 2 test plan covering every PoE type and classes 1-8. This includes the new IEEE 802.3bt™ PoE standard-based products which add 2 new types and 5 new classes, along with extended 29 octet Type Length Value (TLV) for data link layer classification. The EA announced the Gen 2 program launch in a press release on June 9, 2020 with new product testing starting in July 2020.
In the same PoE survey cited above, 95% indicated EA Certification would positively influence their purchasing decision, 85% also indicated they would pay a premium for an EA Certified product. The reason behind this points to the need for a solution to a growing pain felt by network owners, system integrators and end users of PoE products – who are demanding PoE products to simply work right out of the box.
Upon certification approval, EA Certified products are permitted to display the Gen 1 and Gen 2 trademarked certification logos on PoE products, packaging, and in online or printed documentation. EA Certified logos serve as visual aid for purchasers, customers, and installers to quickly identify certified PoE products, differentiate between a PD (e.g. wireless access point) or PSE (e.g. Ethernet switch), and the power class supported. To ensure the highest level of interoperability, I recommend that you look for PoE products supporting a PD class number equal to or less than the PSE class number. The Aruba PoE products acquiring EA Certified PD and PSE approval are listed on the certified product registry and have been verified for IEEE 802.3 PoE compatibility by passing the Ethernet Alliance (Gen 1 or Gen 2) PoE Certification program test plan, minimizing interoperability issues between PoE products. The certified product registry was made available to the public for anyone to easily search for EA Certified PoE products passing the Gen 1 or Gen 2 test plan prior to deploying a network or to simply verify which products owned are most interoperable with standardized PoE applications.
Look for the EA Certified Label
EA PoE Certified Class 6 PSE Logo (Gen 2)
In addition to the EA Gen 2 PoE Certification launch, the new PoE brand names shown below have been selected to clearly associate IEEE 802.3 PoE standards-based products from other non-standard solutions. The new PoE brand labels, together with the certification logos, identify the generation of IEEE 802.3 PoE solutions and whether the solution has undergone Ethernet Alliance PoE Certification testing.

With so many network products in the market claiming various levels of PoE support, it can be difficult to assess which products may work for your deployment. The certification program and its benefits make identification of PoE products simple to understand, easy to deploy, and reduce cost. The EA PoE Certification program benefits can be summarized into 5 categories:
Reducing installation time
Improving customer support at lower cost
Improving end-customer perception of PoE and adoption
Reducing overall evaluation costs
Alleviating additional development costs
I certainly recommend looking for EA PoE Certified logos when purchasing new PoE products to ensure compatibility across multi-vendor or same vendor deployments and highly reliable operation.
For more information about the PoE certification program and getting started, visit EA PoE Certification.
Tags: