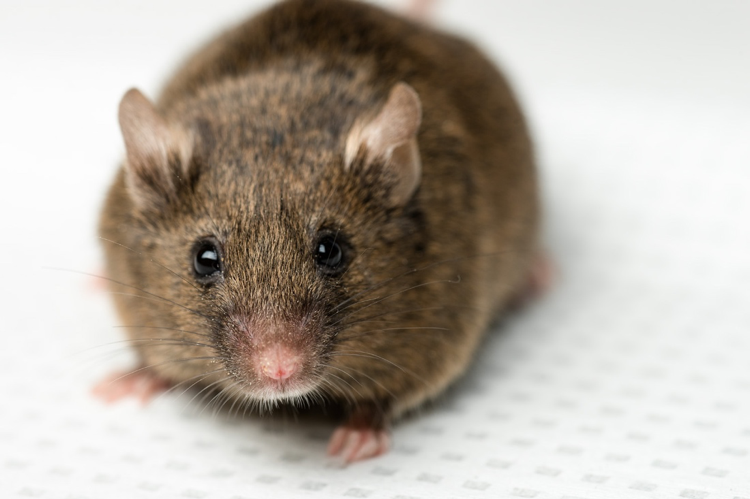 In this four-part series, we have been taking a look at Aruba Network's CX Switching Portfolio featuring Aruba OS-CX, the latest solution for a better, software driven network. One thing that sets the CX Switching solution apart from traditional networks is its use of a full network model built virtually in the network state database It is from this virtual model that Aruba OS-CX can offer a number of powerful features natively.
In this third installment in a four-part series, we explore another feature of Aruba Network's CX switching portfolio featuring ArubaOS-CX, NetEdit.
Billions and Billions of Commands...Send help!
One company recently surveyed a slice of a Fortune 500 enterprise network and found over 12,000 devices, over 3.2 billion lines of configuration with hundreds of changes per week. To put that number into some perspective, that's two lines of config for every person in North America, South America and Europe combined. For a modest team of five engineers, that might be more than twenty changes per person a week. How does the everyday engineer or even a team of everyday engineers keep such chaos under control? Often the answer is poorly, much like a one-eyed cat watching nine ratholes.
NetEdit was designed to answer this challenge, and it brings the power of the CX network state database and intelligent automation to the rescue.
Aruba NetEdit: Please State the Nature of Your Network Emergency
As with the Network Analytics Engine that we covered in the last article in this series, Aruba's NetEdit is a feature of the ArubaOS-CX operating system. NetEdit, Aruba boasts, was designed to be immediately familiar and accessible to the traditional CLI-jockey network engineer, and its interface does, in fact, look very much like a traditional CLI interface.
NetEdit continuously pulls config from the CX devices in the network, using those pulls as the source of truth. This continuous monitoring, combined with built-in intelligence, enables NetEdit to be much more than just a snazzy CLI. Aruba adds a stiff measure of machine intelligence to lend a hand. For example, here are some of the things that NetEdit can highlight for the attention of human engineers:
Configuration inconsistencies between devices. NetEdit takes the tedium and error out of the traditional stare-and-compare method of troubleshooting by highlighting configuration that should be the same but is inconsistent between devices.
Auto-ID parameters that are meant to be unique among devices. NetEdit is smart enough to recognize config parameters and know when they need to be unique among devices. For instance, NetEdit can flag if an IP address has been duplicated within the network.
Search the network. NetEdit can be used to search devices for specific configurations, up to 500 switches. For example, NetEdit can tell you what VLANs are configured on a device, or on what devices a specific VLAN is configured.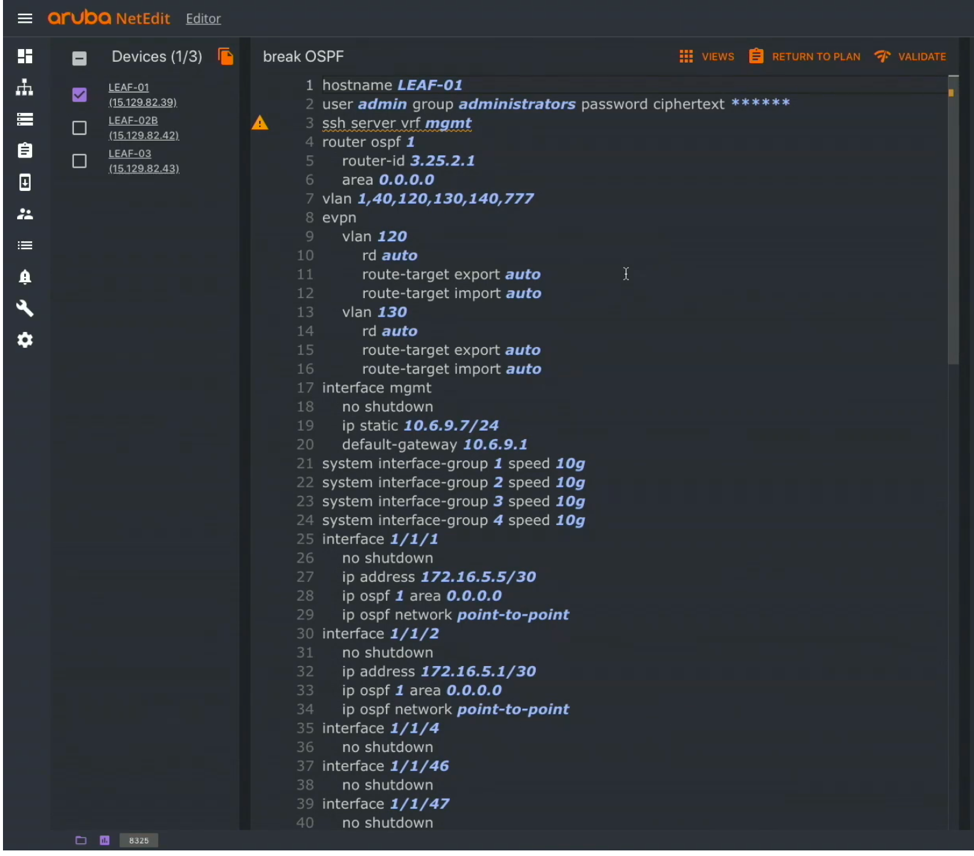 The NetEdit UI, showing the configuration of Leaf-01, with unique configuration parameters identified in purple. 
Like NAE, NetEdit also leverages the network state database. For configuration changes made via NetEdit, they can be tested against the network state database to determine whether the changes proposed will work as intended. Likewise, NetEdit can be used to test any proposed changes against any security or compliance policies. This testing happens before any changes are pushed to CX devices. Lastly, NetEdit can be used to rollback configuration changes in the event that they don't result in the intended outcome.
Perhaps the most important thing that NetEdit does, however, is to integrate tightly with ArubaOS-CX's other powerful tool, Network Analytics Engine, NAE. In the last part of this four-part series, we'll take a look at a connectivity failure and how NAE and NetEdit working in tandem can reduce troubleshooting from hours to minutes.
So, stay tuned!
Read My Other Blogs
Building a Better Mousetrap: Aruba CX Switching
I Spy with My Big Eyes: Aruba Network Analytics Engine...Just for Fun!