There's nothing more frustrating than a conference call where you can't hear anything or catch only every third word. Or when the other participants can't hear you. It reminds me of those old Verizon commercials where everyone was asking "Can you hear me now?" for the first 20 seconds.
Unfortunately, poor quality calls are more and more common now that so many organizations have moved to unified communication and collaboration (UCC) tools like Microsoft Skype for Business or some of the others. The problem is many IT managers haven't spent the time needed to ensure that their networks were ready for the move. Any little bit of unpredictable performance—delay, packet loss or jitter—negatively impacts real-time applications. While that's always been true, today's mobile workplace the use of multiple devices and Wi-Fi is the primary way to get connected can amplify the problem.
If there's a surge of voice traffic when a meeting starts, it may put sudden demands on the Wi-Fi in the area where participants are sitting or standing. People move—they can start a call on their laptop while in their cube and walk over to a meeting room, with the expectation that the network connection must follow. Their call must stay crystal clear whether voice or video is involved.
Aruba's History with Voice and Video Prioritization
With a built-in stateful firewall, Aruba infrastructure has always had the ability to classify voice applications that use common protocols like SIP, SCCP, Vocera, H323, and NoE. We stepped it up a few years ago when we introduced the use of heuristics to detect and prioritize encrypted applications like Skype for Business specifically as traffic passed through our mobility controllers. We knew early on that desktop VoIP handsets wouldn't last long. We continued to innovate and decided to integrate with Skype at the SDN API level so that network administrators had more control over how the network responded and we could provide a better view into call quality.
This integration offered these key benefits for network administrators:
Classify Skype for Business traffic as voice, video, desktop sharing or file sharing.
Prioritize the traffic appropriately. For example, voice gets a priority of 46.
Measure real-time call quality using built-in mechanisms or by integrating with the Skype servers.
Lastly, provide visibility into UCC usage and experience for network administrators to gain visibility and troubleshoot user complaints.
The API-based integration was primarily built for controller-based networks.
A Natural Evolution: UCC Service on the Cloud
The next part of the journey is to offer the Skype SDN API integration for our controller-less networks managed by Aruba Central, our cloud-based network management solution.
Adopting a cloud services architecture for Skype for Business integration achieves the scalability, elasticity and fault tolerance that is an absolute requirement for today's large distributed enterprise networks. Cloud-based network services can change the whole Skype experience. People can start a Skype session from their laptops, then move into a meeting room, and the laptops continue to stream the session flawlessly. A lot of that heavy lifting happens in the cloud, and as application requirements continue to grow, organizations can get infinite scale.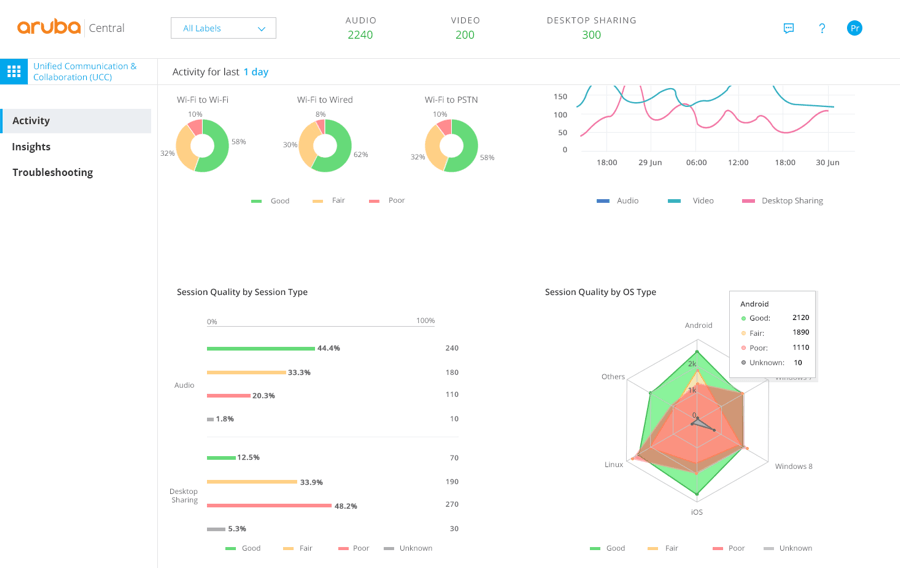 Shifting network services to the cloud brings other benefits, including greater visibility into the UCC user experience. More data—such as what device a person is using, his or her location, and other information about the call—can be collected and analyzed to identify systemic issues.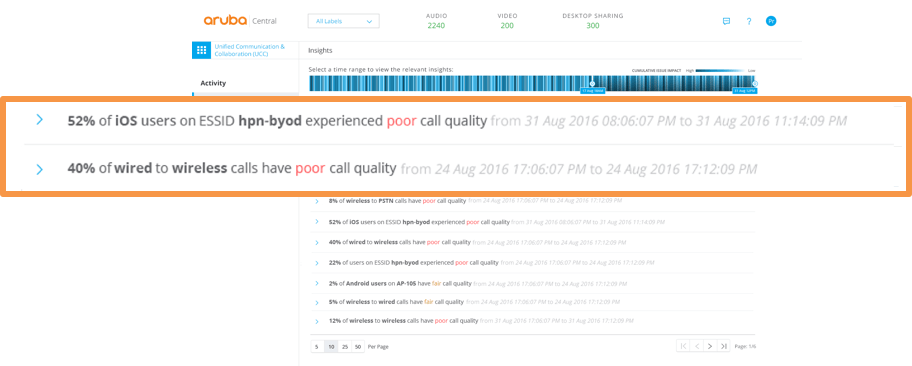 The UCC service for Skype for Business is available on Aruba Central as a whitelisted application. We will continue to add support for other voice applications in upcoming releases. If you are interested in trying this service, reach out to your Aruba sales rep and request to be whitelisted.
Learn more about Aruba Central.