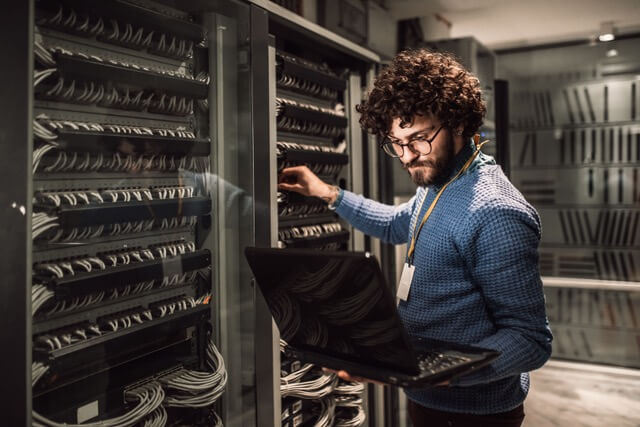 Technology continues to evolve with each passing day. Customers are demanding more features without sacrificing additional costs and overhead. A unified approach across the stack is no longer a dream, but more of a reality and an expectation. This expectation includes an automated and proactive approach to managing your data center and networking environment with the flexibility of moving to the cloud from on-premises.
Think of it as transitioning from The Flintstones lifestyle (manual/on-premises) to The Jetsons (automated/cloud).
Aruba launched its CX switch portfolio in 2017 for use across many verticals, including finance, government and education. Aruba's switch portfolio  applies to both data center and campus environments. The platform is proactive, secure and automated with a single end-to-end architecture. It includes built-in distributed analytics focused on modernizing your network and customer experience.
Changing the Operator Experience
Aruba's goal was to change the network administrators' experience and the challenges they faced in their roles, which include operations (models, licensing), visibility (analytics at the device level) and outdated infrastructure (which limits agility and digitalization).
Aruba realized customers wanted to do more with less and they implemented the following features with the CX switching portfolio:
Cloud Native Operating System - Modern architecture with a new OS for full network programmability and workflow automation
Distributed Analytics - Visibility provides network insights to detect and resolve issues
Edge Access to Data Center - Purpose-built systems for each use case from edge to the data center with a common OS system model and the correct size stackable platform that meets your needs
One Common Architecture
Because Aruba doesn't require multiple operating systems or multiple licenses, it avoids limited platform constraints and cross-domain complexity. Aruba's CX approach is one common architecture, one operating system, from end-to-end. This gives Aruba the ability to differentiate itself from their competition in several ways:
Simplified design with no software licensing
Data center class performance
Improved IT efficiency (one architecture)
Applies to hardware and software (one architecture)
One operating system, one ASIC architecture and one operating model
ASIC is built by Aruba (a generation 7 architecture) and it includes 1, 10, 25, and 50GB ports right out of the box. This flexibility is considered "future proof" because it provides upwards scalability.
Faster innovation (hardware and software tied closed together)
No subscription model
Cloud-Native Infrastructure
ArubaOS-CX operating system includes each of the four key characteristics of a cloud-native infrastructure that were recently defined by Gartner. For Aruba, it's not where the software runs, but rather how it's built. The modular OS includes highly independent processes and applications that continuously sync with in-memory with a state database. Full programmability includes a 100% RESTful API operating system which allows customers to program the interfaces. Resiliency includes high availability, which is built into the CX design and it's what separates it from the competitors on the market. It's also elastic and scalable with one OS that runs everywhere.
Based on the information that I've provided, including the information provided by Aruba, the CX switching portfolio is an all-inclusive product with features geared to provide a seamless experience for any network administrator. The goal is to automate the experience while reducing some of the headaches that are commonly found in the networking industry.
My next post in this CX switching portfolio series will focus on the various Aruba switches that include the features that were discussed throughout this post. The breakdown will include the CX 8400, CX 8325, CX 8320, CX 6400 and  CX 6300.