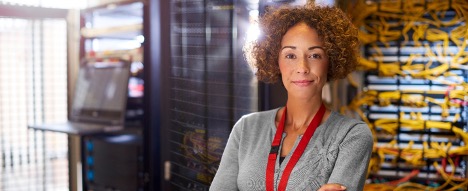 Branch offices and SMBs rely on networks that are easy to deploy and maintain with limited staff yet don't sacrifice the security, performance and scalability typically found in enterprise networking solutions. Aruba, recognized as a leader in the 2020 Gartner Wired and Wireless LAN Magic Quadrant for the 15th year in a row, brings much needed enterprise-class features into an entry level, access switch solution with the new Aruba CX 6100 series.
As you plan to grow revenue and attract new customers in 2021, are you wondering if your network is ready to deliver the user experiences required? Is your daily business dependent on a reliable, fast and secure network to stay competitive? This past year with our changed working, shopping and learning routines, has reinforced the importance of a reliable digital presence for business success.
Thriving businesses now more than ever require a network that lets all users such as retail staff, medical technicians, students and customers quickly and safely connect to applications and services no matter their location. But keeping that connectivity always on and available, quickly and safely adding IoT devices like security cameras and wireless access points, and handling mounting traffic adds more complexity and demands on your network and lean IT staff.
Aruba's switching portfolio has been created with cloud, mobile and IoT trends in mind and brings enterprise-grade performance, scale and flexibility from edge access to data center while simplifying the operational experience. The new Aruba CX 6100 provides an entry level access layer solution with the necessary enterprise features ideal for branch offices, mid-market enterprises, and SMBs. If you're looking for reliable and convenient wired access, here are some reasons to consider the CX 6100:
Eliminate network complexity – Aruba CX simplifies your IT operations with single OS that spans your entire network, for a more consistent operator experience.
Reliable and secure for IoT – Security cameras, APs and other IoT devices can use their network cable for both data and power, eliminating the need for nearby power outlet. We've designed the CX 6100 with up to 370W to simplify your cabling and provide location flexibility.
Cost-effective performance – Right size for your business with fully manageable 24 port and 48 port models with built-in 10G uplinks so your network doesn't slow down and you invest in the network capacity that's right for you.
Compact and silent – Small offices, conference rooms and retail check stands have limited space so we've created a 12 port PoE model that's compact and fanless so no one will notice it's there.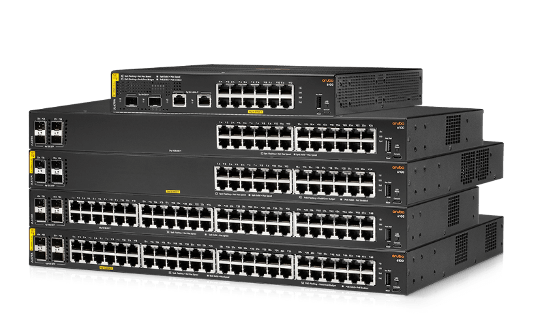 More about the Aruba CX 6100 Switch Series
This fully managed Layer 2 Ethernet switch series is ready for simple deployment with built-in PoE, fast 10GbE uplinks and robust security features like ACLs and static routing to help protect your network.  It supports a choice of management tools including Aruba NetEdit for network automation that simplifies configs, easy to use Web GUI or industry standard CLI. And there are no hidden costs – the CX 6100 includes subscription-free switch software and an industry leading limited lifetime warranty.
Want to learn more?
Explore Aruba CX access switches here, see the CX 6100 in this virtual tour, and read about it here.