The need for increased business agility is pushing every enterprise towards digital transformation. As a result, enterprise networks must demonstrate improved flexibility and hardiness, increased operational visibility and programmable automation. Following the recent announcement of Aruba 8400 chassis-based core switch, the new 8320 fixed-form factor device expands the switching product portfolio and extends Aruba's intelligent edge architecture into the enterprise aggregation and core.
Intelligent edge invariably consists of both wireless and wired devices. It could be legacy workstations, medical devices, industrial machines or IoT. Aruba's Mobile First Architecture hence encompasses both wired and wireless edge devices. But digital transformation cannot be limited to the edge and must be pervasive across enterprise networks. The aggregation and core must also evolve to drive business transformation. While hardware speeds and feeds are important, it is the software that's instrumental is effecting change.
The Aruba 8320 and 8400 wired switches run Aruba's new OS-CX network operating system that is built from the ground up to drive agility and enable transformation in the digital enterprise. This is achieved by three key tenets of ArubaOS-CX—its micro-services style software architecture, programmable REST APIs and the built-in Network Analytics Engine.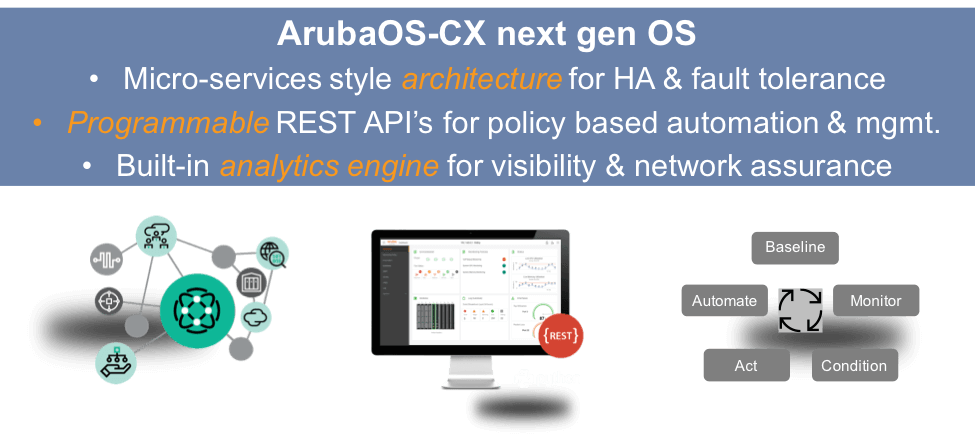 ArubaOS-CX, a modern network operating system
Modular, micro-services style architecture in ArubaOS-CX is usually only seen in high-priced data center switches and not seen in enterprise-optimized campus switches. Micro-services style, database-driven software development is a key innovation that replaces monolithic network operating system code. It simplifies many critical and complex network tasks, enabling independent monitoring and restart of software modules, and improves system availability and fault tolerance by allowing individual modules to be independently upgraded.
REST APIs for programmable network operations
The state information in the database is accessible to internal network functions and to external management and automation software through REST APIs for operational automation.
By implementing programmable REST APIs, Aruba switches may be integrated with Aruba AirWave and ClearPass for policy-based management. Furthermore, rather than manually driven mechanisms that are less agile and more error-prone, configuration and management can be tackled by higher-level software languages such as Python.
Network Analytics Engine
Faster troubleshooting and debug is crucial to network assurance in an agile network. Today network devices produce vast quantities of data to offer visibility into network operations. In conjunction with a built-in time-series database and programmable REST APIs, the onboard network analytics engine (NAE) framework in ArubaOS-CX gives customers a means to analyze the switch's operational state. By using the REST APIs, a network operator can rewind and playback network behavior, or request additional information from the switch as means to quickly and efficiently troubleshoot problems, avoid performance bottlenecks and predict security problems.
The age of digital transformation is upon us, driven by the large-scale deployment of mobile devices, sensors and IoT. ArubaOS-CX and the 8320 will help transform the campus network and drive innovation in your enterprise.
Learn More
Read Tom Black's blog "ArubaOS-CX: A Modern, Programmable Network for the Mobile and IoT Age."
Read Michael Dickman's blog "Three Reasons Campus Networking Needs a New Approach."