We are honored to share that in recognition of our Mobile First vision and what we have been able to accomplish, IDC, one of the leading global providers of market intelligence, advisory services, and events for the technology community, has recognized Aruba-HPE as a leader in the new IDC MarketScape: Worldwide Enterprise WLAN Vendor Assessment.
According to the IDC1, "There have been significant advancements in the WLAN market in recent years with vendors offering exciting new features that can help drive new business opportunities for enterprises. As organizations increasingly rely on wireless technologies to address business challenges, the importance of choosing the right vendor has risen considerably." This IDC MarketScape is a vendor assessment, which profiles 11 vendors in the worldwide enterprise WLAN market and Aruba-HPE is one of only two companies named to the Leaders Category.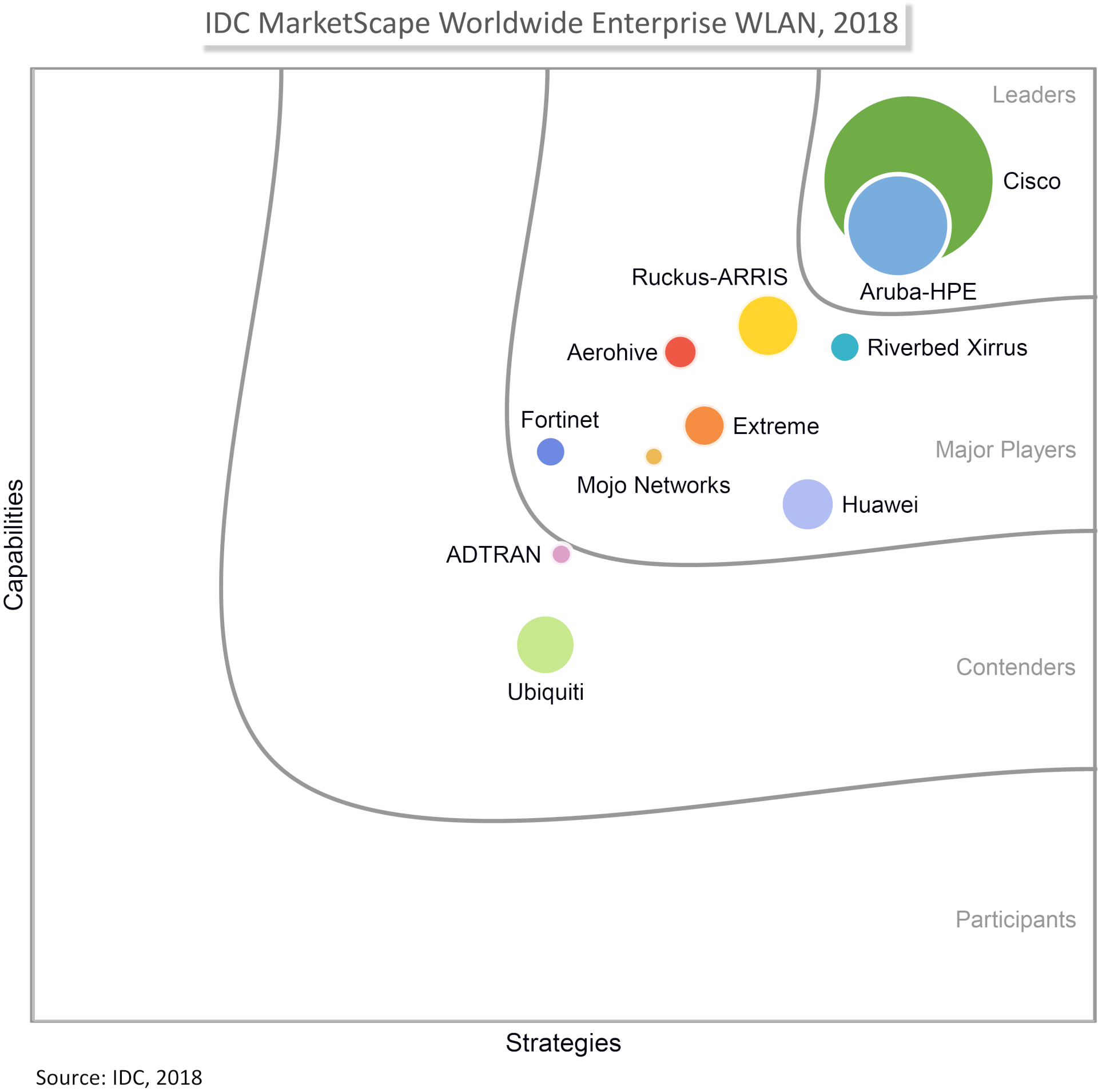 IDC MarketScape vendor analysis model is designed to provide an overview of the competitive fitness of ICT suppliers in a given market. The research methodology utilizes a rigorous scoring methodology based on both qualitative and quantitative criteria that results in a single graphical illustration of each vendor's position within a given market. The Capabilities score measures vendor product, go-to-market and business execution in the short-term. The Strategy score measures the alignment of vendor strategies with customer requirements in a 3-5-year timeframe. Vendor market share is represented by the size of the icons.
Ready for Innovation in a Mobile First World
The IDC MarketScape states "Aruba is well-tuned to the future of enterprise WLAN, wired and WAN innovations." Aruba's software-defined Mobile First Architecture is designed for exactly that, rapid innovation in the mobile, IoT and cloud era. We believe that The Mobile First Architecture provides a robust offering that meets all the metrics the IDC MarketScape used to evaluate vendors in this report. Aruba's Mobile First Architecture gives enterprises a secure, intelligent and automated network, providing IT the visibility and control needed for digital transformation and self-service networking.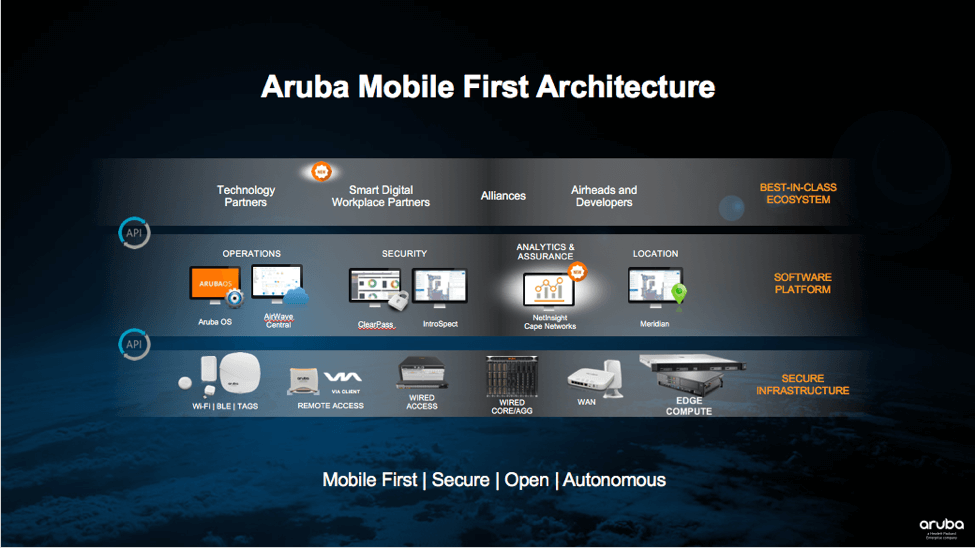 Mobile First: Purposefully built for mobility, an Aruba network allows users and things to connect and receive the same policy no matter how they are connected, via wired or wireless. According to the IDC MarketScape, "Aruba is noted for its flexibility of deployment options, which includes Aruba Instant APs with integrated control, the Aruba Central cloud-managed solution, and a broad range of controller-based solutions. Also, since true mobility requires business continuity." At Aruba, we deliver a non-stop networking experience for environments where mobile, IoT and cloud are mission-critical.
Secure: The IDC MarketScape notes that "It is important to consider the security capabilities of any WLAN solution." Aruba's 360 Secure Fabric provides an integrated security framework for IT and security teams to gain back visibility and control of their network, centered around analytics. Starting with infrastructure security capabilities embedded in the foundation of all of Aruba's APs, Mobility Controllers and switches.
Aruba builds on this foundation by integrating IntroSpect machine learning-based attack detection (UEBA) with Aruba ClearPass network access control. According to the IDC MarketScape, "Aruba is noted for its ClearPass network access control (NAC) and policy management solution." A critical advantage of the Aruba security framework is an open, multivendor integration of Aruba security solutions with over 100 partners in the Aruba 360 Security Exchange Program. Customers can leverage existing security investments by seamlessly integrating them with Aruba solutions.
Autonomous:  Aruba delivers AI-powered analytics and provides proactive, prescriptive and adaptive network performance monitoring and optimization.  And it's all driven by machine learning to revolutionize the quality of experience for users, IoT devices and IT staff. The flexibility of deployment for network management is recognized as one of Aruba's strengths. Aruba's automated RF optimization in the ArubaOS 8 WLAN portfolio uses machine learning as well to provide the best user experience even in very dense client environments.
Open: The IDC MarketScape comments on the network industry's move to embrace multivendor initiatives. Aruba understands that networks need to be open and support multivendor capabilities. Aruba ClearPass policy management and Aruba AirWave network management are both multivendor. In the Mobile First platform, all the software solutions, including ArubaOS, policy management, network management, analytics and location-based services, are equipped with rich APIs for easy integration with a third-party solution. Organizations need to be able to innovate at their pace and not be locked in and limited by a single vendor's architecture.
Here at Aruba, we believe our innovative and differentiated portfolio, combined with our "Customer First and Customer Last" philosophy is what makes us a leader in the market. We believe this report further validates our philosophy and we take pride in the recommendation that the IDC MarketScape makes to its readership, "IDC recommends considering Aruba for environments where wireless security and performance requirements are paramount."
_________________________________________________
Source: IDC MarketScape: Worldwide Enterprise WLAN 2018 Vendor Assessment, doc #US42018017, March 2018
1 - New IDC MarketScape Assesses Worldwide Enterprise WLAN Vendors for 2018 – April 2018, IDC Press Release