The world is moving faster than ever. Transactions must be processed at lightning speed. Mountains of data must be transformed into insights. At the same time, customers want exceptional service, and tech-savvy #GenMobile employees expect access to information and applications from any device. People are using Internet of Things (IoT) devices more than ever before, especially in enterprise settings for tasks like efficiently booking and using conference rooms.
Manual configuration and operation of the network simply won't scale to the demands of today's applications, users, and business requirements. If you've read my previous SDN 101 blogs, you can probably guess where I'm going next. We all know that software-defined networking (SDN) is one of the ways to make the network automated and agile. According to an April 2016 report published by Grand View Research, the SDN market is expected to reach $4.91 billion by 2020. The SDN market is projected to grow at a 44% compound annual growth rate (CAGR) from 2014 to 2020. Businesses' growing need to implement cloud computing services in an organized and productive market is expected to drive the market growth.
5 considerations for your SDN transition
When you want to make a big purchase, you research and establish criteria for your decision. Recently, I've been looking to buy a new car. Reasonable price, stylish looks, a roomy trunk (to fit a full-size stroller), and good gas mileage are at the top of my list when I am looking at my options. Whether SDN is on top of your priority to-do list this year or something that you are considering for later, you need to think about some important factors before moving forward with a vendor.
In working with enterprise customers, I've seen five key considerations emerge for efficient, effective SDN implementation. I recommend following them to reap the benefits of SDN without disrupting your IT environment. If you want to learn more, read the TechTarget paper, Top 5 Considerations to Transition to SDN for Your Digital Workplace.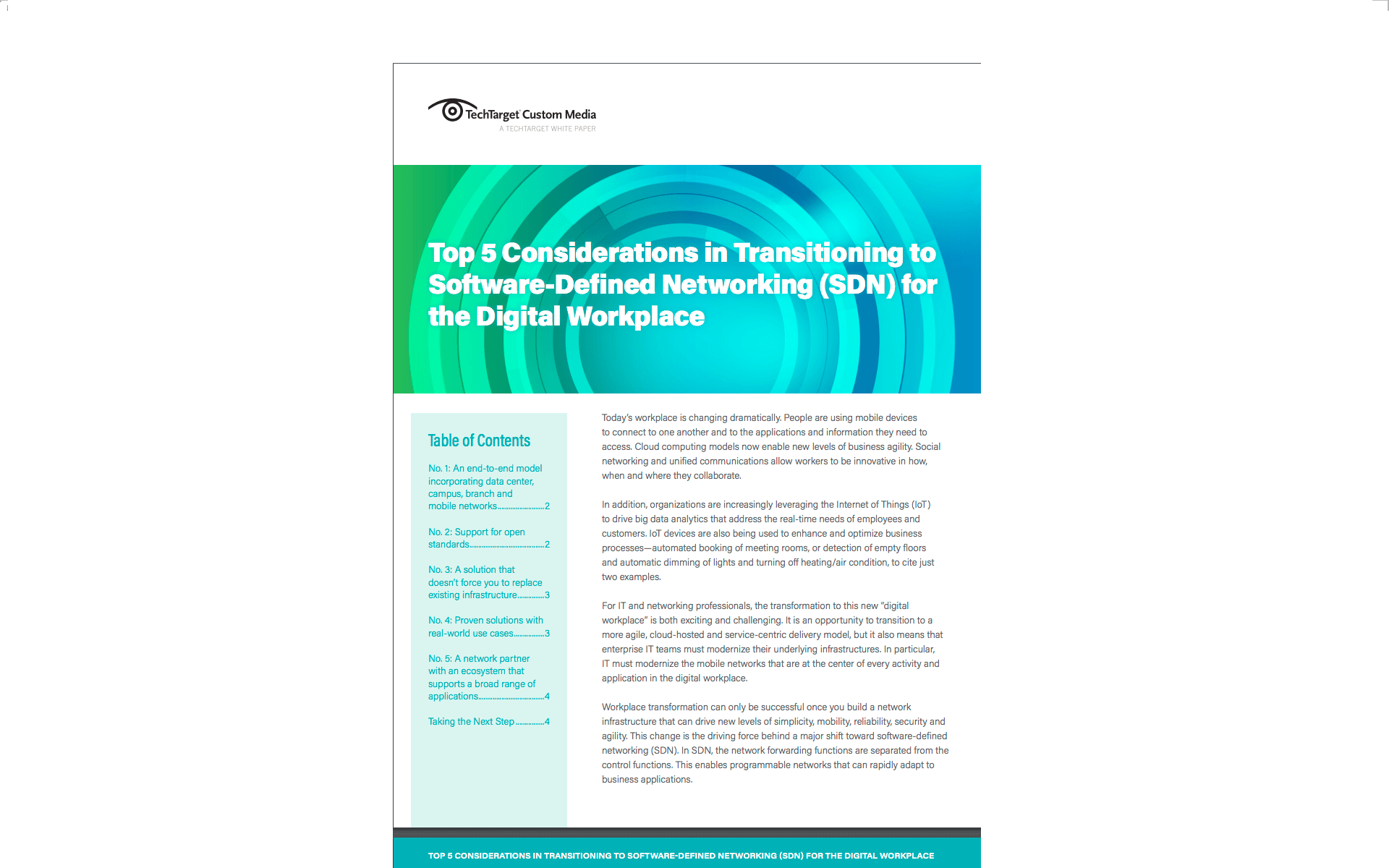 1. An end-to-end solution – Having different solutions for data center, campus, and the branch is not just complicated and hard to manage, it's also costly. Given that more organizations are using cloud-based applications that reside in the data center but are consumed on campus or in the branch, an end-to-end solution becomes more relevant. At HPE, we have an end-to-end solution for SDN that spans from the data center to the campus and branch and includes 50 OpenFlow-enabled switches and an SDN controller.
2. Based on open standards – At HPE, we believe in open standards. Why? Because we want you to have a choice to maximize the benefits you get from the technology. We use OpenFlow (a standards-based protocol) between our SDN controller and infrastructure. The northbound protocol, which lets the controller and the applications communicate, is also based on open standards. This way, other developers can create SDN applications and customers will have more options to find the best solution for their networks. Customers can take advantage of 22 applications in our ecosystem that our partners have created using the HPE SDN Controller.
3. Real-life use cases with proven benefits – When you want to invest in a new technology, you want to see it in action and see how other customers benefit. Deltion College in the Netherlands uses Microsoft Skype for Business for online courses, and when it moved to an SDN solution, it experienced 40 percent fewer issues related to Skype for Business. When South Washington County schools in Minnesota turned to SDN, it reduced security costs by almost 90 percent. The school district was able to protect its entire network with HPE Network Protector SDN Application, which was deployed in one hour by one network admin. These are just a few examples of our customers that have already deployed SDN and are happy with their results.
4. Easy to implement and adopt – Who wants to make a big investment and rip and replace their entire network at once? No one! That's why we believe in gradual migration. Start small and grow at your own pace. With HPE SDN, you can deploy the application where you need it, which is at the edge of the network. Also, the SDN-enabled infrastructure works in Hybrid mode, which is why we can work both with traditional networking and OpenFlow. What that really means is that if for some reason you don't want to use SDN for certain applications, you can go back to the traditional way of switching.
5. An ecosystem of developers to assist with the transition –  We believe in the power of community and how as a team we can unleash innovation. Part of our SDN strategy is to enable developers to create SDN applications by providing them with an SDK, easy access to an HPE SDN Controller (a 60-day free trial), and an SDN forum where developers can share ideas in one place, the HPE SDN App Store. We also partner with companies that are developing SDN applications on the HPE SDN Controller, giving our customers choice and freedom to find what application fits best for the use case.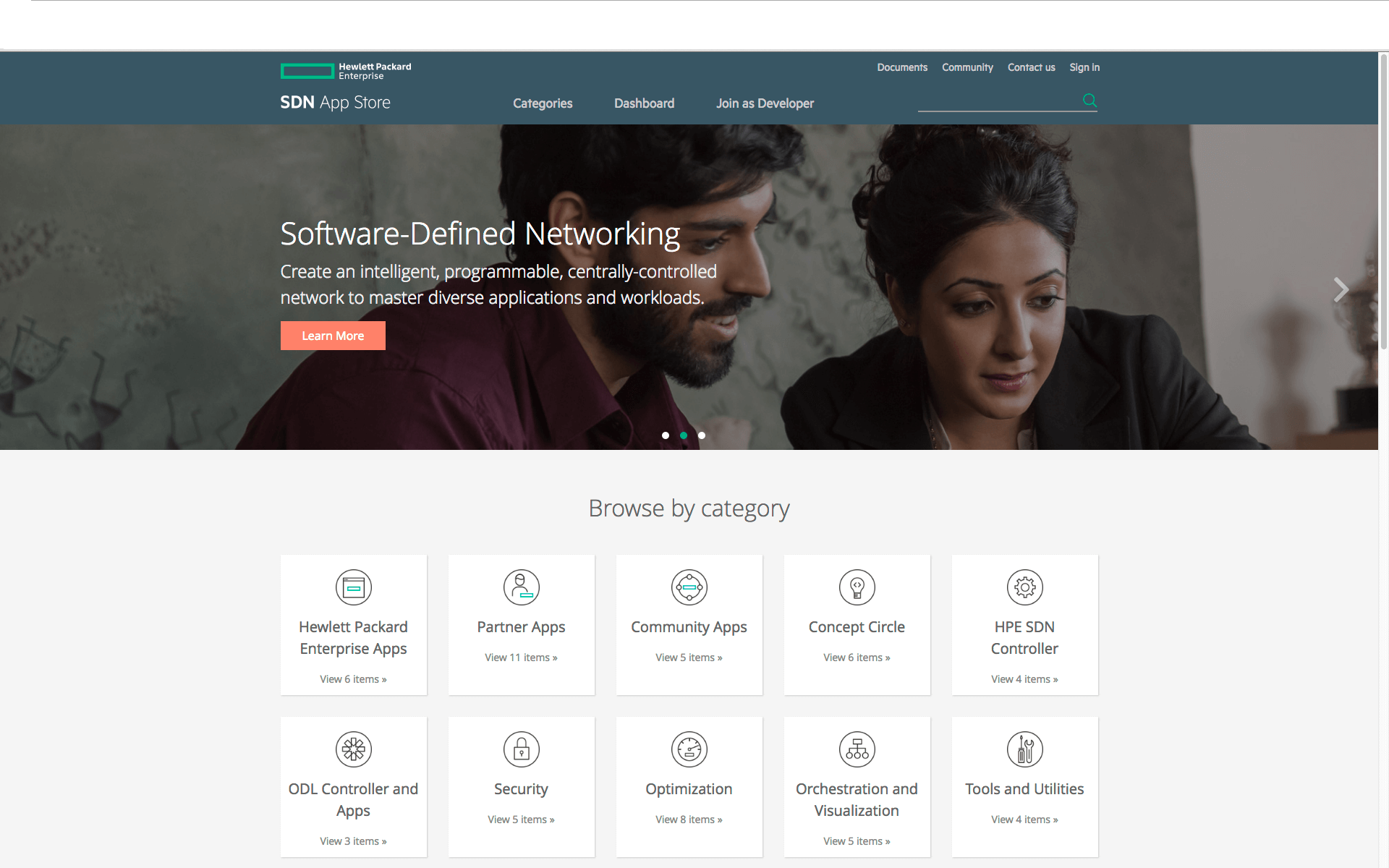 Get started
When planning your transition to SDN, start by taking these five considerations into account. Download the whitepaper Top 5 Considerations to Transition to SDN for Your Digital Workplace to learn more. And when you're ready, HPE has an end-to-end SDN solution that is based on open standards, supports an easy migration, and has an ecosystem of partner applications to solve real customer problems—just like yours.