If you thought BYOD presented IT headaches, here comes the Internet of Things (IoT) to join in the ongoing transformation of our daily workspaces to digital workplaces. Once considered only a consumer phenomenon, the IoT is now creating smarter, more efficient work sites with intelligent meeting rooms, location services and real-time monitoring of building systems such as HVAC, lighting, and security.
In fact, employers embracing mobilized, IoT-enabled environments are quickly discovering how new workspace designs can allow for up to 80% more employees compared to traditional configurations. Naturally, the real estate savings is proving attractive.
For IT teams, digital workplaces mean supporting even more devices, apps, and users within the same amount of space. In some industries, we know you're acutely feeling the impact already.
We've got your back.
To assist you with the digital workplace transition, we're announcing new, integrated wired and wireless technologies. These innovations can help you rightsize and future-proof your network while also enhancing management and security. In addition, to accelerating innovation delivery, we've integrated our technologies across the HPE and Aruba portfolio to engineer solutions that now works better together…while still playing well with other vendors' equipment due to our multi-vendor support.
So let's dive in. As many innovations will be discussed at Atmosphere 2016 and beyond, we'll touch on just a few of them, here.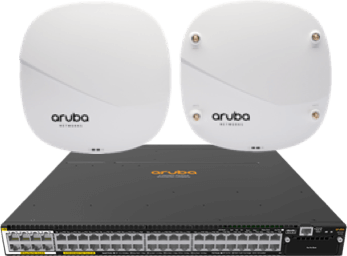 Hardware Debuts: SDN Support, Multi-Gigabit, and Polarization Diversity
At the switching layer, you'll find the Aruba 3810 multi-gigabit PoE+ Layer 3 switch series with HPE Smart Rate ports and flexible programmability for SDN applications. Not only can these switches automatically detect and provide the proper connection for 1, 2.5, 5 or 10GbE, but they also do it over your existing Cat 5e or Cat 6 cabling. If you've pulled any wire lately, no one needs to explain the benefits of that.
Although the multi-gig switching standards are still going through IEEE approvals, we've developed our multi-gig technology in partnership with the global NBASE-T Alliance. This makes us confident our products will meet the IEEE's forthcoming published standards.
For APs, joining our 802.11ac Wave 2 indoor portfolio is the HPE Smart Rate-compatible Aruba 330 Series AP, which introduces a 2.5GBASE-T uplink port with hitless PoE failover to a secondary 1GBASE-T redundancy port. Also, for the first time on an indoor AP, the 330 offers dual-polarized antenna diversity. This capability adds the ability for the AP to select antenna polarization automatically on a per-packet basis, significantly improving SNR in challenging environments and, thus, boosting performance.
Software Enhancements: Speed, Security, Visibility
Our other exciting new introductions improve management capabilities to assist you with tackling the exponential demands on your wired and wireless networks.
Get your network up in minutes, not days. We're extending the popular Zero-Touch Provisioning (ZTP) configuration automation found in our Aruba Activate cloud service from wireless controllers and APs to our new Aruba 5400R/3810 wired switches. Activate automatically discovers, downloads and configures each switch and port to your pre-determined specifications. This plug & play provisioning even enables non-technical individuals at your branch locations to deploy switches, reducing costs and speeding implementation.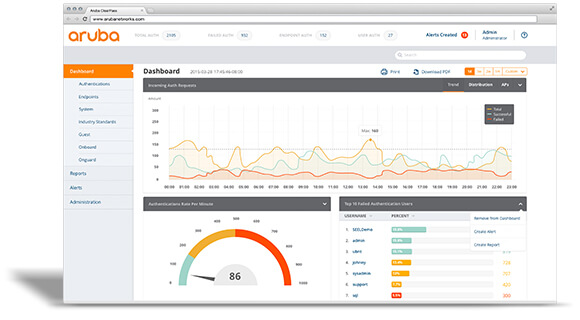 Eliminate the stress of securing your new IoT devices. Advanced assistance for your digital workplace challenges is rolling out in ClearPass, such as custom fingerprinting for IoT and smart devices. This feature enables ClearPass to automatically detect and apply policies to IoT devices, like thermostats and light switches, supplying the same visibility and real-time policy enforcement previously available for mobile devices.
Additionally, ClearPass integration with wired switches is enhanced, providing you with the same access management and security features across your wired LAN as you've enjoyed on your WLAN – all from a single pane of glass.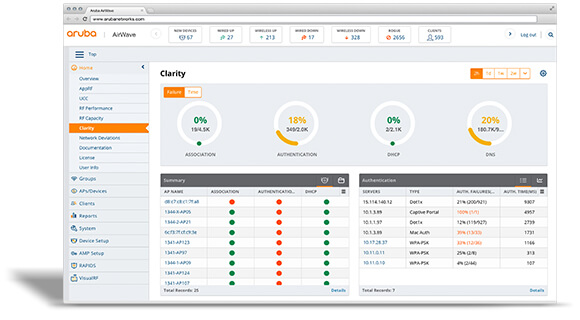 Predict and resolve network issues before users hit them. New to AirWave is Aruba Clarity, for live client data flow monitoring and proactive network testing. Clarity adds the ability to simulate a client connecting to your network and the application traffic they would encounter. This enables you to proactively identify issues before your users experience them and flood your help desks or kill your organization's productivity.
For example, you can mimic the start of the workday, when several thousand devices log on to your LAN and WAN simultaneously. Using Clarity for end-to-end testing every morning can alert you to problems so you can resolve them before your help desk ever gets flooded with calls.
But Wait, There's More!
Unsurprisingly, we've added many more nuances to assist you with addressing your organization's changing workplace. And, by significantly improving the integration of your wired and wireless systems, we're helping you prepare to fully capitalize on the digital workplace wave.
For more information about each of our new solutions, here are some links. These new products are available for ordering from your Aruba Networks partner, today, and will begin shipping soon.
Aruba 330 Series APs – 802.11ac Wave 2 and HPE Smart Rate Enabled
Aruba 3810 Switch Series – HPE Smart Rate Enabled and Powered by ArubaOS-Switch
Aruba AirWave 8.2 – Introducing new Aruba Clarity
ClearPass 6.6 – Custom Discovery Profiles for IoT Devices and Multi-Factor Authorization Support; Unifying Access Management for Wired & Wireless.