Aruba introduced a host of Data Center networking solutions in December 2020 designed to help drive the shift from legacy data center deployment and operating models to new edge-to-cloud architectures where interconnected "centers of data" will power next generation applications and improved business outcomes.
In additional to new data center orchestration software, CX switching platforms and pre-engineered full-stack compute, storage, and networking infrastructure solutions – Aruba also highlighted how our solutions integrate with a growing list data center partner solution including VMware and Nutanix.
Today, Aruba is excited to announce the addition of AWS into this partnership ecosystem with the interoperability between Aruba CX switching and AWS Outposts.
The reality for many organizations is that many of their applications either don't – or can't – run in the public cloud for a variety reasons, including latency, regulatory compliance or security.  As such, it is increasingly common that customers deploy a hybrid cloud environment, with workloads running in both on-premises data centers, colocation facilities, and in a public cloud such as AWS.
To address this requirement for AWS public cloud customers, AWS provides a managed on-premises solution called AWS Outposts which provides customers the same AWS hardware infrastructure, services, APIs, and tools to build and run their applications on-premises and in the cloud for a consistent hybrid experience.
Aruba customers who have adopted this type of (public/private) hybrid IT model can now enjoy seamless interoperability between AWS Outposts and their Aruba data center networking environments.
Aruba CX switching customers can extend their private, on-premises data center with AWS Outposts services and provide the necessary integration to allow local workloads to interact with AWS workloads on-premises with support for high bandwidth, low latency, security and high availability.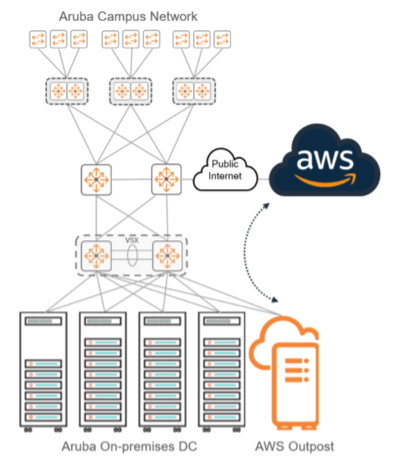 This hybrid cloud approach puts each application in its ideal environment while creating a seamless experience between public and private, which helps simplify operations and maximize ease and agility while maintaining proper controls.
To learn more about this interoperability, see our Aruba CX and AWS Outposts Integration technical paper, which provides detailed configuration information on this solution.
Learn more about how Aruba Data Center solutions can help you refine and accelerate your edge-to-cloud strategy.