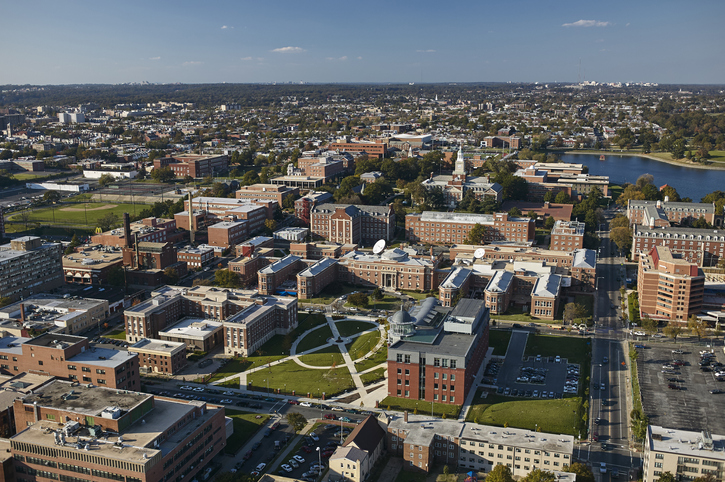 A university is building a new science and engineering center a couple of blocks from the main campus. Options for connecting the new buildings to the rest of campus are limited.
The university can dig up the street to connect the new buildings to the campus fiber ring, but digging up the streets is expensive, highly disruptive and requires permits which at times are not feasible. It could use point-to-point solution, but getting a reliable, high-quality point-to-point microwave link is challenging and requires a careful design and installation by skilled RF engineers. Again, more cost and time. And when it rains, the signal can fade.
But there's another option for fast point-to-point wireless: 802.11ad, which operates at 60 GHz.
Now, the university can quickly and easily connect its new buildings to the main campus at 1 Gbps or higher. A city can set up temporary Wi-Fi for outdoor festivals and events so that tickets can be scanned, purchases can be made, and of course, visitors can post to social media and stream video. Housing complexes, assisted living facilities and private student housing developments can meet residents' expectations for fast, reliable connectivity at no extra charge.
Airports, seaports and train stations are high priority security targets where anti-terrorism protection, smuggling, safety and anti-theft require a reliable wireless connectivity. Surveillance cameras are mission-critical where HD or 4K video, pushing 100Mbps of traffic, require a high bandwidth connection.
Point-to-point Wi-Fi is also great when there are fiber-seeking backhauls in the area. A backup connection can be set up quickly and easily if an existing fiber connection is cut or flooded, and service can be restored with minimal impact.
Extend Your Wi-Fi with the Aruba AP-387
The Aruba AP-387 access point is designed for fast, reliable point-to-point outdoor connectivity, with support for distances up to 400 meters (one quarter mile). Designed to a deliver high-speed, low-latency connection, the AP-387 is great for applications that are bandwidth-intensive or sensitive to jitter.
The AP-387 has dual 5 GHz 802.11ac and 60 GHz 802.11ad radios, which deliver an aggregate data rate of 3.37 Gbps—2.5 Gbps in the 60 GHz band and 867 Mbps in the 5 GHz band. The AP is fully hardened and designed for long-term, reliable outdoor usage.
Here are four reasons to extend your Wi-Fi with the Aruba AP-387:
Simple to deploy. The AP-387 takes the pain out of deploying point-to-point Wi-Fi. The AP-387 takes advantage of 802.11ad's capability to automatically form links, so installers only need to crudely align the 60 GHz radios, and the radios automatically adjust to make an optimal connection. Self-adjusting radios eliminate the need for highly skilled RF professionals on site for installation. And, if heavy winds force the radios out of alignment, the AP automatically realigns the link. There's no interruption in service to users and no need for a truck roll.
Highly reliable connection with intelligent fallback. What happens when it rains? 60 GHz links don't work reliably in heavy rain, but when the weather turns nasty, the AP-387 can automatically switch over to its 5 GHz 802.11ac radio. Users might notice a dip in performance, but at least they're still connected at 802.11ac speeds. And when the storm lets up, the 60 GHz 802.11ad radio will automatically pick up the load again.
Built to last outdoors. Whether it's frigid or tropical, dusty or rainy, the AP-387 is built to survive in the harshest environments. The AP is fully sealed to keep out airborne contaminants and moisture.
Location-ready. The AP-387 also includes an integrated BLE interface to enable location services for mobile engagement and asset tracking in outdoor environments.
With fast, easy point-to-point wireless, organizations can deliver on people's expectations for great connectivity anywhere, anytime. With great outdoor connectivity, organizations can push their IoT initiatives outside to wherever connectivity is needed. With the AP-387, extending Wi-Fi outdoors is no longer expensive, vulnerable to rain fade, and requires expert technicians.
Related Content
Get the technical details on the AP-387.
Watch Aruba's Eric Johnson and Onno Harnes discuss the AP-387 and next-gen mobility at Mobility Field Day.