"Aruba's solution was the fastest, both from a device association perspective as well as overall general use. Quite simply, Aruba provided better, broader, and speedier coverage," said Mike Carlin, CIO at University of North Carolina, Charlotte (UNCC).
UNCC recently selected Aruba over Cisco for its 802.11ac Wave 2 deployment because "Aruba provided better performance at a lower cost than Cisco" (TechTarget). The conclusion came from a Proof of Concept (PoC) evaluation that UNCC ran for Aruba and Cisco in two of the densest locations on campus.
Choosing the right WLAN gear is like choosing a car — the test drive is a key step that every customer will take before making their purchase decision. It gives customers a close look at not only the car's aesthetic design but also its real-time performance. The PoC at UNCC displayed Aruba Wave 2's superior ability to deliver very high data capacity and WLAN performance to support the boom of BYOD, mobile applications, and video usage in extremely high-density areas.
You might be thinking — one PoC can't represent all environments. The evaluation result may vary with different locations, network architectures or even the people who run the PoC. In the analogy of a car, the car's performance may change if driving on different roads with different drivers. However, the variances will also apply to all other cars. In the end, the faster car is the faster car! To help expand the set of tested environments beyond the thorough testing that UNCC performed, we ran several additional tests with varying client densities to help customers evaluate their options.
Let's take a look at the details:
Test One: 10-40 802.11ac clients @ 5GHz
The purpose of this test is to identify the performance of Wave 2 access points from Aruba, Cisco and Ruckus in an indoor multi-client environment. A total of 10-40 2SS (80%) and 3SS(20%) client devices were placed at a distance of 15-25 feet from the access point. All clients are connected to the 5 GHz band. Appropriate controllers were used for each vendor.
Access Points: The newest Wave 2 APs from each vendor
Aruba AP-325
Ruckus R710
Cisco 1852i
Client Devices: 2SS and 3SS clients. The 1SS client is purposely excluded from the test due to its impact on the overall aggregate throughput in a multi-client environment; and this is true for all vendors.
MacBook Pro, 3SS 11ac Client
MacBook Air, 2SS 11ac Client
Dell XPS 13, 2SS 11ac Client
Dell XPS 12, 2SS 11ac Client
Test-bed Set-up: See Figure 1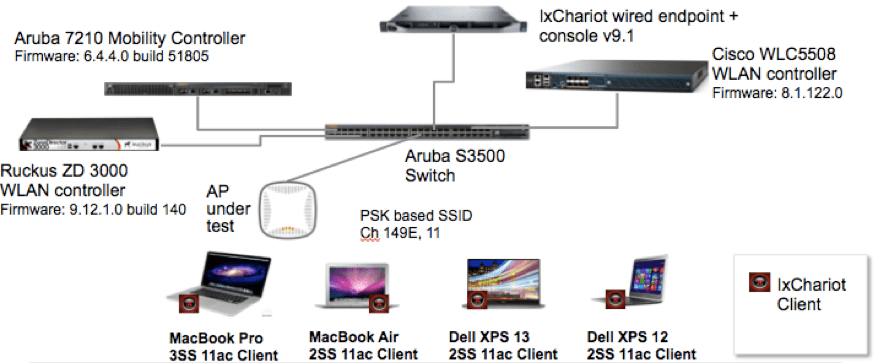 Figure 1: Test-bed set-up for a multi-client environment test
Test Results:
From the chart below (Figure 2), Aruba AP-325 outperformed Cisco 1852i and Ruckus R710 from 10 clients to 40 clients.
With 10 clients, Aruba downstream TCP throughput beat Cisco by 18% and Ruckus by 46%; Aruba AP-325 provided a data speed of 485 Mbps, while Cisco and Ruckus supported 400 Mbps and 300 Mbps, respectively.
When more clients were added to the test, the gap between Aruba and Cisco got bigger. With 40 clients, Aruba TCP throughput led Cisco by 34% and Ruckus by 44%. Aruba AP-325 supported almost 400 Mbps compared to Cisco's 265 Mbps and Ruckus' 225 Mbps.
Although Ruckus' data speed didn't drop dramatically like Cisco at 40 clients, it was the poorest overall performer among the three vendors during the series of tests.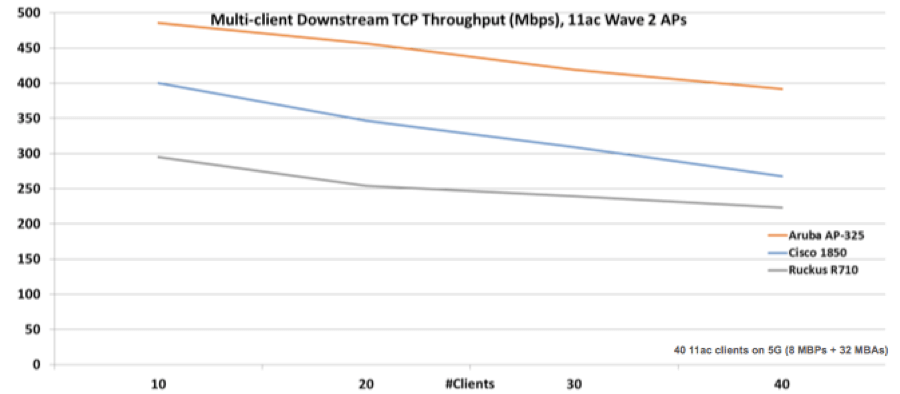 Figure 2: Vendors' Wave 2 AP performance with 10-40 clients
Test Two: One hundred 802.11ac and legacy clients @ 5 GHz and 2.4 GHz
 The purpose of this test is to identify the performance of Wave 2 access points from Aruba, Cisco and Ruckus in an extremely high-density environment. In this test, 100 clients were placed at a distance of 15-25 feet from the access point. Seventy 802.11ac clients were connected to the 5 GHz band; and thirty legacy clients were connected to the 2.4 GHz band to reflect a real-life deployment. Appropriate controllers were used for each vendor.
 The tested AP models, test environment and client device models were the same as those used in Test One.
Test Results:
With 100 clients, Aruba AP-325 out performed Cisco 1850 by 56% and Ruckus R710 by close to 100%. See Figure 3 for details.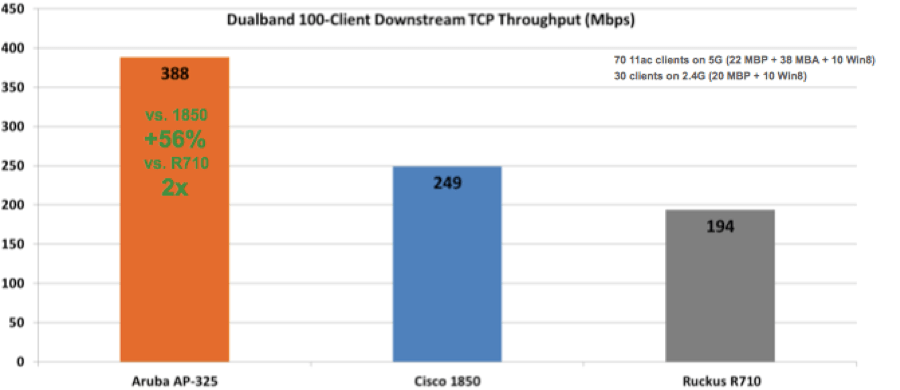 Figure 3: Wave 2 AP performance with 100 clients
Conclusions
 The Aruba 802.11ac Wave 2 access point delivered the highest data speed in the high-density environment. Its ultra-high data capacity and performance are critical for the digital workplace, where large numbers of devices are used for video streaming, mobile applications, and Wi-Fi calling. With higher performance than all of the other vendors, Aruba Wave 2 is able to meet customers' capacity requirements more efficiently.
Wi-Fi vendors have rushed to bring their Wave 2 access points to the market before the end of 2015, touting their multi-gigabit performance. However, as shown in the above tests, the real-life Wave 2 performance from different vendors may vary significantly in multi-clients environments. If you plan to boost your network capacity with Wave 2, choose carefully and don't get caught riding the wrong wave!
Why is Aruba Wave 2 out performing other vendors?
Unlike Cisco, who has positioned its AP-1850 as an entry-level 802.11ac Wave 2 access point due to the rush to market and the lack of their HDX and CleanAir features, Aruba's AP-325 is purpose-designed as a high-end Wave 2 AP for extreme high density environments. In addition to supporting high performance at high density, the Aruba 325 is enhanced with Aruba's ClientMatch technology that groups MU-MIMO capable clients together and steers them to the closest Wave 2 APs. This grouping increases the network's overall performance. The unique features in the Aruba AP-325 have boosted the efficiency of the Wave 2 network and are the keys to enabling Aruba's WLAN for data-driven digital environments.
The Ruckus R710 is positioned as a high-end Wave 2 AP. However, the lack of DPI support, content filtering, rate limiting for individual applications and the lack of the ability to enhance the efficient utilization of MU-MIMO make R710 a mediocre product in the Wave 2 market. Additionally, with the introduction of Beamforming into the 802.11ac standard, Ruckus' proprietary BeamFlex is no longer a differentiator from other vendors.
Learn more about our Aruba 802.11ac here: