We are happy to announce the new entry level Aruba AP-103 product that is the next generation of the AP-92/93 (NOTE: we continue to sell these models) that brings several new enhancements for low-cost/low-density environments. The AP-103 leverages 802.11n with 2x2:2 MIMO to deliver up to 300 Mbps per radio.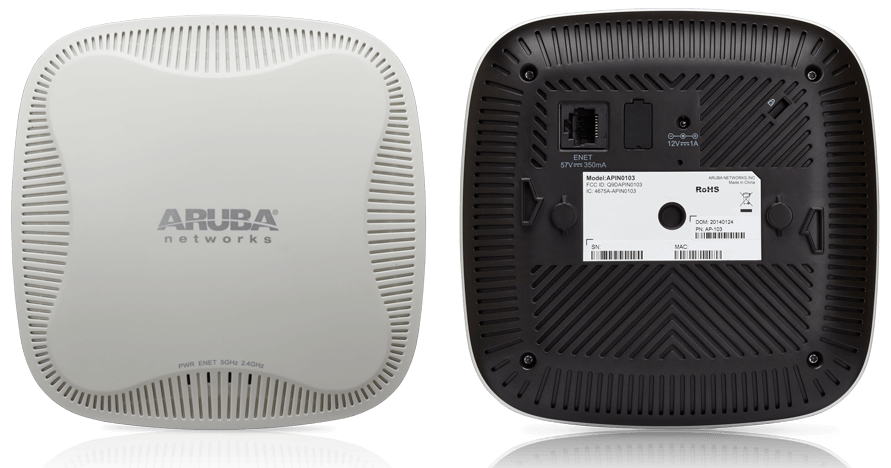 First it matches the current list price of the AP-92/93 while extending from having a single-radio to now being a dual-radio Access Point. This enables you to support both the older generation of 2.4 GHz devices (often smartphones) as well as newer dual-band devices that can leverage the less crowded 5 GHz band on the same AP.
Second, given the pervasiveness of cellular DAS systems and the introduction of new LTE bands at 2.6 GHz (LTE and TD-LTE channels 7, 38, 40, 41 sidebands overlap with 2.4GHz), we have incorporated our Advanced Cellular Coexistence (ACC) technology. This unique radio design utilizes filtering to minimize the impact from the 3G/4G LTE network, distributed antenna system and commercial femtocell interference sources in order to maximize performance.
For your environments that need to support a high density of #GenMobile users or the highest performance you should be looking at our 802.11ac products, the AP 220 Series for indoors and the AP 275 Series for outdoors.
The Aruba AP-103 (controller-managed) is available for ordering today and requires a minimum software version of ArubaOS 6.4 (available here). The Aruba IAP-103 (controller-less) will be available later in 1H 2014 and will require a minimum software version of Aruba Instant 4.1.
The Aruba AP-103 is orderable today and you can find more information in the product
data sheet and ordering guide.