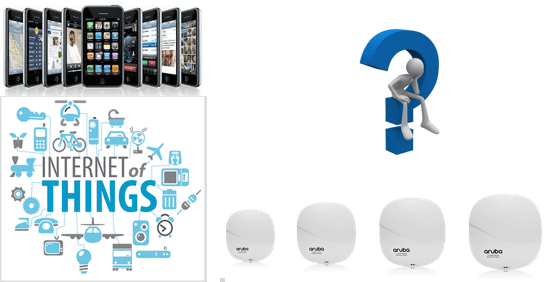 Source: Google and Aruba Networks
The surge of mobile and IoT is changing not only the way we live but the way we do business in enterprise environments. With the change, business and IT leaders must redesign their networks to provide high-speed, secure connections and actionable insights for devices and networks. Aruba Mobile First Platform integrates Aruba, a Hewlett Packard Enterprise company, access infrastructure and intelligence, helping enterprises to transition to the new digital workplaces, in which investments will be well protected and work productivity will be improved.
A high-performance WLAN with advanced technologies and programmability is the foundation of the Mobile First Platform. With the availability of a variety of 802.11ac Wave 1 and Wave 2 access points, choosing the right model has become a challenge for enterprises when designing a network.  Many factors needed to be considered. Let's take a look at some of the factors that you need to consider.
802.11ac Wave 1 or Wave 2?
It has been over 3 years after the first Wave 1 products entered the market in 2013. Since then, the enterprise environment has been powered by Gigabit Wi-Fi. Many customers have successfully migrated from 802.11n to 802.11ac. However, with the availability of a complete Wave 2 product portfolio, before choosing the access point model, customers should always decide which Wave to implement. Based on Dell'Oro 's 2016 WLAN report, in 2018, the WLAN market will be fully taken over by 802.11ac Wave 2. Below chart (Figure 1) shows the fast market adoption of Wave 2 in coming years.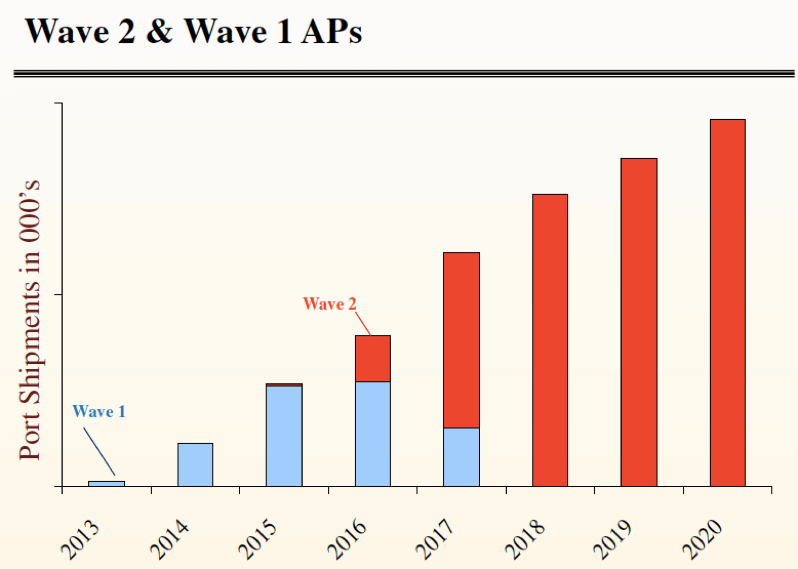 Figure 1: Dell'Oro 2016 WLAN market report and forecast
802.11ac Wave 1 is giving away its position after the inception of Wave 2. This is mainly driven by the maturity of 802.11ac wave 2 technologies and device market. Although we will still see Wave 1 in the market for a few years given the product's life expectancy and the Wave 2 adoption time, moving to Wave 2 will ensure your network can deliver the best performance and device density as the Wave 2-capable client devices grow in number.
Choosing the Right Wave 2 APs
Now that we have decided that Wave 2 is the best choice for enterprises, which AP should we select when faced with a full portfolio of high-speed AP models? Figure 2 lists the Aruba Wave 2 portfolio as an example:

Figure 2: Aruba Wave 2 family
This list provides the industry's most complete Wave 2 product portfolio for enterprises with different density and performance needs. It scales from the entry-level Wave 2 with the lowest cost, to the mid-range and very high capacity access points. Depending on the deployment requirements, all of these Wave 2 APs can be used solely or you can mix and match them to achieve the best fit for your varying requirements throughout your building(s).
The 330 Series supports the full 4x4:4SS MU-MIMO and the HPE Smart Rate (1/2.5/5GigE ports).  It provides high data speeds in very high-density environments, especially for customers who have, or plan to upgrade their wired networks with, multi-gigabit switches. In this case, the 330 Series will deliver the highest performance and the best-in-class user experience.
The 320 Series was the first 802.11ac Wave 2 AP to the market. With dual 1 GigE ports, it provides network and power redundancy to enhance the network reliability while boosting uplink performance with link aggregation. With the support of 4x4:3SS MU-MIMO, it provides an ideal solution for high-density environments.
The 310 Series is the most popular Wave 2 access points in the market, because of its high performance supported by 4x4:4MU-MIMO and its best performance to cost ratio. This series can be operated nearly unrestricted on 802.3.af power, enabling customers to leverage their power sources without giving up any features. It is the leading Wave 2 AP for deployments across verticals.
The 300 Series is positioned as the entry-level Wave 2 that has an attractive price point, Gigabit data rates and includes Aruba's unique features for Wave 2 such as enhanced ClientMatch. It is ideal for cost sensitive medium density environment across most vertical environments. The 300 Series offers great flexibilities for customers with scaled business and financial requirements.
Figure 3 below highlights the difference of Aruba Wave 2 access points to aid in your selection:

Figure 3: Aruba Wave 2 AP comparison
With the requirements of #GenMobile and the growing move to embrace a digital workplace, additional factors will be considered when customers plan and deploy a WLAN, for example:
need for location based services, either now or investment protection for future
need to balance cost and performance across the deployment to achieve best-fit
ability to monetize the network
No matter what the customer's highest priority is, identifying and selecting the right Wave 2 AP with desired benefits has become the foundation of success when enterprises move to the digital workplace. Compare Aruba APs.