Business agility isn't just a buzzword. Business agility requires IT agility, which is the combination of several critical capabilities: automation, visibility, analytics and seamless integration with operational workflows and security. Also required is full network assurance including remediation. We all understand the need. Past attempts to solve this challenge have introduced proprietary developer platforms. Our customers tell us the network should accommodate the business, not the other way around. So, our switching solutions set out to deliver programmability "done right" — approach the campus core like any other piece of modern software, leveraging programmability for automation and seamless integration, easy to consume.
The Aruba 8400 Core and Aggregation Switch offers the performance, scale and high reliability needed to be the campus core for many years. It also comes with the first fully programmable OS, ArubaOS-CX, built ground up for the campus core with built-in automation, analytics and visibility. Finally, we also heard from our customers that their teams spend as much as 75% of their time doing mundane tasks and troubleshooting common scenarios like spanning tree loops and misconfigured systems. We have responded with the Network Analytics Engine, which combines powerful automation and programmability with native analytics tools for comprehensive network assurance. The Aruba 8400 with ArubaOS-CX and Network Analytics Engine are unique and powerful, and together, they will chart a new course of what is possible in campus networks. They are the perfect new addition to the Aruba Mobile First Family!
Make Your Network and Teams Agiler
With the introduction of the Aruba 8400 and Aruba OS-CX, our objective for switching software was to finally catch up with the technology disruptions of the last 15 years around mobile, cloud and the Internet of Things (IoT). Here are a few ways in which the Aruba 8400 makes networks and networking teams agiler.
Let's take a week or month in the life of an operator. First, the process of configuring a network, change control and actual deployment is incredibly manual, time-consuming and error-prone. With Aruba, network operators can simplify and automate like never before, making it easy to configure and validate the design. This can be easily integrated with change management tools, where designs are approved and then applied via a configuration management tool. Operators can move from planning CLI commands to the speed of a virtual sandbox.
ArubaOS-CX is more than an operating system in the traditional sense; it's a network microservice for a campus context.  It is a modern piece of software that integrates with other software platforms and applications to solve business-relevant problems. The database-driven architecture makes it easy to trigger automation and integrate it with other systems.
Automate Troubleshooting
In the core of the network, performance, scale and rock-solid reliability are absolute table stakes. Once that foundation is in place, customers can turn to the business care-abouts, including services agility, application performance and security. How can our customers provide network assurance? They need visibility, analytics and remediation. We've addressed this need with a first-of-its-kind Network Analytics Engine. When there is a problem, a network operator typically starts manual troubleshooting by looking at the network at that moment. It takes time and lot of CLI-based commands and might even require running probes and other traffic generators to recreate the problem. Localizing the problem could take hours, and it may never be reproduced.
What if we could have intelligent scripting agents already in place to monitor symptoms related to poor application performance? This native capability comes with a built-in time series database with simple software scripting to monitor for any set of parameters with automated actions ready to go deeper and remediate. So, when a problem occurs, you are ahead of the game because you already have follow-up actions in place, historic visibility to what happened and integration into your workflow systems for reporting.
Network Analytics Engine will evolve over time to provide broader capability and insights across the Aruba switching portfolio, allowing for end-to-end assurance. It also will evolve to act as a sensor and receiver of analytics from other security and analytics platforms. With its easy integration with other security, management and workflow systems, Network Analytics Engine provides end-to-end remediation in a way that was not possible before. Over time, it becomes a network assurance, performance management, and monitoring system as a native network capability. No one else does this.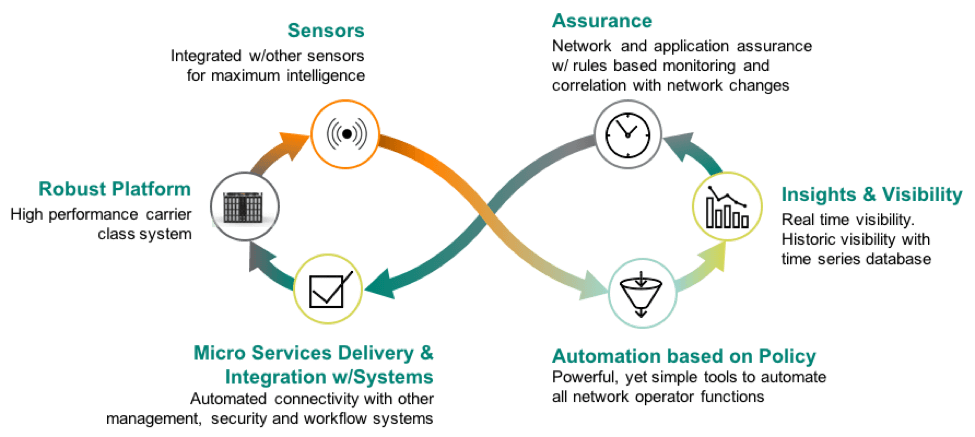 Focus on Business Care-Abouts
For sure, these capabilities simplify the life of the network operator. The IT leadership loves it too because their teams move faster and with more confidence, truly accelerating how the network can deliver against the new challenges of mobile, cloud and IoT.
Ready to learn more?
Read the blog, "Three Reasons Campus Networking Needs a New Approach."