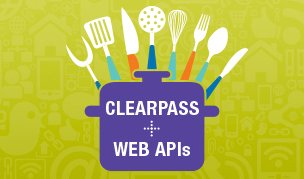 Today we're excited to debut ClearPass Exchange Recipes on Airheads Community! You now have a one-stop shop to browse through a multitude of built-in ClearPass Exchange integrations. But that's not all, we've also provided a forum where our Airheads Community user base can share build-your-own REST based ClearPass Exchange integrations.
What is ClearPass Exchange?
With ClearPass Exchange, your access management system is no longer limited to enforcing policies primarily through RADIUS commands. ClearPass Exchange supports a wide array of web APIs and languages, including: SQL, syslog, XML, SOAP, SAML, OAuth2, and HTTP APIs. This flexibility allows ClearPass to share rich context and apply business policies beyond traditional network access appliances. HTTP API enforcement allows ClearPass to interact with an ever increasing list of API enabled 3rd party solutions.
The result is improved security, automation, user satisfaction and less time spent on manual IT tasks. Just imagine what else you can do now that the policy infrastructure is communicating with your security and business systems.
Types of ClearPass Exchange integrations
ClearPass Exchange integrations come in two flavors:
Built-in native integration (over 65 and counting)
Build-your-own integrations utilizing HTTP RESTful APIs
Outbound REST based APIs allow ClearPass Exchange to interact with any API-enabled web-based framework using standard HTTP commands such as POST and PUT. This approach gives ClearPass tremendous flexibility and extensibility so you can integrate network-triggered workflows with any server you choose.
Something for every palate
BYOD: Integrations with Enterprise Mobility Management ('EMM') platforms help ClearPass understand more about EMM managed devices (e.g. ownership type; jailbroken device) to help differentiate network admission policies.
Security - Firewalls: Increase the effectiveness of your next-generation firewalls by extending its policy enforcement criteria beyond simple IP address and app classification types. ClearPass can share detailed user and device-type information to create more granular firewall enforcement policies.
Notifications: Network admission events no longer need to be hidden in syslog files or within the annals of your SIEM system. Integrate ClearPass with virtually any notification system to inform your IT teams and end-users of failed authentication attempts in real-time.
The buffet line is open
The ClearPass Exchange Recipe Knowledge Base is a one-stop shop where you can browse and share various 3rd party integrations with ClearPass. The integration catalog showcases both built-in integrations as well as build-your-own integrations submitted by our Airheads Community members. Airheads Community users can contribute new recipes to the site or comment/rate existing recipes.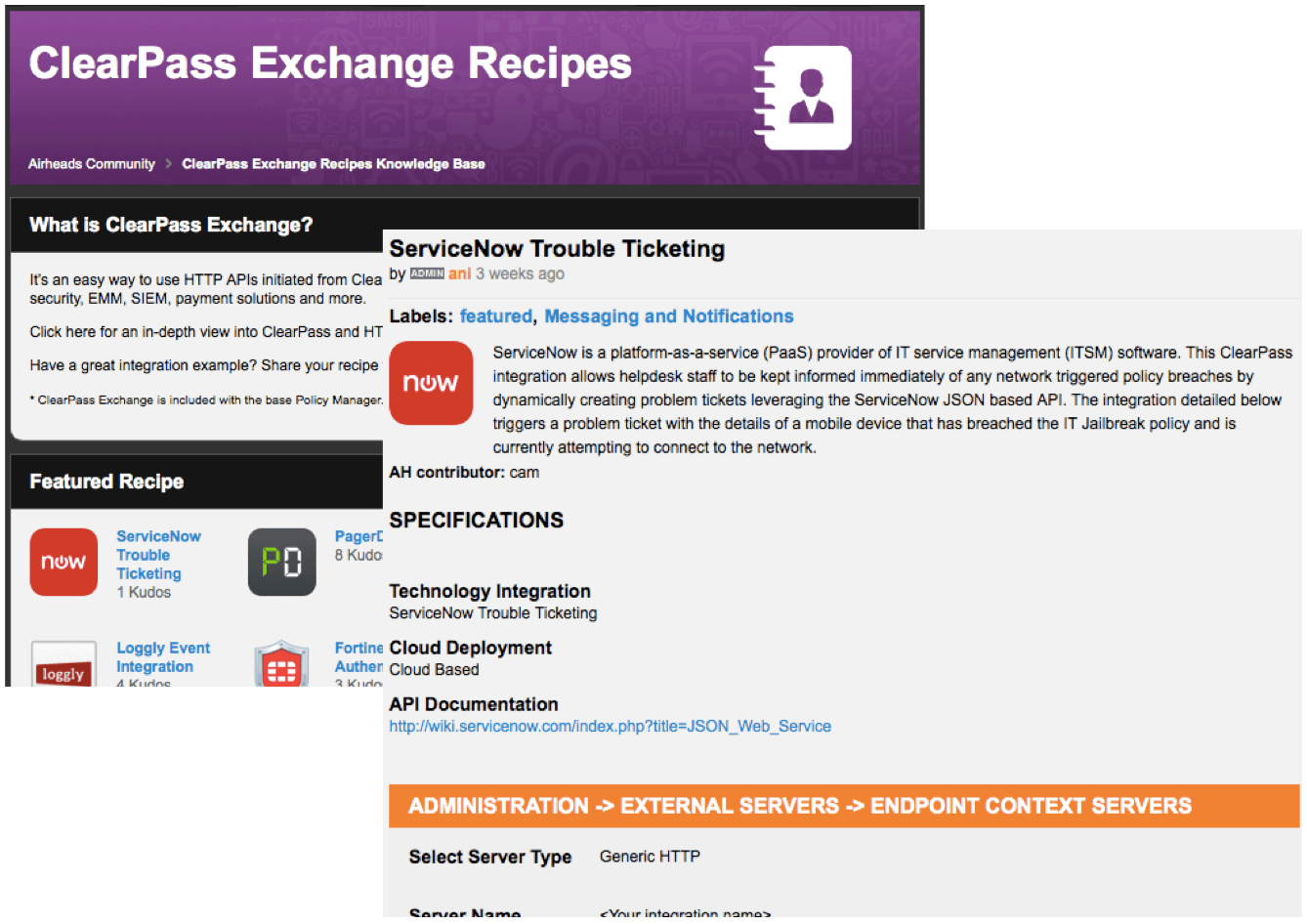 Stay tuned to ClearPass Exchange Recipes in the New Year as we'll be announcing some exciting integration contests for our talented Airheads Community to participate in.  Bon appetite!
Resources:
Technote: ClearPass Exchange Overview with Configuration Example
ClearPass Exchange Recipes on Airheads Community