We're pumped for Atmosphere 2018 (ATM18) in Las Vegas. Keynotes, technical training, partner sessions, the Innovation Zone and, of course, the parties. But I'm most excited about the show network. The network will be a one-of-a-kind experience.
To showcase our innovative technology, we are deploying our own wired and wireless network across the Mandalay Bay Convention Center, which at 1 million square feet, is one of the largest in the world. The network will support everything from ATM18 registration to the opening keynote, to product demos and technical certifications, and of course the educational sessions. And it will be used by more than 3,000 people.
There's no better time to drink our own champagne than at our conference.
The catch? The Aruba solutions engineering team has only 24 to 48 hours to build the network at the convention center. The network includes some 50 switches, 250 access points and a cluster of mobility controllers. There's a ton of design, cabling and configuration to do to cover the Mandalay Bay Convention Center, and we have a team of seven. To get a jumpstart, we've designed an amazing network, which we are staging in Sunnyvale before we head to Vegas.
State-of-the-Art Event Network Design
We designed the ATM18 network for the highest levels of scalability, resiliency, and security.
The network is designed for high density using AP335 for 802.11ac Wave 2 connectivity. Every AP setting, such as channel, transmit power and channel bandwidth, will be dynamically optimized with the intelligent AirMatch technology. This is critical for us to be able to deploy a network of this scale in such a limited time and to assure the end user's performance and user experience. We have done this in past events, and AirMatch saves so much time in comparison to manually selecting channels and tuning the RF space.
Two Aruba 8400 switches are the network core. Our new 8400 switch delivers unmatched performance and security.
ArubaOS-CX is a modern network operating system and brings intelligence and automation to the core with full programmability and embedded network analytics. We're using Multi-Chassis Link Aggregation (MC-LAG) for high availability. The network is running IPv6 as well.
We are using 3810 switches on the edge. These switches have Smart Rate ports, redundant power supplies and multiple fiber uplink ports. With a 1U physical space, they fit into the IDFs at the Mandalay Bay Convention Center, which is already pretty full.
In certain areas, we use the 2930F and 2530 switches, which have a footprint small enough to fit in the convention center's floor boxes to provide an uplink and Power over Ethernet (PoE) for the APs.
We are running a pretty complex set of features on the edge, including with dynamic segmentation and 802.1x authentication for the APs, and AirWave helps us manage the configuration for these switches seamlessly.
Dynamic segmentation simplifies the edge and ensures that all devices are automatically assigned the right roles and placed in the right network segment. Authentication happens on the switch, and with the help of ClearPass and intelligent profiling, we can steer each device into the right user-role. As an example, APs are bridged locally on the switch after being authenticated using the built-in TPM certificate, but an RFID reader or a surveillance camera will be tunneled to the controller cluster where the Policy Enforcement Firewall is applied. Dynamic segmentation, also known as per-user tunneled node, provides a separate tunnel to transport traffic on a per-port basis from a switch to a mobility controller.
We're ready to meet the inevitable network changes that happen at every event. Within minutes, we can easily make changes to the switches using templates, and then push those changes networkwide to all switches. That will save a huge amount of time – and cut the chances of human error.
Expect Great Wi-Fi Everywhere
We've all been to those conferences where you couldn't get a Wi-Fi signal during the keynote. We're confident that it won't happen here. We're leveraging our design for stadium Wi-Fi, including APs mounted under the seats, and bringing it into an event environment.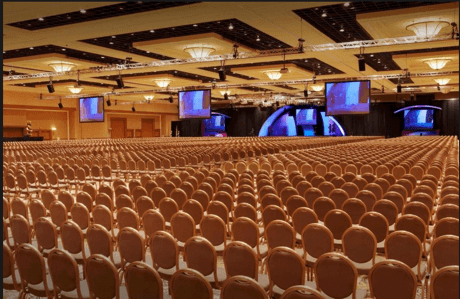 All attendee, employee and partner devices will be authorized through ClearPass, and they can be confident of easy, secure access to wireless and wired. ClearPass supports multiple authentication methods, including 802.1X and MAC authentication, to support the broad variety of devices we'll see at the event. Additionally, we have integrated Passpoint Secure with our network, to enable a secure and seamless connection experience for mobile phones. Regardless of the authentication method, users and their devices will be placed in the appropriate VLANs based on their profiles, so the network will be fully segmented and secure.
Leveraging Machine Learning for Better Networks
We'll be running IntroSpect User and Entity Behavior Analytics (UEBA) on the show network. IntroSpect uses AI-based machine learning to spot changes in user behavior that often indicate inside attacks that have evaded perimeter defenses.
Simplified Management
The NOC team will use AirWave to manage the network. They can monitor user behavior and proactively troubleshoot application issues. Dashboard views will quickly help make clear any potential issues with RF coverage, application performance and overall network services health, so we can rapidly address them.
Check Out our ATM18 Mobile App
Attendees can download the ATM18 mobile app, so they will know what's happening and can be notified of important events. The app provides turn-by-turn directions using Aruba location technology. Attendees will have great location accuracy for wayfinding wherever they are in the convention space, with the combination of the BLE beacons inside the APs and battery-operated beacons.