One of the most interesting aspects of having participated in wireless and mobile for almost (gulp!) 25 years is in appreciating just how cultural wireless has become. By that I mean how wireless is today very much like air or water or electricity – it's just there, quietly and efficiently filling a need that we just couldn't live without. We used to describe wireless in terms of anytime and anywhere, and that's indeed the reality we have today.
And one of those very important anytimes and anywheres is in distributed and branch settings, where wireless LANs are (no surprise here) once again essential. Wiring any location can be a pain, but with contemporary mobile devices losing much of their inherent value without being completely wireless (and most lacking, regardless, any way to connect to a wired LAN), wireless access has become essential in finance, healthcare, retail, education, and, well, every other distributed setting.
They key challenge to IT managers today, however, has little to do with airwaves and access points – rather, enabling the broad array of functionality required in branch settings has traditionally involved an awful lot of moving parts. Think about all of what's traditionally been required here – routers, switches, wireless-LAN controllers, firewalls, local servers, management servers or appliances (and a local console), local storage, and often much more. Sure, networking benefits from standards and interoperability, but think about the capital cost, system-integration expense, having to deal with multiple management consoles, ongoing maintenance, and well, you get the picture. Distributed and branch operations are today essential, but they can also be expensive – and even very expensive, and that from the perspective of both capital and operating expense. Minimizing total cost of ownership, then, can be really difficult, and the opportunity for errors across the board – from misconfigurations to outright security holes – can be a serious resource-devouring pit.
Fortunately, a very powerful opportunity, which we believe will in fact will become an outright trend over the next few years, has now emerged: the consolidation of almost all of the functionality required in the field into a single, high-function, cost-effective unit that is often called a branch controller. Yes, it's still a wireless LAN controller. But it benefits from two other key trends that IT managers are thrilled to have available: Ethernet for wide-area connectivity, and Cloud-based business applications. As any residential network user knows today, Ethernet WANs are fast and cheap – and readily available in most locales. So – no more expensive routers required, with simplified operation and lower operating costs in the bargain.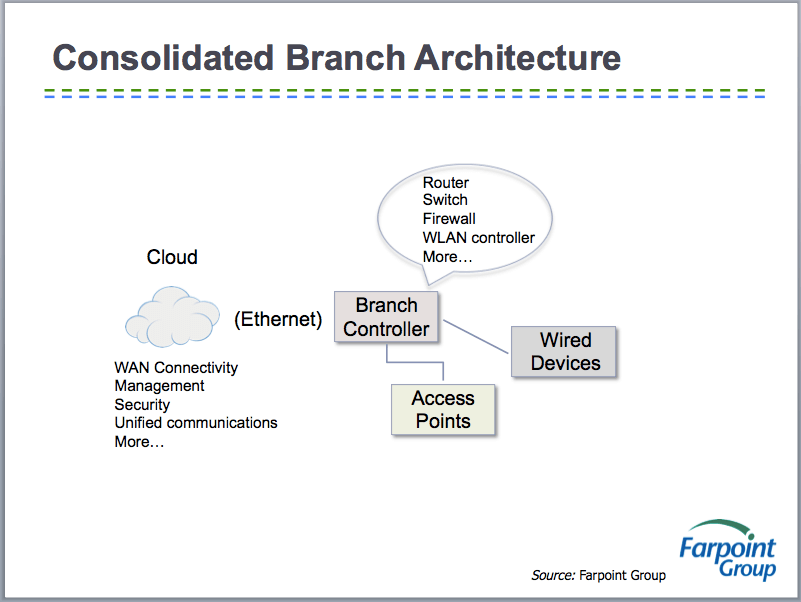 Even more important is taking advantage of the broad range of IT services that are moving into the Cloud. No more requirements for local servers and storage, local operations staff, and, really, on-site anything. We expect even more IT functionality to move into the Cloud over time, but we today already have a few notable and valuable benefits in place: consolidated functionality, security, manageability, and cost control. All that's required are a few access points, perhaps a few Ethernet ports for any legacy equipment still in use, and a space to put a small number of components – often just the branch controller itself. And, as they say, that's that - you're done!
Our upcoming Webinar on this topic will go into all of the details here, but you've got the gist of it: think consolidated functionality, optimizing for Cloud-based services, centralized control, and, finally, a way to minimize the total cost of ownership with less work than ever before. I remember the early days of distributed computing – slow, complex communications, more boxes than one could count, lots of software and integration issues, and costs that could curl your hair. So welcome to distributed and branch IT that just works – and weekends that are truly yours.
Click here to register for our Webinar on March 31st at 11am PDT / 2pm EDT