The latest ArubaOS 6.5 (AOS) is out and you are wondering what is new!  We are continuing to do everything smarter in what we call the brain of our network, Aruba Operating System.
We made quite an enhancement to the new OS, making the wireless network more predictive, secure and stable for delivering better user experience . We also introduced new hardware 7008 Controller and the 310 and 330 AP series.
I will only go through some of the key enhancements in this blog, but for a complete list of all feature updates please click here.
Cellular Handoff
How many times have you been browsing while you were stepping outside your house/work at the edge of your Wi-Fi coverage and your web page freezes or your call drops? 
In Wi-Fi hotspot deployments, Adaptive Radio Management (ARM) is engineered to offer clients the ability to switch from Wi-Fi to an alternate 3G/4G radio that provides better network access. The cellular Handoff helps dual-mode, 3G/4G-capable Wi-Fi devices such as iPhone, iPad, or Android clients at the edge of Wi-Fi network coverage provide better network access.
Better cellular Wi-Fi calling
As cellular Wi-Fi calling, which offloads regular cellular calls onto a Wi-Fi network becomes more prevalent, businesses need to prepare their Wi-Fi infrastructure, re-evaluating Wi-Fi network design, handoffs, QoS, and RF coverage goals. This update to ArubaOS adds the ability to recognize these encrypted cellular calls allowing you to apply quality of service, block or throttle calls as well as gain visibility into client health- providing a carrier-grade voice experience for customers.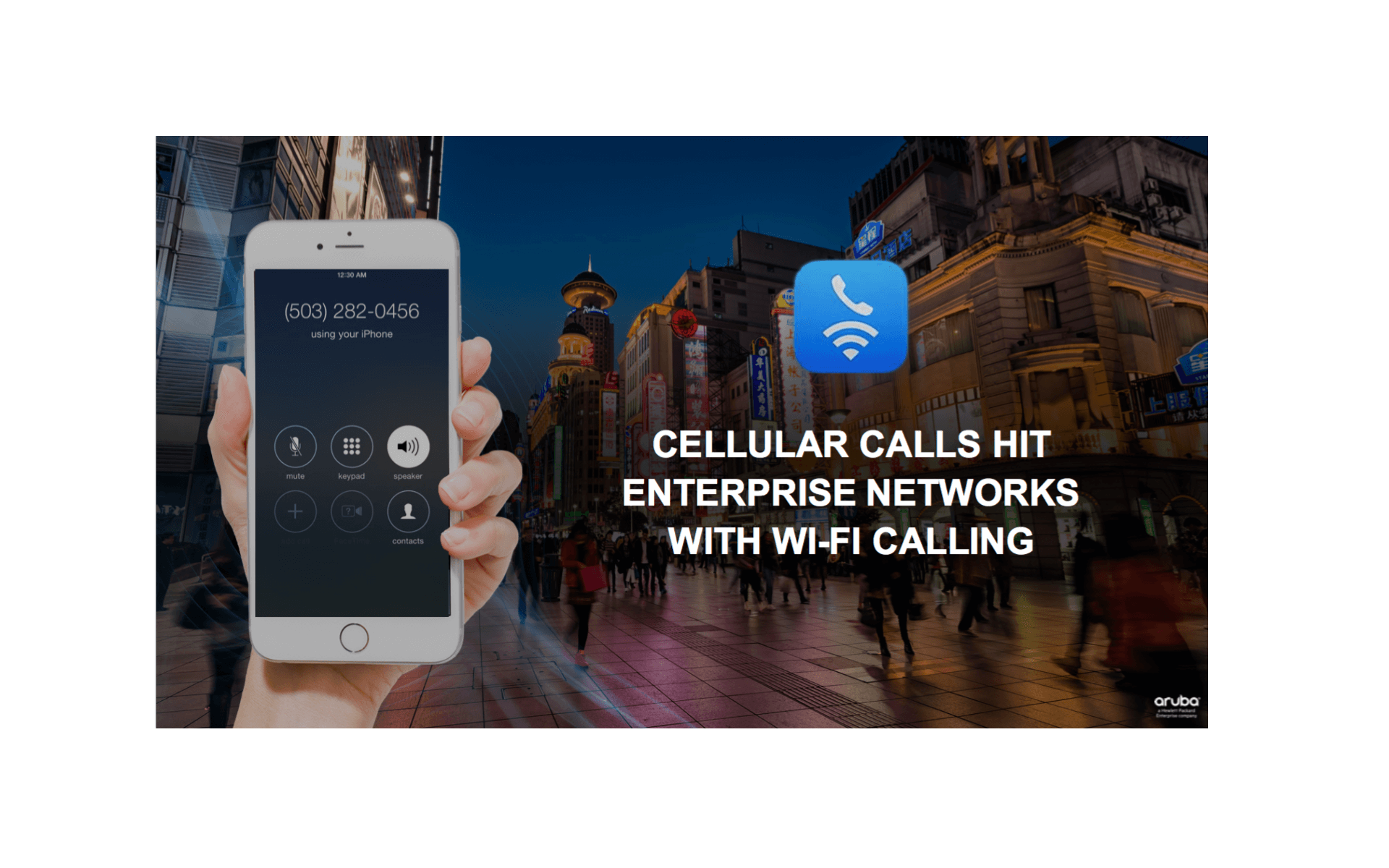 Making network management "proactive" with Aruba Clarity for AirWave
Today, most mobile connectivity issues are quickly attributed to "bad Wi-Fi". Even though this may not be a wireless or RF related issue at all.  We've also become very demanding users and will blame the IT team if we don't get the best user experience.  In this case, IT ends up having to access multiple systems just to identify the problem.
With Aruba Clarity, which is a module within our Aruba AirWave management platforms, IT organizations now have visibility into non-RF metrics (RADIUS, DHCP and DNS server).  This feature not only gives end-to-end visibility into a wireless user experience but also the ability to foresee connectivity issues before users are even impacted.  In addition, Aruba Clarity will also enable WLAN administrators to simulate traffic to identify performance issues before users experience them. This proactive workflow comes in two flavors -  on-demand or scheduled.  In AOS 6.5, Clarity Synthetic enables the controller to select and convert any 200 Series access point to client mode. The converted AP acts as a Wi-Fi client and starts synthetic data transaction within the network to monitor and detect the network health. See Clarity in action.
The WAN health-check feature measures WAN availability and latency on selected uplinks. So based on the results of this health-check , the controller can continue to use its primary uplink or failover to a backup link. This feature can also measure the jitter while connecting to a remote host.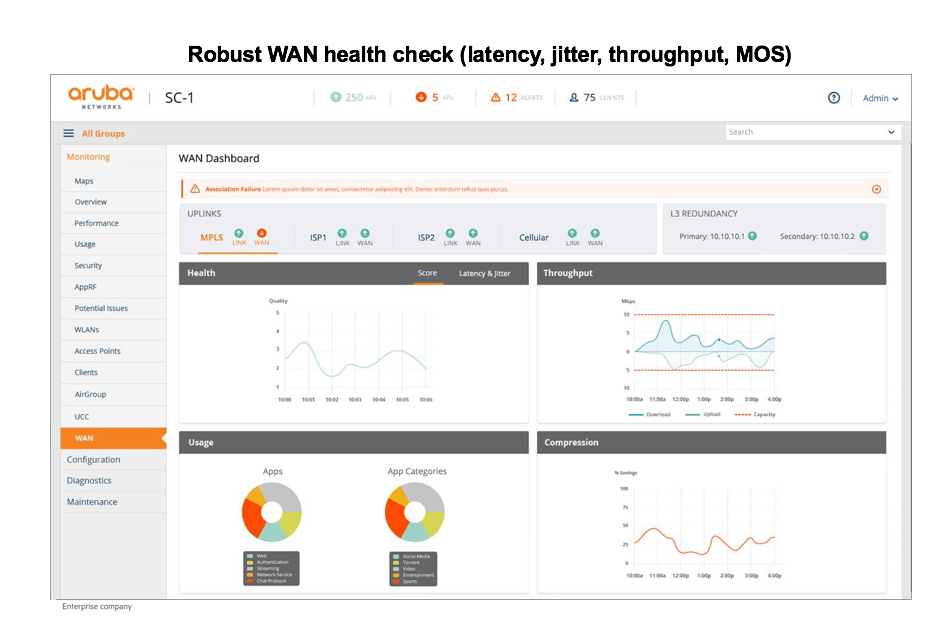 Extending Web content policy and reputation with Geolocation Filtering 
More and more malicious websites are appearing on the Internet every day. And more and more applications are now nothing more than websites. According to Ponemon institute , 80% of people that had a breach in their network believe if they had threat intelligence at the time of the breach they could have prevented or minimized the consequences of the attack.
Our threat intelligence engine resides in our OS. In order to protect the network in the most accurate and up-to-date way possible, ArubaOS includes an optional subscription for web content visibility, IP reputation, blocking, rate limiting and the new addition of geolocation. The solution involves extracting the hostnames and URLs that users are browsing using the Aruba Deep Packet Inspection engine.
These URLs are then crossed referenced from a locally-cached database that contains commonly used websites such as Yahoo/Google. If the user's site is not on the list, the Mobility Controller makes a request for the category, classification and reputation of the website from a cloud-based database that tracks millions of URLs and IP addresses on a real time basis.
Each website is classified according to the type of content it serves and the reputation of the website.
Content captures the spirit of the site, such as news, gambling, adult or social media while Web Reputation captures the likelihood that the website will have malware attack or phishing scam.
The new added benefit, the geolocation filtering allows to associate source /destination IP addresses with location.  And once you find the location you can use Web content filtering to apply policies to permit or drop inbound or outbound communications with that certain country .  We have a new dashboard to visualize threats and other associated metadata. As you can see below you can find out for example in Ukraine the threats were detected are mostly web attacks followed by DOS and Malicious mobile apps.The new dashboard also allows you to see threats by country of origin and the type of threats they have.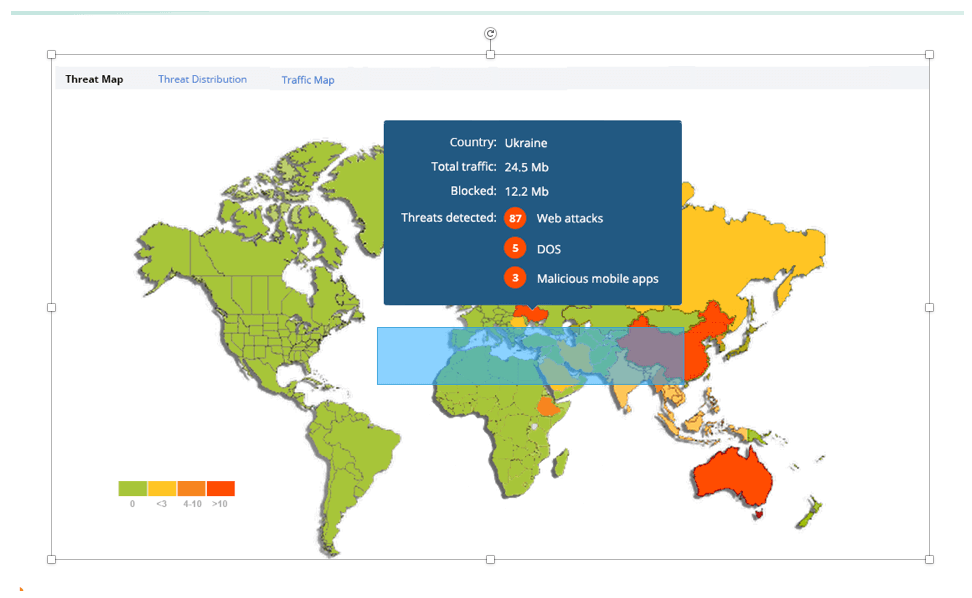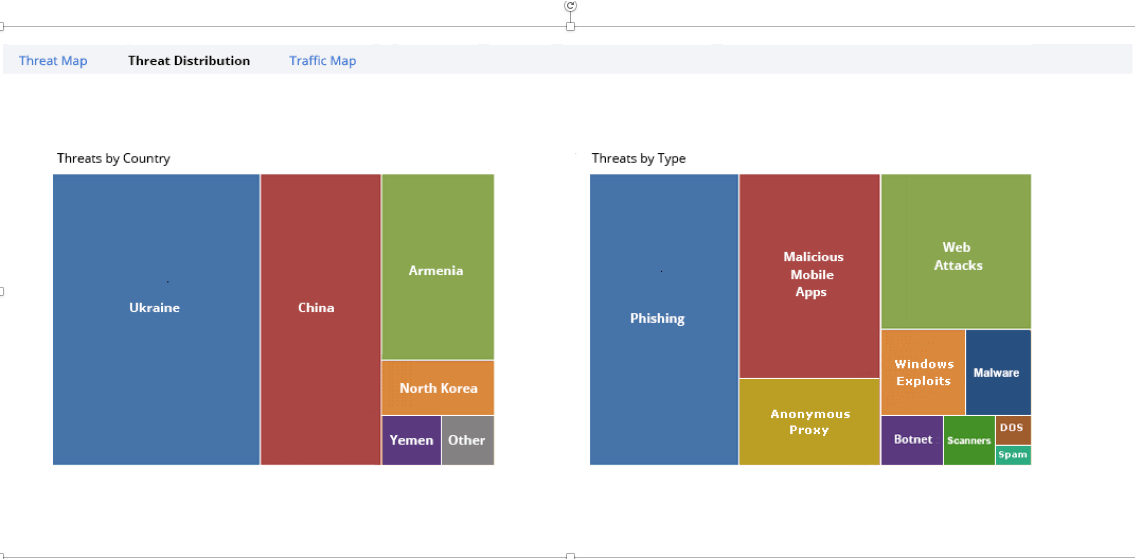 With these new key enhancements, we are extending our security with geolocation and enhancing our network stability with proactive network management as well as enhancing our mobile user experience.
For more information about the new updates please check out the Aruba OS 6.5 data sheet.
N