In today's fast-paced world, product reviews and awards is a very important aspect when considering technology purchases. Highly rated products and award-winning solutions are consistently chosen by customers as they make an informed decision.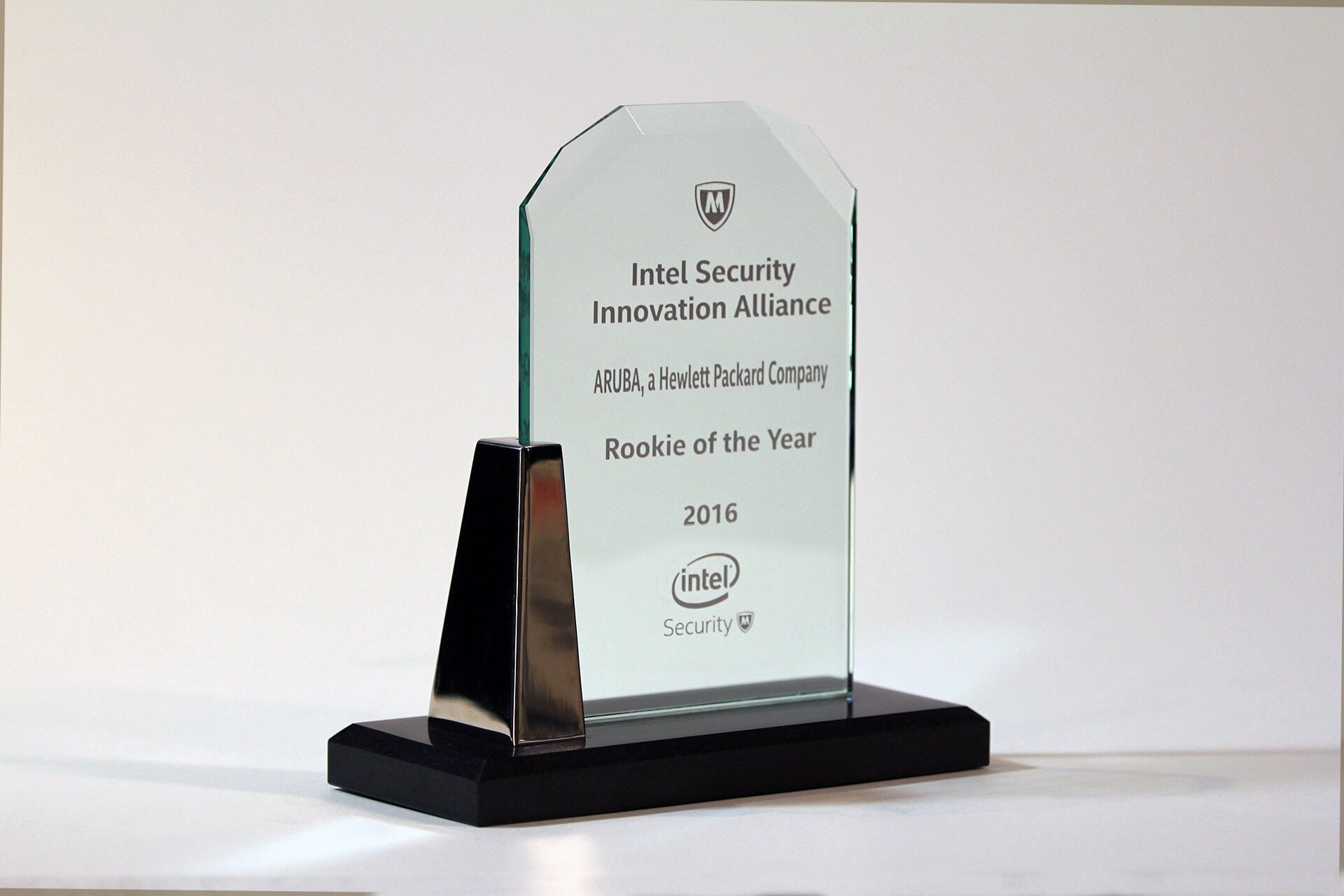 Aruba, a Hewlett Packard Enterprise company, is proud to be a member of Intel McAfee's Security Innovations Alliance (SIA) program and to have received the 2016 SIA Rookie Partner of the Year Award for our
integration efforts in helping to solve customer Network Access Control (NAC) and endpoint policy challenges.
Aruba ClearPass offers extensive features to ensure that only devices that meet compliance requirements are granted network access, utilizing information gained from McAfee ePolicy Orchestrator (ePO).  As the device and user profile and policies managed by ePO is shared on a consistent basis with ClearPass, this information becomes a valuable asset in the network enforcement process. Operating system patches, application updates, application whitelists and antivirus definitions are critical to reducing the attack surface of the enterprise. But what happens when a device is out of compliance?
This is where Aruba ClearPass helps. ClearPass acts on the information obtained by ePO and allows IT to determine the best way to handle an out-of-compliance system. To prevent a non-compliant device from connecting and posing potential threats, ClearPass performs enforcement such as quarantining of the device until the necessary updates have been installed by ePO or an automatic blacklisting of the device depending on the type or user's role. Once ePO confirms the system is in compliance, ClearPass can then automatically provide a change of authorization to grant full network access.
The key benefit of this integration is a holistic approach to network access control and endpoint management,  which significantly strengthens the protection of corporate network data by preventing the infection of other endpoints.
Aruba's award-winning partnership with Intel Security shows how ClearPass can help enhance ePO management by providing additional security and access control for any multivendor environment, wired or wireless.
By incorporating ClearPass in an ePO environment, existing and future ePO customers also gain the benefit of built-in device profiling for both wired and wireless networks, and automated guest access and employee BYOD onboarding. Agentless user and device authentication, authorization and accounting are standard based features that also work in any multivendor wired and wireless environments.
This integration between Aruba ClearPass and Intel Security's ePO is not only about interoperability:  by working together and sharing asset and policy context, additional feature enhancements and benefits can be realized – namely, the efficiency and efficacy brought about by automated workflows between the applications.  Bringing the two market proven solutions together provides enhanced productivity, automated security and a better user experience for everyone involved.
For more information about Aruba ClearPass and other third-party integration efforts visit our Network Access Control product pages.