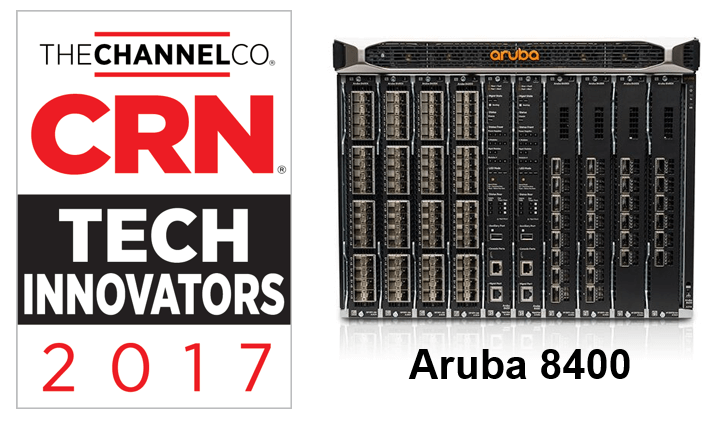 CRN®, a brand of The Channel Company, has recognized Aruba, a Hewlett Packard Enterprise company with a 2017 CRN Tech Innovator Award for our new Aruba 8400 Core and Aggregation Switch.
What is the CRN Tech Innovator Award?
These annual awards honor standout hardware, software or services that have helped to move the IT industry forward. In compiling the 2017 Tech Innovator Award list, CRN editors evaluated 216 products across 32 technology categories using several criteria:
Technological advancements
Uniqueness of features
Potential to help solution providers solve end users' IT challenges
Aruba's 8400 Campus Core and Aggregation Switch Series took top honors in the Networking Enterprise company category. The complete list of winners can be found at crn.com/techinnovators.
What are the 8400's innovations?
Mobility, cloud and IoT have challenged every part of the network, and legacy, static campus core networks haven't been able to keep up. The Aruba 8400 Switch Series breaks that old mode with a flexible and innovative approach to dealing with the new application, security and scalability required by modern networking environments.
The 8400 is based on the new ArubaOS-CX, which sets Aruba's solution apart from legacy static and inflexible operating system designs. ArubaOS-CX acts as the brains of the switch to automate and simplify many critical and complex network tasks delivers enhanced fault tolerance and facilitates zero-service disruption during planned or unplanned control-plane events.
ArubaOS-CX brings intelligence and automation to the core with full programmability and embedded network analytics, giving network operators the ability to see more, know more, and act faster.
Inside ArubaOS-CX is the powerful Aruba Network Analytics Engine that allows IT teams to easily monitor and troubleshoot the network, system, application and security-related issues activities with simple rules-based monitoring and automatic correlation of network activities using simple Python scripts and REST APIs. The Network Analytics Engine capability comes with a built-in time series database that enables customers and developers to develop software modules that will allow historical troubleshooting, as well as analysis of historical trends, to predict and avoid future problems due to scale, security and performance bottlenecks.
The 8400 is a high-performance eight-slot chassis with 19.2Tbps switching capacity that provides industry-leading line-rate 10GbE/40GbE/100GbE port density, large table sizes, deep buffers, and scalability for support of full Internet routes. To ensure the carrier-class high availability required by a campus core, the 8400 maximizes resiliency with redundant management, power and fans.
For smaller campus core and aggregation deployments
We recently announced the Aruba 8320 Switch Series, a high availability campus core and aggregation switch with 2.5Tbps switching capacity. The 8320 has a compact 1U form factor, so is ideal for smaller deployments. It has built-in line rate 10GbE and 40GbE ports with redundant power and fans and is based on the same ArubaOS-CX with Network Analytics Engine that the 8400 has.

Aruba 8320 Switch
The 8320 will be orderable in December and you can learn more about it now at the links below.
To learn more about the Aruba 8400 and new 8320
Check out the ArubaOS-CX video, the Aruba Network Analytics Engine video and learn more about the Aruba 8400 Switch Series and the Aruba 8320 Switch Series.