The Aruba 3810 Switch Series hits the sweet spot for a powerful, scalable solution and best value fit for customers who are building high-performance mobile-first networks and require a scalable, future-proof solution.  These switches have an optimized feature set and are ideal for campus network aggregation and access for enterprises, branch offices, and SMBs.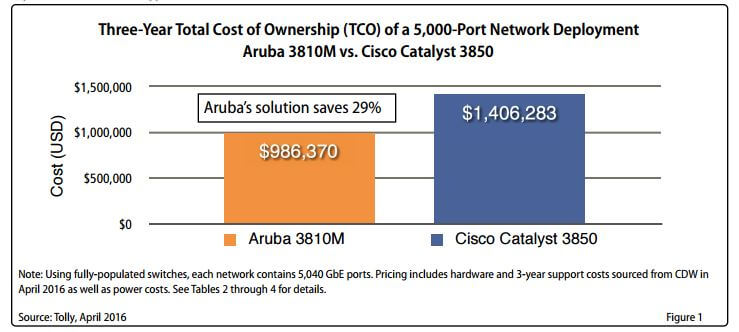 To validate the Aruba architecture, independent testing agency Tolly evaluated the Aruba Switch Series along with the Cisco Catalyst 3850.  The bottom line is that Tolly competitive test results show that the Aruba 3810 Switch Series:
Delivers 69% lower average L2 5-member stack latency than the Cisco 3850
Delivers 51% lower average L2 standalone latency than the Cisco 3850
Provides 29% lower TCO than the Cisco 3850 in a 5,000 GbE port configuration
Cost-per-Gigabit that is 30% lower than the Cisco 3850
Includes full L3 features with no software licensing costs and a limited lifetime warranty
Equipment, Test Setup and Methodology
Performance tests were performed using Spirent's TestCenter 4.59 test tool, and 2x Spirent SPT-9000 Chassis, populated with 12-port 1GbE modules and 8-port 10GbE modules.  All tests were run using Spirent TestCenter 4.59 on a Microsoft Windows 8 system.  All switches tested were similarly configured.  Below is the equipment tested (full test report here):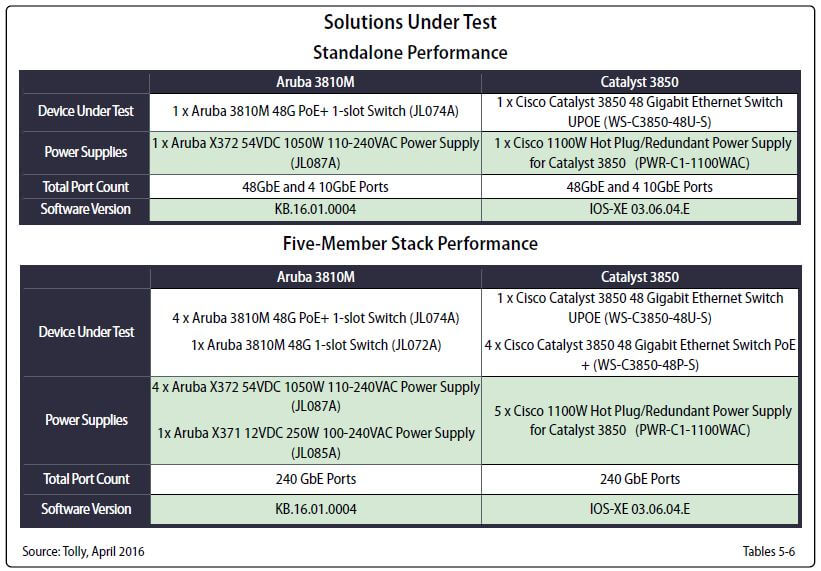 Low LATENCY is crucial to delivering a usable and enjoyable.  Higher latency results in longer wait times.  No one wants that!  The Tolly test report demonstrates the Aruba 3810 coming in with more than 50% lower latency than the Cisco 3850 in both standalone and stacked configuration tests.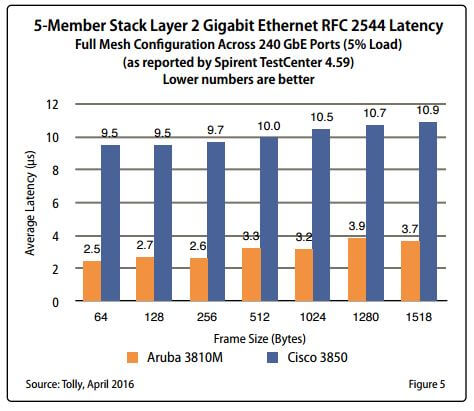 Don't waste your valuable time dealing with long reboot times.  The Aruba 3810 takes less than 2 minutes to reboot, while the Cisco 3850 takes over 6 minutes, which is only okay if you want to call your mom or listen to the extended version of your favorite song while you wait.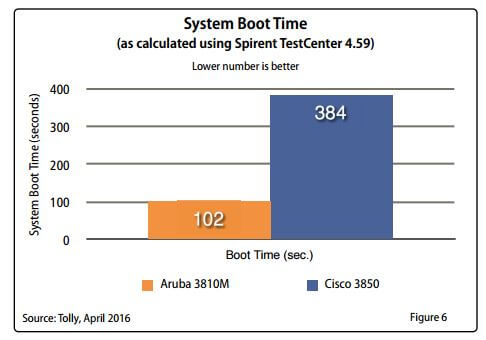 More about the 3810
It is a powerful Advanced Layer 3 switch series with backplane stacking, low latency, and resiliency for a better mobile-first campus network experience. Designed with a powerful custom ASIC and ready for the latest high-speed APs with HPE Smart Rate multi-gigabit Ethernet, the 3810 can be securely managed and monitored by software overlays like Aruba ClearPass Policy Manager and Aruba AirWave.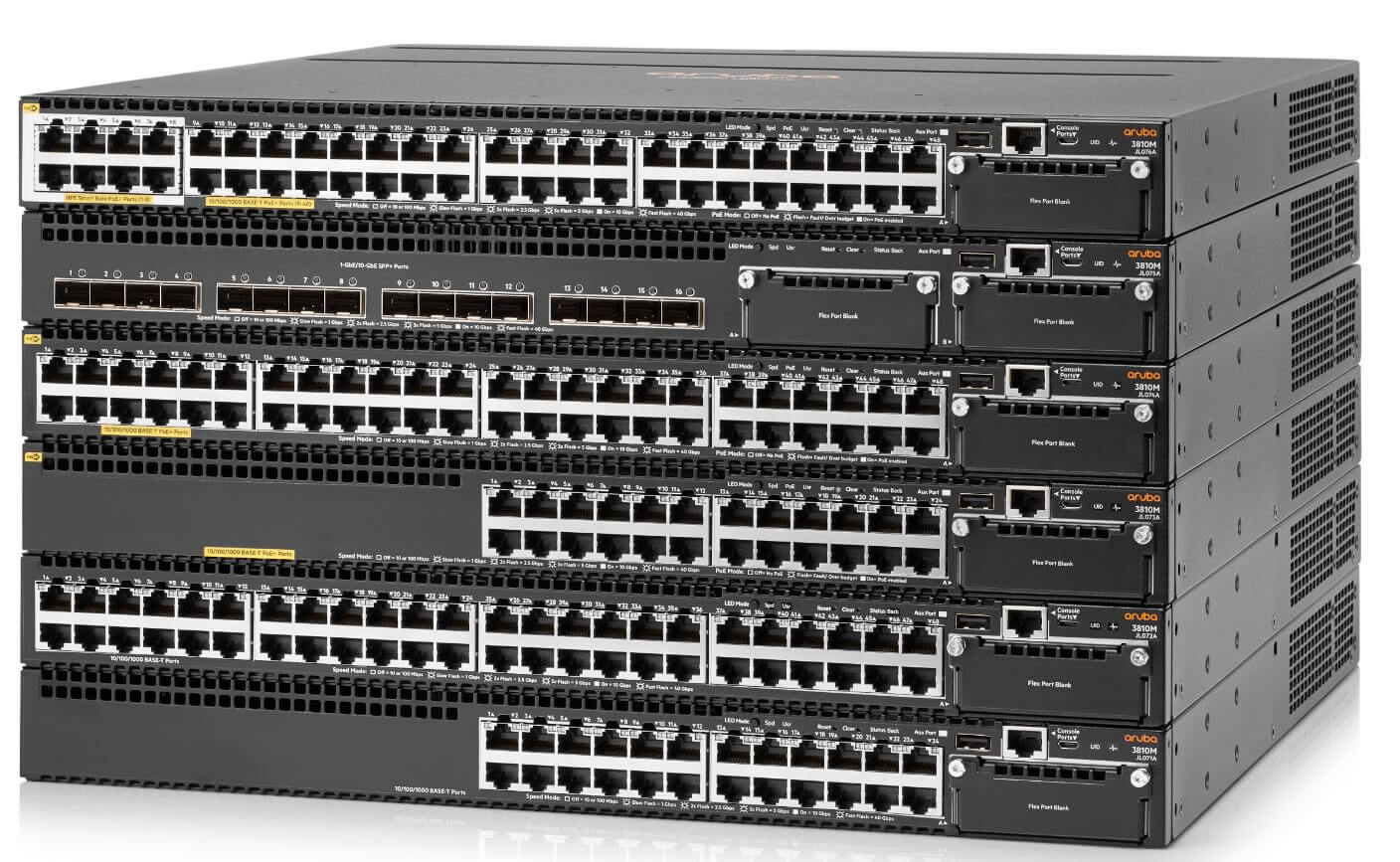 Highlights
Powerful Aruba Layer 3 switch series with backplane stacking, low latency, and resiliency.
Easy deployment and management with advanced security and network management tools like Aruba ClearPass Policy Manager and Aruba AirWave.
HPE Smart Rate for high-speed multi-gigabit capacity and PoE+ power using existing cabling.
Modular wire-speed 10GbE or 40GbE uplinks for amazing wireless traffic aggregation back to the core.
Full PoE+ on all 48 ports for power-hungry high-speed wireless APs.
Optimized for SDN applications with industry standard OpenFlow.
No hidden costs with license-free fully featured software and limited lifetime warranty

For details:
Read the complete Aruba 3810 Tolly Report and learn more about the Aruba 3810 Switches and the Aruba Digital Workplace solution.