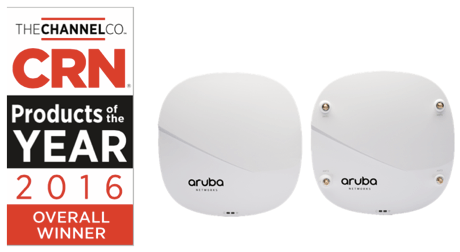 On Dec. 5th, CRN announced the winners of its 2016 Products of the Year Award. CRN affirmed Hewlett Packard Enterprise's leadership position in networking with our numerous wins across the Cloud Platform, Enterprise Storage, and Networking technology areas. Aruba's 330 Series Wave 2 access points claimed CRN's prestigious Overall Win in Networking.
CRN's annual Products of the Year Awards are given to standout products and services that represent best-in-breed technological innovation and are backed by a supportive channel partner program. This year, for the first time, the winners were determined through a combination of editorial selection and a survey fielded to solution providers to accurately capture real-world satisfaction among partners and their customers. Participants were asked to score their experiences with the finalist products using criteria in the three main categories:
Technology
Revenue and Profit
Customer Demand
The Aruba 330 Series access points stood out as the Overall Winner of each above category and were awarded Overall Win in Networking. This CRN Award further validates Aruba's innovation leadership for multi-gigabit technologies and products, where Aruba is leading the way for high performance 802.11ac Wave 2 technology and deployments across verticals.
As the highest performing access points in Aruba's Wave 2 family, the 330 Series is distinguished with two key advantages:
Very high performance and density wireless

The 330 Series supports the highest performance with 4x4:4SS MU-MIMO, enabling a highly efficient network with an aggregated data rate up to 2.5Gbps. It is ideal for very high-density environments with over 125 active devices, such as Higher Education, Enterprise, and Financial, etc.
Multi-gigabit Ethernet uplink for more capacity

The 330 series is designed with an integrated HPE Smart Rate port (up to 5 Gbps Ethernet), allowing enterprises to leverage their multi-gigabit Ethernet wired network infrastructure to eliminate bottlenecks.  If customers' switches support HPE Smart Rate, 802.3bz compliance, or if customers plan to update their wired network to HPE Smart Rate soon, then the new Wave 2 330 series will allow them to scale their networks from 1 to 5 Gbps Ethernet, maximizing the overall network capacity and efficiency all while leveraging existing wiring for investment protection.
Additionally, compared to other high-end Wave 2 APs in the market, the 330 series is designed with several unique Aruba features that drive better performance and value for customers:
Enhanced ClientMatch for the best radio connection and the highest Wave 2 performance
Integrated BLE for mobile based location services
Instant models for flexible and scalable deployments
FIPS/TAA certified models to provide security features required by federal customers
With the surge of Mobile and IoT, enterprises need a multi-gigabit high-performance WLAN solution to serve the very high-density environment. The Aruba 330 Series has been approved by both industry and customers to be the best Networking product of the year to serve the purpose.
For more information about the Aruba 330 Series access points, click here.
Image Source: CRN and Aruba, a Hewlett Packard Enterprise Company