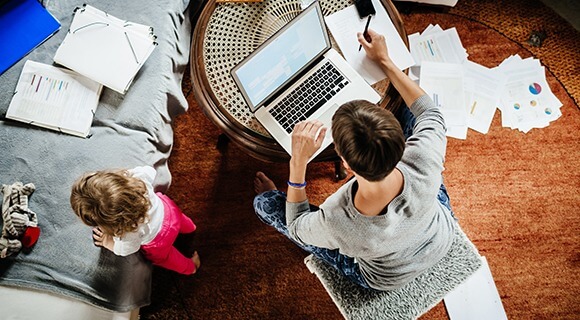 "The biggest challenge in my daily job today, and for most CIO's today, is managing increasingly number of offices—home offices," my close IT-manager friend said.
Around the world, IT managers are undertaking the task of ensuring that millions of employees experience a seamless transition from office to home office. IT managers want to make sure employees at home have the same simple and secure network access they get at the office.
But IT team's new challenges include:
How to provide seamless access from home to corporate network without any need of training employees on new software
As home Wi-Fi gets shared by family members, how to give better performance to Skype, Zoom, Microsoft Teams as compared to Netflix or Hotstar
How to provide WAN redundancy for home office
How to ensure corporate security policies or NAC compliances on employee devices
How to manage and monitor millions of home offices
Martin Luther King Jr. once said, "The ultimate measure of a man is not where he stands in moments of comfort and convenience, but where he stands at times of challenge."
Aruba and IT engineers: Each one of us can make a difference. Together we make change!
How Aruba Can Help
Aruba, a Hewlett Packard Enterprise company, plays a critical role in the ability of our customers to quickly and securely extend corporate services to employees. Aruba is responding to this with the same "Customer First, Customer Last" approach that has long endeared us to our customers worldwide.
One of the most important thing Aruba does is to empower IT managers to keep their organizations working seamlessly. Most telecommuters who work from home offices require wired and wireless access to securely connect to the corporate resources plus access for home printers—without compromising corporate security policies. They also want family members to connect to the Internet without the need for another Internet connection.
Some employees need access to VoIP phones to securely connect to the corporate voice server. All this is not possible with just the commonly available VPN client/server solutions. To stay productive, employees need blazing fast connectivity, with the latest Wi-Fi standards,  multiple wired Ethernet ports and WAN uplinks, and SLA-grade application assurance. Aruba Remote Access Point (RAP) solutions can connect wired printers or power IP phones to maintain workforce business continuity.
Aruba helps you in achieving all these requirements with our remote teleworker solution.
Aruba solutions also include deep packet inspection and a web policy enforcement service that allows IT to create  policies based on types of application. Aruba analyzes data packets to identify applications in use and allows you to create rules to determine client access to applications, application categories, web categories and website URLs based on security ratings. You can  define traffic shaping policies such as bandwidth control and QoS per application for user categories.
Managing millions of home offices is unimaginable. That's why Aruba provides an AI-based management platform for managing wired, wireless, VPN and SD-WAN operations across remote, campus, branch, and data center locations. Aruba's User Experience Insight solution validates network health and troubleshoots problems that affect day-to-day user experience by evaluating the performance, connectivity, and responsiveness of network infrastructure as well as internal and external services such as corporate ERM or Office365 applications.
Aruba's proven Remote Access Solutions for Business Continuity deliver a seamless user experience, robust and secure connectivity, and comprehensive cloud or on premises IT management platforms to quickly respond and recover when a major disruption to business as usual occurs.