I'm not a big shopper now that on-line retailers offer free shipping in most cases and we are technology people so it fits into my lifestyle nicely. But when I do have to go to a store I look for a few things that can enhance my experience. And, because I support Meridian here at Aruba, a Hewlett Packard Enterprise company, I look for ways where retailers could use mobile engagement to make things better.
Last month I attended Retail's BIG Show at the Javits Center in New York, put on by the National Retail Federation (NRF).  With over 35,000 attendees and more than 500 exhibitors, it's the largest retail convention and expo of the year.  Products on display included everything from point of sale (PoS) devices to virtual reality offerings like "show it on me" for clothing retailers.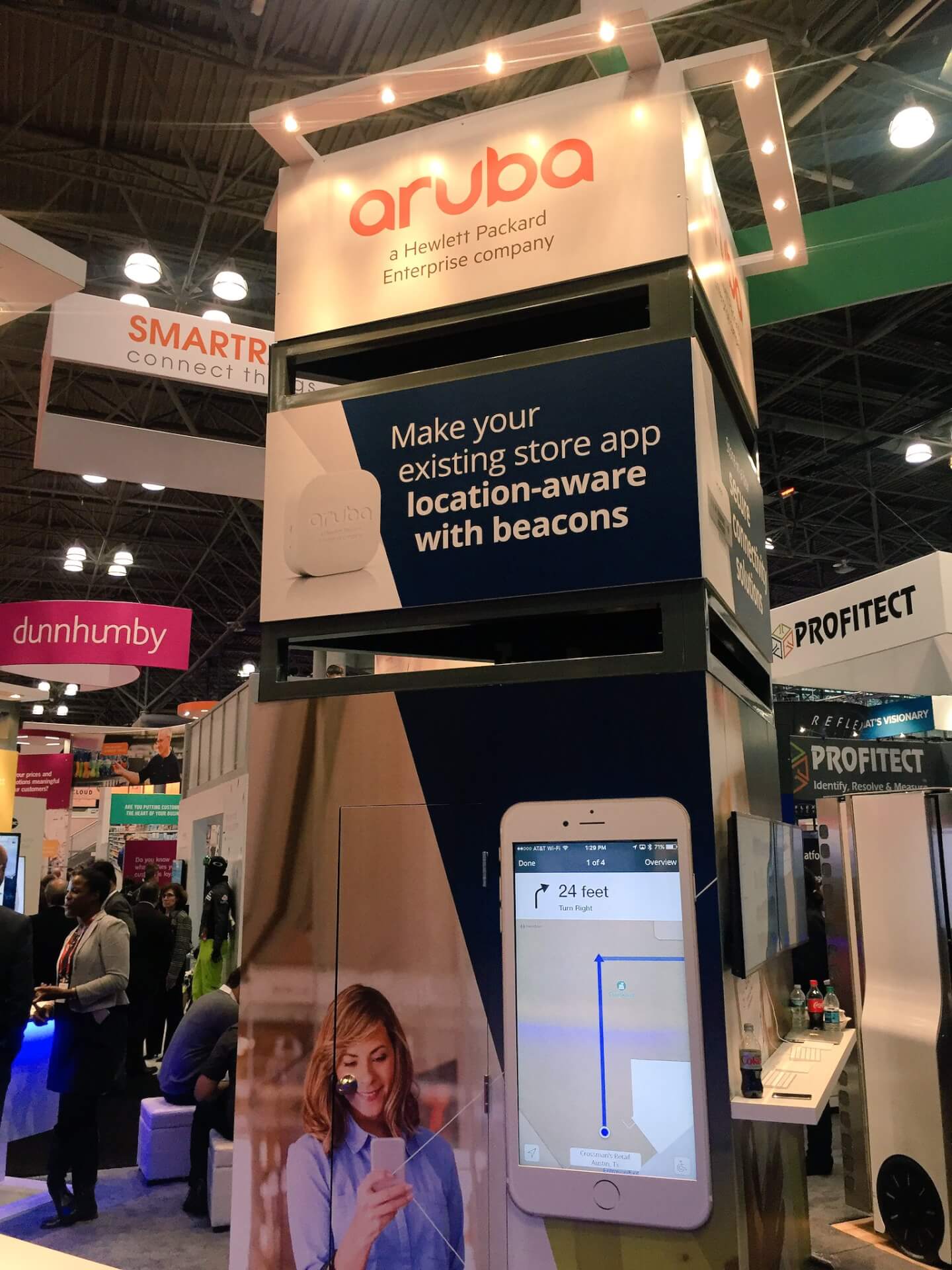 It is clear that brick and mortar retailers are looking to use technology to gain the edge that on-line retailers have had for some time – using analytics to provide a more personalized shopping experience.  There are three approaches that we were showing in our booth.  All three of these can be used individually but they are even more valuable when used together:
1) In the Aruba booth, we showed retailers how to leverage Wi-Fi and mobile apps data together. Using Aruba Wi-Fi and our Aruba Location Engine (ALE), our partner Skyfii showed them how easy it is to measure how many customers either walked by or came into their stores. If they have a mobile phone and an intelligent Wi-Fi network they win.
This data is anonymous from the retailer's and shopper's perspective.  They don't know the shopper's name and preferences, but it does provide insight into customer traffic. But this is just the beginning.
2) For retailers with Aruba Wi-Fi infrastructure that decide to provide guest Wi-Fi for their in-store customers, a new level of detailed analytics can be collected based on their Wi-Fi registration information. The in-store guests can securely connect to the guest Wi-Fi using Aruba ClearPass.  Then the login portal can promote the store's app and make it easy for them to download it, and even incentivize them to do so with a coupon or discount for installing.
3) Once the customer installs the store's app, a whole new level of mobile engagement is possible. Using the retailer's existing frequent guest or reward program, customers can register and log in to the app. This means the store can know exactly who the customer is and what their buying habits are—including both online and in-store shopping habits— to provide a personally customized experience to improve the in-store experience.
The mobile app powered by Aruba Beacons and the Meridian Mobile App Platform enables customizable features like wayfinding in large multi-floor stores.  Customers can search for merchandise and get turn-by-turn directions to specific products.
Customers in the store looking for assistance could request it via the app, too.  Once the customer requests assistance via the app, the nearest sales associate could navigate toward the customer to offer assistance – even if the customer has moved!  No more picking up a phone in the middle of the store and standing around hoping someone finds you.
Location-based push notifications are another tool provided to retailers.  This includes personalized greeting messages, coupons, or details on special offers.  It's one more means to enable retailers to engage their customers on a more personal level.
Retailers are looking to leverage technology to find new ways to compete with on-line retailers and one approach is to leverage customer analytics to delight their customers with personalized experiences. The three methods discussed here can all work together to provide retailers more insight that benefits them and their customers. If personalizing the customer experience, it's time to look to mobile engagement. Looking forward to seeing you at #NRF18!
Tim Vanevenhoven is senior solutions marketing manager for mobile engagement at Aruba, a Hewlett Packard Enterprise company.