I'm far removed from college at this point, even though I live in a college town. I remember the days around the turn of the Millennium when the ideas of having the Internet as a huge part of your college curriculum was novel at best. I also can remember being excited installing an Ethernet card in my desktop PC for my dorm and no longer having to rely on dial-up modems to access the Internet. Those days seem like the were forever ago.
At Aruba Atmosphere 2019 a few weeks ago, I got to see a great keynote from CTO Partha Narasimhan about the connected campus initiatives that Aruba has been taking part in. The amount of technology that Aruba is packing into today's colleges and universities is extraordinary. It's easy to talk about enterprises and the way their IT needs are changing, but imagine if your user base had 20,000 users and they were constantly moving around in a larger-than-office-sized environment. Imagine if those users weren't people who were directly contributing to your company's bottom line, but instead were customers that relied on your services to create their future careers. The change in perspective means that advanced technology has to be accessible and available.
Core Upgrade from the Stage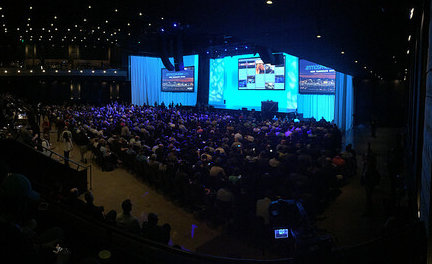 One of the biggest things that Aruba has done to prove this availability is the upgrade of the network core during the keynote at Atmosphere. They previously pulled off the core network upgrade in Nashville two years ago, but this year was a bit different. Instead of just trying to run the upgrade behind the scenes, they kicked it off live on stage for all the world to see.
Aruba also showed off a 10-minute upgrade time for the core switches. That time is one of the most impressive parts of the whole process. I can remember one of the last times that I tried to upgrade a single stack of switches on the periphery of a network and it took almost an hour to complete. Aruba managed to pull off an upgrade of a more complicated network core in far less time with zero disruption to the people using the conference network.
This is a huge boon to availability for networking people. It used to be that mission-critical networks needed a significant amount of hardware to ensure uptime. Things like in-service software upgrades (ISSU) were fantasies or features that couldn't exist in reality because there was always a non-zero chance that the upgrade would knock out mission-critical systems. With the advent of the cloud, we've learned how to build more resilient software. And thanks to the efforts of companies like Aruba, we've already learned how to build operating software and control systems that ensure mission-critical and near mission-critical systems will always be available for students racing to turn in their last-minute term papers.
Looking Ahead at Higher Education
Another big part of the Aruba Atmosphere tech keynote demos was the wayfinding application in use in the virtual university bookstore. I can't count the number of times that I got lost looking for a specific text on a shelf that wasn't there. Or, worse yet, the book had been moved to some other shelf to improve visibility. Now, the power of Aruba Meridian gives bookstores the opportunity to give turn-by-turn directions to students when they rush in to find the latest assigned reading. For stores that are slowly losing ground to online retailers like Amazon, the ability to quickly guide students to their required texts might mean the difference between making a sale and closing the store.
Aruba Meridian has additional huge impacts for universities beyond the bookstore. I'm  an usher during fall football games at the school. Aruba Meridian has a lot of potential for this aspect of college life, too. Instead of students getting lost on the wrong side of the stadium looking for the student section, Meridian can point them to the right location. Meridian can help pinpoint public safety issues. Heat stroke cases, medical emergencies and evacuations can be dealt with by directions for emergency services to find people in need or for people that need to be evacuated to proper locations with a minimum of human intervention.
Collegiate Insight into Devices
Lastly, Aruba ClearPass Device Insight is a huge boon for overworked IT staffs to be able to stop the eventual rise of IoT devices rapidly appearing on the network each year. Smart bulbs, smart appliances and new game consoles appear in droves at the beginning of the school year and after Christmas.
Being able to quickly identify these devices and apply policies to keep them secure and safe is a huge value that Aruba can provide through ClearPass Policy Manager and ClearPass Device Insight. Even though a campus dorm network is something akin to the Wild Wild West, it's still important to know that it is an attack surface that could allow intruders to get into the university staff and faculty network if abused. Aruba NetInsight gives IT staff the chance to keep that from happening.