It's that time of year again…...football season! Not only is it football season, it is also the season for one of the most important higher education technology conferences of the year, with many of the best in higher education IT attending, discovering, and collaborating to address challenges on the higher education campus.
So what do football, university campus networks, and the annual Educause conference have in common? When you think about it, football and university campus networks have many things in common. They both have people behind the scenes making things work – coaches and coordinators for football; and IT operations for the campus. They both have offensive tactics to achieve their goals – quarterbacks, running backs, and linesmen for football; and switches, APs, controllers, and operating systems for the campus. They both have defensive tactics for protection – safeties, guards, and tackles for football; and built-in Policy Enforcement Firewall, ClearPass, and IntroSpect for the campus. I could do several more comparisons, but will make this final one: Probably the most evident of all is they both have people who get upset and aren't afraid to be vocal about it when things aren't going right! It is that love-hate relationship with Twitter.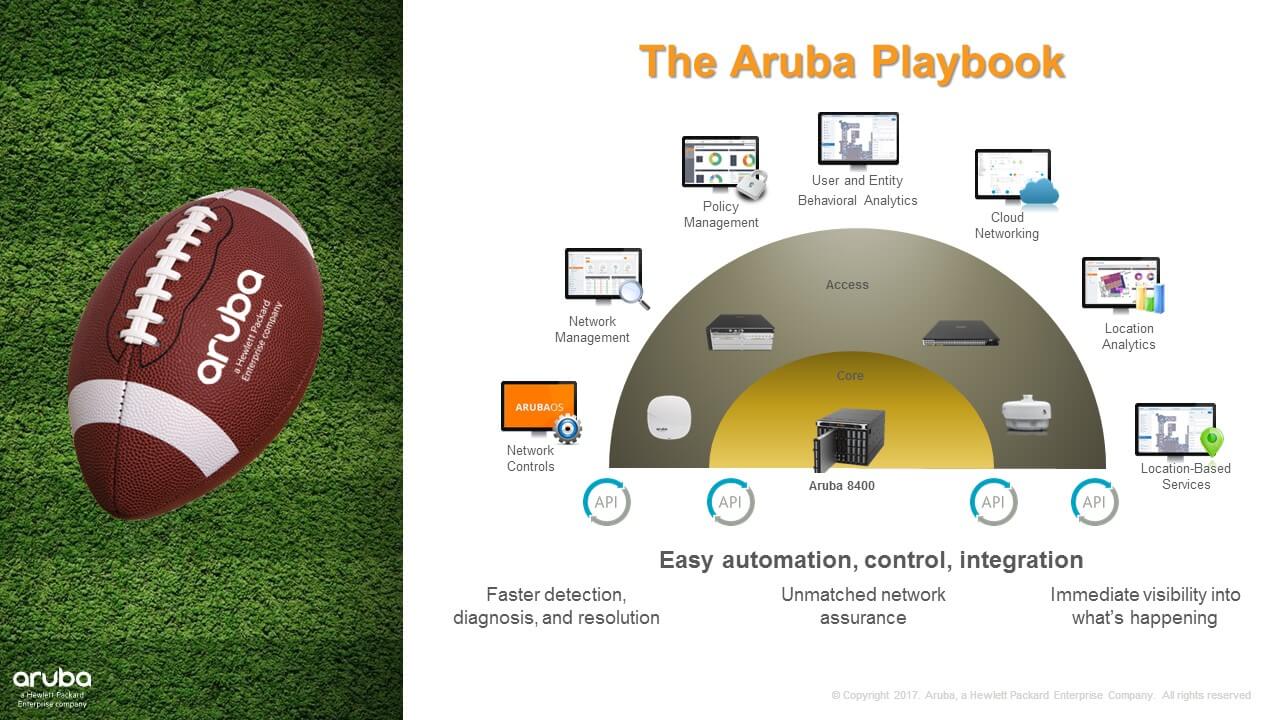 Steal Our Playbook
We are going to have some fun connecting the dots between football and Aruba solutions at Educause. Let's face it, every day is game day for your network, supporting the mobile-first campus and ensuring students, faculty, and staff have the access they need to succeed. You cannot afford to have your network fumble. We will have some exciting demonstrations at our booth, including the following:
It's more than a switch, it's your MVP – Learn about campus wired pain points and see a demonstration of tunnel node for the switch to controller traffic policy enforcement.
Never drop a pass with Aruba WLAN – See how to provide the always-on connectivity your users demand with ArubaOS 8 hitless failover. We'll also discuss RF optimization, load balancing, and other features enabled by ArubaOS 8.
Know and improve the health of your players with network analytics – We'll take you through a tour of the network analytics solution that uses machine learning to proactively optimize network and user experience, and allows for benchmarking and learning from other university networks.
Your best offense is defense with ClearPass and IntroSpect – See how to secure the network and identify risk with IoT device pre-authentication. We will also discuss how to detect attacks by spotting small changes via user and entity behavior analytics (UEBA).
Aruba's solutions provide the offense and defense your network needs to win, and we want to be a part of your team! We look forward to showing you our game plan in action next week in Philadelphia!
Visit Aruba at Booth #832.