Whether it was for holiday shopping or a return, many of us have visited a brick and mortar retailer in the last month, and in-store, we likely glanced at the promotional signage or price compared on our phones. But wait—where were the in-store push notifications? Weren't our phones and watches supposed to be buzzing off the hook with $1 coupons?
Many of us have yet to experience what many have called the "holy grail of marketing"—indoor location-based push notifications, made possible by Apple's iBeacon specification and Bluetooth Low Energy (BLE) technology. Recently, there has even been increased press on this alleged retail fail.
So what's going on? Does this mean that retailers should abandon their location-based couponing dreams and return their box of beacons to the manufacturers? Not exactly. It seems that retailers need to take a breath and identify actual in-store customer (and business) pain points and take the time to explore how BLE—or a combination of BLE and other technologies—can solve them.
Beacons do more than push
Retailers and large public venues can use BLE technology for more than just proximity-based actions. Our Aruba Beacons, unlike most of the competition out there, can be configured for x/y location (instead of proximity), allowing an end-user to see themselves on a digital map. BLE yields more accurate and reliable locations than other methods, so the technology can be used to help solve a real customer pain point: indoor navigation within a large-footprint retailer.
Helping customers find their way in-store was only part of the challenge that Warren Buffet's Nebraska Furniture Mart retail chain wanted to solve. The retail chain offers a low-price guarantee on products and will refund 110% of the price if a shopper finds an identical item at a lower price. These stores are huge (with over a million square feet of retail and warehouse space per location) and the physical location of merchandise within their stores moves from day to day.
Nebraska Furniture Mart wanted to accomplish the following:
1.) Product Pricing Transparency: Make it as easy to apply their low price guarantee for in-store customers as it was for their online e-commerce customers.
2.) Up-to-Date Product Location: Keep track of the real-time physical location of in-store merchandise that moves to different departments from day to day.
3.) Indoor Positioning and Navigation: Allow customers (and associates) to intuitively locate merchandise in the large store via real-time, indoor directions.
The App
The answer came in the form of a mobile app that accessed complex retail systems on the backend but was simple and intuitive for the customer on the front-end.
Here's how it works:
It's time to replace my morning coffee addiction with juice so I look online to find a juicer. After comparing prices across e-commerce sites, I see that Nebraska Furniture Mart has the lowest price and the juicers are in stock at my local store.
I decide to go to my local Nebraska Furniture Mart store (versus their eCommerce site or Amazon.com) to buy the juicer because I know they will give me the lowest price and I won't have to wait three days for a package delivery to start my New Year's resolution.
At the store, I pull out my phone and use their mobile app to search for my product: a Nutri Ninja juicer. The search results provide the product information that I saw online, including the low price.
I have no idea where to find the product within the huge store (is it in Housewares? Electronics?), so I click for directions and the app summons up a blue dot with my precise location, along with turn-by-turn navigation to the juicer.
I find my juicer via the app's navigation feature. To my relief the low price is consistent with what I saw online and in the app, so I have no more excuses to begin my juicing resolution.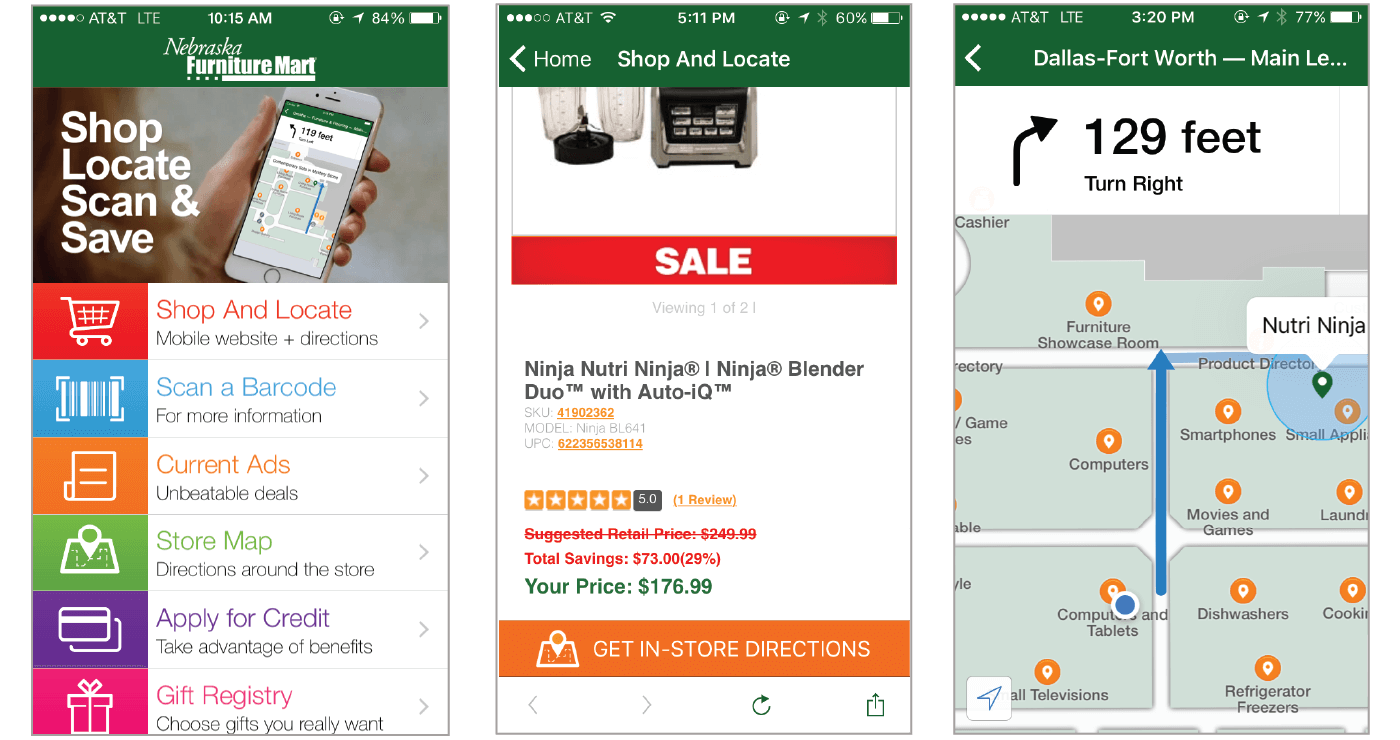 Under the hood
So how does Nebraska Furniture Mart accomplish the above scenario? Let's start with the hardware. The store is outfitted with Aruba BLE Beacons as well as Pricer infrared transponders and electronic price tags.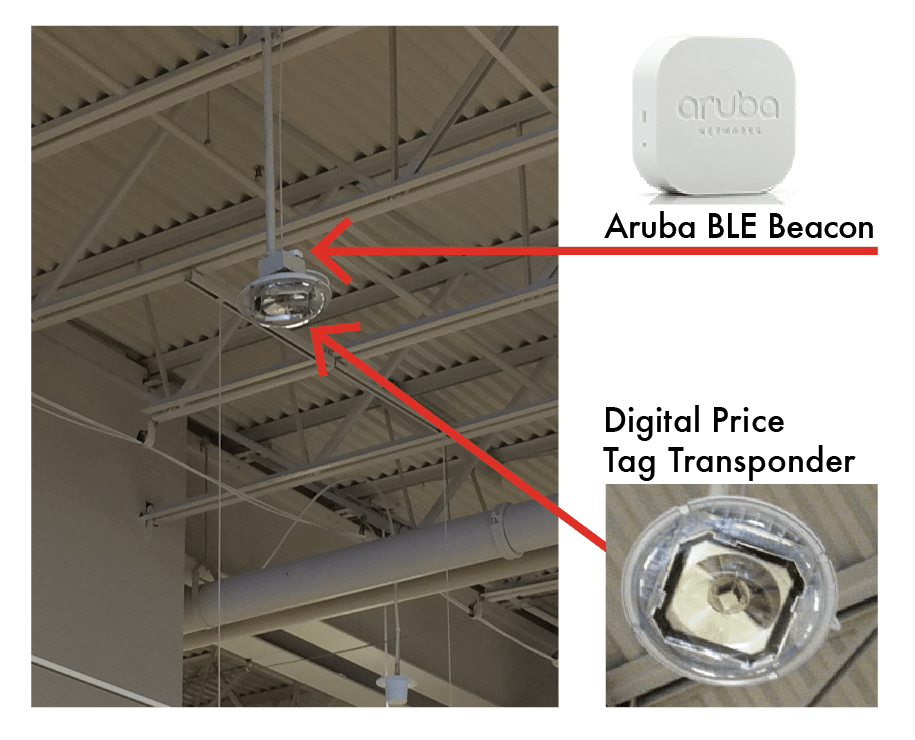 Because Nebraska Furniture Mart needs to continuously update prices (and lower them if better prices were found at a competitor), they moved to a digital pricing system and installed tens of thousands of Pricer AB electronic tags that communicate with two-way infrared transceivers in the store ceiling. The transponders update price changes to the digital price tags and keep track of the physical location of the products as they move in the store.
From there, they built a mobile app that integrates Meridian-powered wayfinding with both their product database (the same one used for their eCommerce site) and their Pricer database (which pulls real-time data on physical product location from the infrared transponders).
When I searched for my Nutri Ninja juicer on their mobile app, it issued an API call to their product database, returning the price, availability, and a product ID (let's say it was #12345 to keep it simple).
Then, when I clicked for directions to my juicer there was an API call to the Pricer database, asking where ID #12345 is located. The Pricer database determined it was near transponders 42, 28, and 31, but closest to transponder #42.
Finally, the app asks the Meridian cloud where transponder #42 is located. Meridian now knows the final destination and simultaneously pulls the customer's starting location based on the signal strength it hears from nearby BLE beacons and displays this as a glowing blue dot on a digital map.
Here is another way to look at it: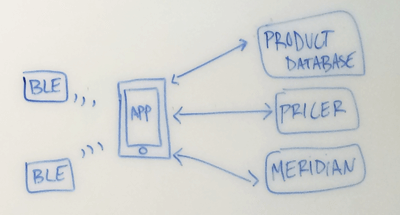 The long game
By simply adding a Meridian-powered mobile app and Beacons to the equation, Nebraska Furniture Mart was able to further utilize the products that they had already invested in: their web product database and their Pricer digital tag system. And all of this was in an effort to deliver a better, more efficient in-store experience. One that will create long-term customer loyalty and value—without pushing a generic coupon.
This is one example of a retailer using mobile and wireless technologies to improve the in-store experience. To truly realize the potential of Apple's iBeacon, retailers should follow their lead and start by 1) Asking the question "how can we use this technology to help solve a business problem or simply make customers' lives easier with they are inside our store?" and 2) Not limiting themselves to what BLE technology can do in isolation when developing an answer.