Wireless clients are without question one of the leading problematic components of a wireless network. Many WiFi engineers agree 80% of issues on todays WiFi networks are client related. Wireless clients are much like humans. They all speak, hear, and act a bit differently from one NIC/Driver to another. While you might observe similar or identical behavior across a specific device type, but a simple driver update can change everything you know about how that device behaves. 
In this blog post I will share 5 devices in two real world scenarios specific to how devices interrupt signal (RSSI). 
Scenario #1 
A hospital has a large deployment of Ascom i75 handsets. They augment the Ascom deployment with Cisco 7925 devices because of cost and a resent Cisco Call Manger installation. However, the hospital shifts back to Ascom because of nurse call and other Ascom integration features. The hospital purchases the Ascom i62 handset which supports 802.11a/b/g/n. The i62 is the replacement phone for the i75. 
But there is a problem. They deploy the i62 handset to a number of departments. Users are reporting voice issues. Loss of speech, roaming problems and clicks. Nothing has changed but the handset. Previously these departments had both the i75 and 7925 working without issue.
Let the troubleshooting begin. Focus on the basics first, do I have signal? What is the phones perspective of the signal. It is quickly noticed the i62 is consistently 9 dBm lower than its counterparts attached to the same ap in the same location. In fact the i75 and 7925 are consistent in testing. Assuming we might have a bad i62 we pull 5 more out of the box. Same results. Next is the firmware, so we check and we're on the latest firmware. A call to Ascom revealed the i62 radio has a lower receive sensitively when compared to the i75.
Scenario #2 Intermec CK71 and Proxim 8494 
A warehouse is deploying a new wireless network. Part of the design phase we enquire about the type of devices that will be used. We are told two types of scanners. One a CK71 and the other a truck mount computer. We ask for two of each to test. The study of the truck mount computer revealed very similar RSSI behavior when compared to our survey laptop with the Proxim 8494. 
The Intermec CK71 didnt far as well. In fact the CK71 was consistently -8 dBm lower than our survey gear. Based on these results we knew that we needed to factor in the -8 dBm difference into our design.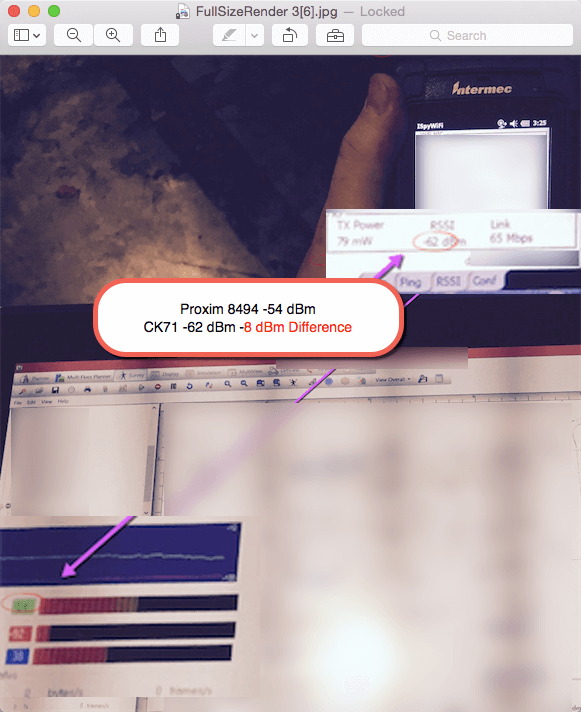 RSSI is only one metric of many to use when designing and troubleshooting a wireless network. Knowing how the client interprets the signal is very important. We just seen how the Ascom i75 and Cisco 7925 could be voice grade at -67 cell edge while the Ascom i62 would show -76 dBm at this same location! YIKES! 
Also designing to the lowest common denominator is critical to your assessment. Over the years I've conducted dozens of device studies. Each go into my personal archive for future device comparison. 
So have you seen any clients in the wild with an aggressive or wildly different receive sensitivity when comparing devices?