Yes, Aruba provides great network solutions, but often, the value of those solutions varies depending on the vertical.  At EMEA Atmosphere 2017, we changed the conversation in the Vertical Innovation Zones! Those who visited the zones could see Aruba solutions in action, along with partner solutions, to create value for the business. In this blog, we will focus on the Education Innovation Zone. Please also see my blog on the Healthcare Innovation Zone to learn how we create value for healthcare!
Education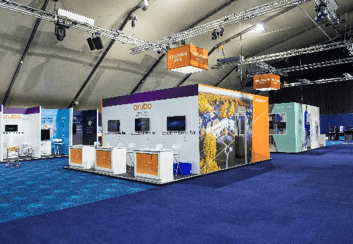 Education is made up of many different environments. How each user and device behaves in an environment is made up of many different factors, including the role of the individual, the device, the application, etc. However, in all cases, an always-on and secure experience is expected. Educational institutes are looking for business values that the Intelligent Edge can deliver, including understanding and using the context of the user as they interface with the network. In our Education Innovation Zone, we let visitors experience the following:
Protecting the network leveraging Multi-Factor Authentication
Teachers are mobile, often travelling from one class to the other, and are increasingly more dependent on their mobile devices. Protecting the University IP, sensitive data, teacher and student devices and personal information, is a major concern.  In fact, many IT departments at universities today say that security is their #1 issue.  But you also need to find the right balance between security and user experience. Using Biometric security can help find the balance to prevent identity theft or password hack while keeping schools safe. Check the document attached at the bottom of this page for more details about the solution used.
Mobile engagement for teachers and students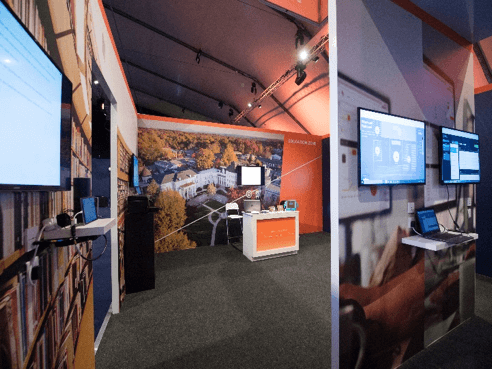 Students are rarely seen without their mobile devices. They have an application for everything and are reporting more dependency on smartphones for helping them with learning. Schools are engaging with students through mobile applications to communicate the latest information about the institute or student specific information. In our Innovation Zone, we demonstrated an App called MYCLASSROOM which is for students and teachers. The App provides Student course syllabus, grades, location, attendance, events, contact information and much more. By leveraging Meridian integration, Aruba can inject extra services in this application and automate processes. In the examples, we demonstrated were blue dot wayfinding can be used to reach your classroom, automated attendance confirmed when entering the classroom, maps of the campus with POI, push notifications around events or classroom changes, content distribution and surveys. We also integrated ClearPass with role-based access and AirGroup so teachers are automatically signed in in their classroom and devices like AppleTV and printers are automatically setup for that teacher. Check the document attached at the bottom of this page for more details about the solution used.
Securing mobile devices
Devices that are in the classroom need to be compliant with school policies. Unauthorised apps may be a risk to the school or may distract students during lessons. In the Education Innovation Zone, we demonstrated how to prevent unauthorised apps from accessing the network.  We also demonstrated how to quickly / easily provide access when compliant.Check the document attached at the bottom of this page for more details about the solution used.
Classroom usage/occupation
Optimising facility and classroom usage are a priority for universities as it can be a major financial saving when done so. Universities need to manage multiple buildings, covering large square meters, in expensive city centres, in ageing buildings that need maintenance, etc. The Intelligent Edge provides insights to building occupation and/or classroom occupation. By using analytics to understand building usage, universities can optimise their usage by 10% to 15%, saving precious funding. In our Education Innovation Zone, we demonstrated how the Intelligent Edge can provide data to 3rd party vendors to deliver insights to the usage of the school campus facilities. Check the document attached at the bottom of this page for more details about the solution used.
These were just a few examples demonstrated live during Atmosphere in the Education Innovation Zone. If you want to discuss these solutions for your organisation, or find out what else is possible from Aruba, please let me know or reach out to your local Education team. Also, check our landing pages for Higher Education and Primary/Secondary Education for more information.
Just in case you have missed it here is a recap of our Education Innovation Zone.