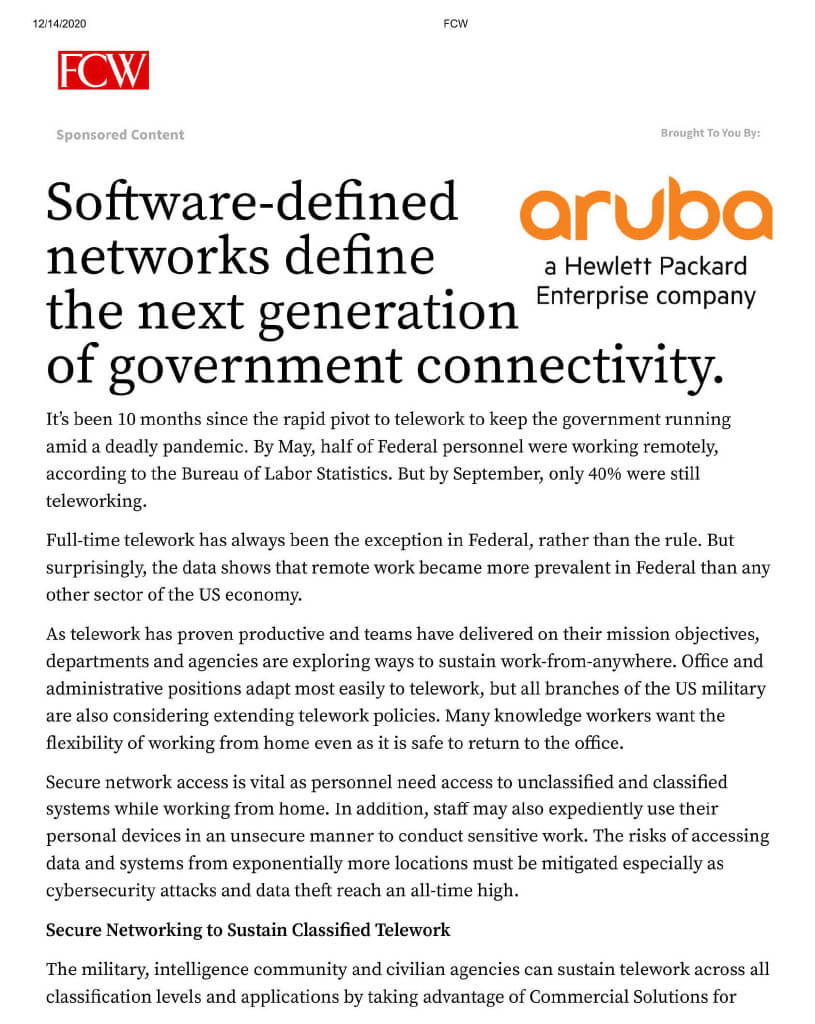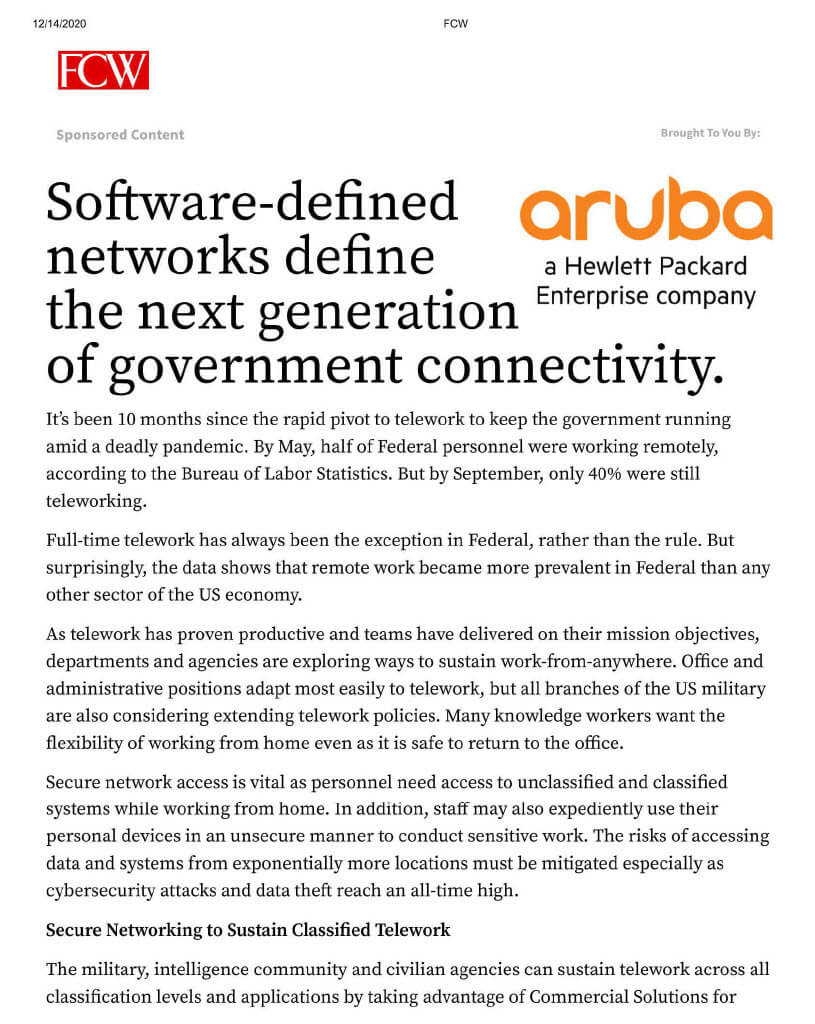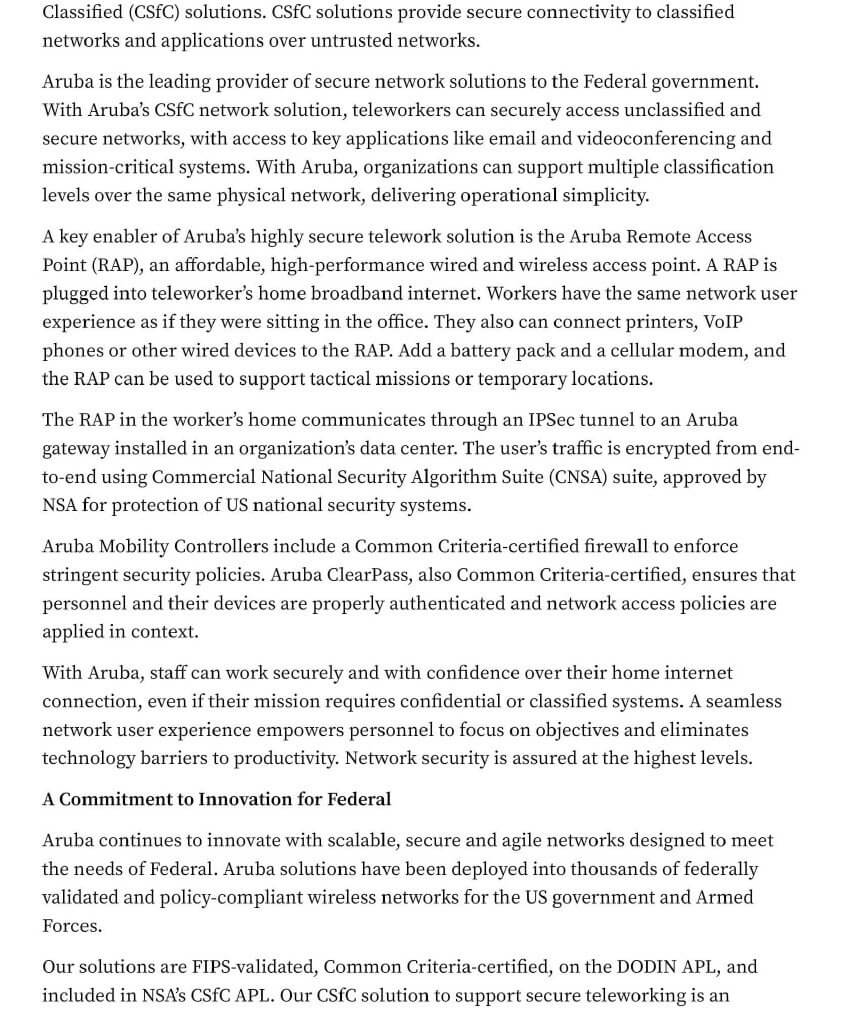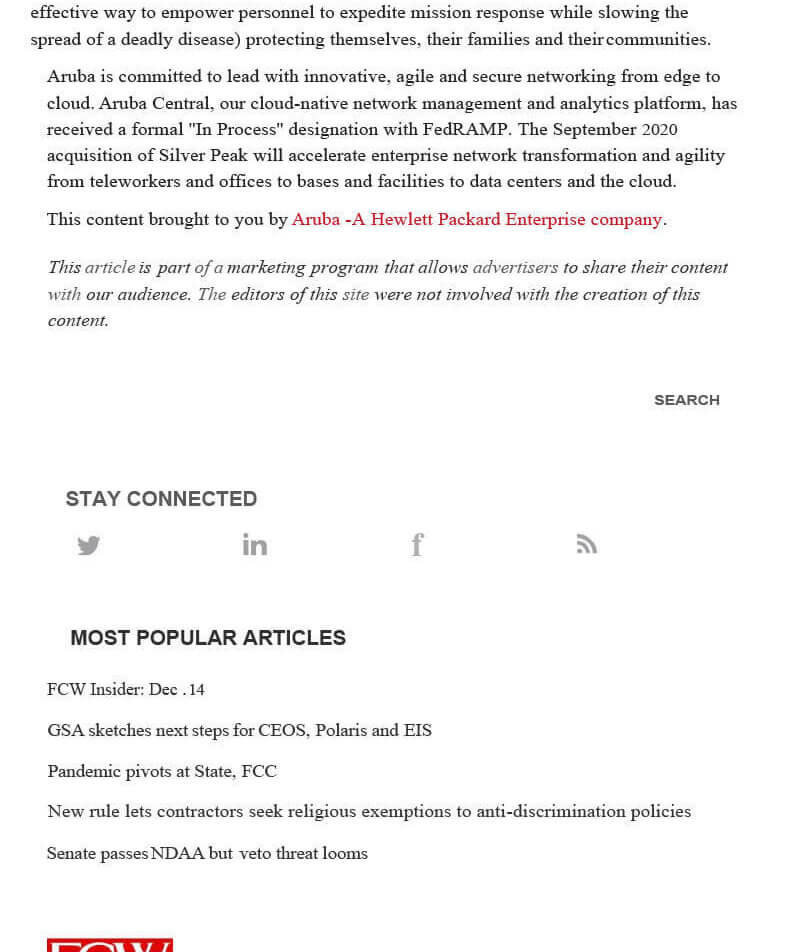 It's been 10 months since the rapid pivot to keep the government running amid a deadly pandemic. By May, half of Federal personnel were working remotely, according to the Bureau of Labor Statistics. But by September, only 40% were still teleworking.
Full-time telework has always been the exception in Federal, rather than the rule. But surprisingly, the data shows that remote work became more prevalent in Federal than any other sector of the US economy.
As telework has proven productive and teams have delivered on their mission objectives, departments and agencies are exploring ways to sustain work-from-anywhere. Office and administrative positions adapt most easily to telework, but all branches of the US military are also considering extending telework policies. Many knowledge workers want the flexibility of working from home even as it is safe to return to the office.
Secure network access is vital as personnel need access to unclassified and classified systems while working from home. In addition, staff may also expediently use their personal devices in an insecure manner to conduct sensitive work. The risks of accessing data and systems from exponentially more locations must be mitigated especially as cybersecurity attacks and data theft reach an all-time high.
Secure Networking to Sustain Classified Telework
The military, intelligence community and civilian agencies can sustain telework across all classification levels and applications by taking advantage of Commercial Solutions for Classified (CSfC) solutions. CSfC solutions provide secure connectivity to classified networks and applications over untrusted networks.
Aruba is the leading provider of secure network solutions to the Federal government. With Aruba's CSfC network solution, teleworkers can securely access unclassified and secure networks, with access to key applications like email and videoconferencing and mission-critical systems. With Aruba, organizations can support multiple classification levels over the same physical network, delivering operational simplicity.
A key enabler of Aruba's highly secure telework solution is the Aruba Remote Access Point (RAP), an affordable, high-performance wired and wireless access point. A RAP is plugged into a teleworker's home broadband internet. Workers have the same network user experience as if they were sitting in the office. They also can connect printers, VoIP phones or other wired devices to the RAP. Add a battery pack and a cellular modem, and the RAP can be used to support tactical missions or temporary locations.
A RAP in the worker's home communicates through an IPSec tunnel to an Aruba gateway installed in an organization's data center. The user's traffic is encrypted from end-to-end using Commercial National Security Algorithm Suite (CNSA) suite, approved by NSA for protection of US national security systems.
Aruba Mobility Controllers include a Common Criteria-certified firewall to enforce stringent security policies. Aruba ClearPass, also Common Criteria-certified, ensures that personnel and their devices are properly authenticated and network access policies are applied in context.
With Aruba, staff can work securely and with confidence over their home internet connection, even if their mission requires confidential or classified systems. A seamless network user experience empowers personnel to focus on objectives and eliminates technology barriers to productivity. Network security is assured at the highest levels.
A Commitment to Innovation for Federal
Aruba continues to innovate with scalable, secure and agile networks designed to meet the needs of Federal. Aruba solutions have been deployed into thousands of federally validated and policy-compliant wireless networks for the US government and Armed Forces.
Our solutions are FIPS-validated, Common Criteria-certified, on the DODIN APL, and included in NSA's CSfC APL. Our CSfC solution to support secure teleworking is an effective way to empower personnel to expedite mission response while slowing the spread of a deadly disease, protecting themselves, their families and their communities.
Aruba is committed to lead with innovative, agile and secure networking from edge to cloud.
Aruba Central, our cloud-native network management and analytics platform, has received a formal "In Process" designation with FedRAMP. The September 2020 acquisition of Silver Peak will accelerate enterprise network transformation and agility from teleworkers and offices to bases and facilities to data centers and the cloud.