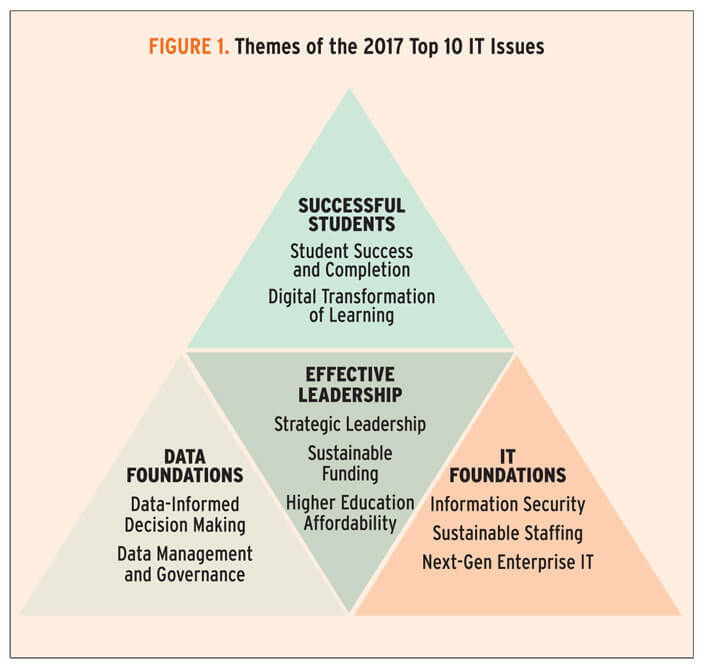 As I ponder problems - personal, professional, or otherwise - the ultimate solutions seem so simple. For example, when trying to lose weight, the answer is simple… eat healthily, eat less, and exercise!  These weight-loss solutions are pretty foundational, but finding the best tools or support to help might feel like pushing a boulder uphill!
Reading the EDUCAUSE 2017 Top 10 Issues might feel daunting. Reviewing the four themes that those issues are wrapped around, however, takes me to the realization that the solutions to those issues are based on very core concepts.
IT foundations
Data foundations,
Effective leadership, and
Successful students
Just for fun, let's add a 5th one – sufficient budget!
Examining a Few of These Themes
IT Foundations
For users, a great network is unnoticed. It always works, fading into the background.  It ensures device and location freedom, enabling users to be successful.  Students and faculty depend on this type of capability.  The Top 10 list continues to have "information security" as the #1 concern.  That is no surprise!  One of the most foundational comforts we can have is knowing that our information is secure.  Also included in this theme was #9, next-gen enterprise IT.  The pace at which device and network technologies are changing is amazing.  Because no two universities are exactly the same, customized technologies and software is now a non-negotiable foundational concept.
Data Foundations
How many times has someone asked you to prove a position with data? Data-driven decision making can be empowering in many facets of university life.  IT groups are being asked to provide a variety of network data to campus groups to help drive student success.  Data-driven issues were included in the #2 and #6 issues. I am excited to see where we go over the next few years with network insights positively impacting students.
Sufficient Budget
IT services/Cloud utilization, campus groups sharing services, and staffing all fell into the top 10 list (#5, #7, and #8) this year. Budget shortfalls, rapid changing technology, and campus demands are impacting what and how IT services are deployed.  More than ever, CIOs are looking into saving budget in any way they can, without sacrificing services.  They need smarter and automated features in their network to help support, and they need choices in hardware, software, and operating models.
So, if you want successful students, you need effective leadership, a great IT foundation, driven by data, with budget enough to make it happen. Simple, right?
Aruba – The Boulder Pusher
 Solving issues with intelligent foundational solutions are what Aruba is great at! ClearPass, or recently acquired Niara, can help you with IT security issues. AirWave, Clarity, or Rasa can assist with data management & insights. Consider a move to ArubaOS 8 to help move to next-gen solutions. Aruba can also provide options to address network customization and budget challenges.  We are your partner, providing solutions to help push the boulder uphill.  Visit our Higher Education page to learn more.