Just like anything in life, when we see something shiny and new, we have to have it. Whether it is a new gaming console, a new car or a new cell phone, we typically will go the extra mile to figure out a way to spend our money to have the latest and greatest.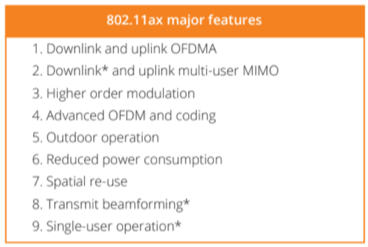 Just like its Wi-Fi predecessors, Wi-Fi 6 has many new features and enhancements that can immediately grab the attention of enterprise decision-makers. Multigigabit (theoretical) speeds, better battery efficiency on client devices, as well as alleviating network congestion with OFDMA are just a few features that make Wi-Fi 6 look like a must-have to would be early adopters.
If you are in the public sector like I am, you know that budget constraints can often be a major factor when it is decision time for upgrades. This can be particularly challenging in small school districts and municipalities. How many times have your recommendations been met with the question, "Our current equipment still works, why do we need to upgrade now?" It is very important to weigh your options and be educated on the technology before any decision can be made.
Here are a few questions to consider:
Will our current wireless devices be able to take advantage of any of the new features with Wi-Fi 6?
Will upgrading fit into our infrastructure refresh schedule?
Will upgrading require us to upgrade our switching infrastructure?

POE budget
Switch port density
mGig

What is the refresh cycle for wireless devices within the enterprise?
Are there certain features that I am specifically looking for?
Should you jump on board right away?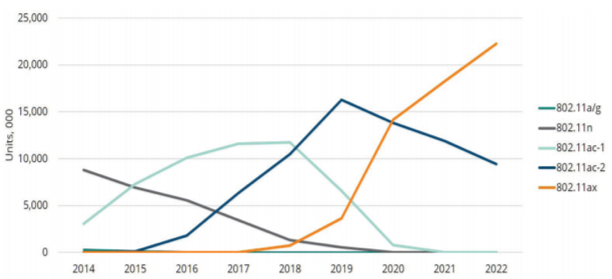 The simple answer to this question is a favorite phrase among colleagues in the Wi-Fi industry, "It depends."
At the time of writing, there are a limited number of devices that support Wi-Fi 6. We are only now starting to see manufacturers, such as Samsung and Apple, include 802.11ax chips in their latest phone offerings.
This reason alone should not deter you from upgrading, as with previous Wi-Fi standards, Wi-Fi 6 is backward compatible. There are also other benefits that stretch beyond new features and enhancements that come along with new hardware. Often overlooked, organic advancement in chipset and radio technology will also be part of any new Wi-Fi equipment.
When is a good time to upgrade?
The answer, taken directly from an Aruba whitepaper, is perfectly stated here:
Timing upgrades
New physical-layer Wi-Fi standards require new hardware, hence Aruba is often asked by our customers 'when is the right time to upgrade'? The answer, which has been unchanged from 802.11n to 802.11ac wave 1 and 802.11ac wave 2, is to upgrade when you are ready. There will always be a new, better Wi-Fi access point on the horizon, about every two years, as standards advance, silicon becomes more powerful and equipment vendors add features. After reading a paper like this, some customers are able to identify a particular feature they will need, and will decide to wait for early 802.11ax shipments so they can take advantage—but most will be driven by budgetary and construction deadlines, and other events, and our advice is to use the best technology available when it's time to make the purchase decision.
As with any upgrade, it is very important to be educated on potential suitors making their way into your organization. It is also very important to understand the current needs of your organization. Know your coverage and capacity requirements, and whether or not they have changed.  Making sure your current deployment is in good working order while addressing lingering issues, prior to upgrade should also be a top priority.
Upgrades and budgets can be very stressful and overwhelming. Combine in funding programs, such as E-rate, and the complexity can increase greatly. Do your homework. Understand the new technology before presenting it to decision-makers. Weigh the pros and cons. Education will go a long way to a successful decision being made that will also fit your budget.
Learn More
Network Computing: Wi-Fi Adoption:  It's All in the Timing.
Packet Pushers: Wi-Fi 6 is Knocking. Are You Ready To Let It In?
Packet Pushers: Upgrade Now or Wait?  The Business Case For Wi-Fi 6
Read My Other Blogs
Wi-Fi 6: Should You Believe the Hype?
Transforming the Wireless Classroom