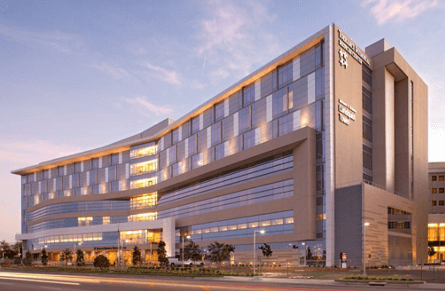 By Geoff Frank and Sara Birch, Torrance Memorial 
A collaborative effort orchestrated between patient access personnel, ED physicians and nurses, senior leadership, facilities and IT at Torrance Memorial, helped prepare for the current pandemic by establishing an emergency services overflow facility. Originally designed for any disaster that swelled our Emergency Department (ED) population beyond the typical 7,500 visits per month, it has enabled us to rapidly address the COVID-19 pandemic by increasing our emergency capacity.  COVID suspected or confirmed patients that arrive in the ED have separate waiting rooms and beds that prevent potential spread of the virus with non-COVID patients.
Emergency overflow facility established in 48 hours or less
The process of selecting and transforming an existing space into a suitable environment for seeing patients required contributions from multiple departments. First, we determined the best overflow option was the ground floor of our main parking structure due to its physical location adjacent to our ED.
Next, working as a team, we mapped out the facility's design, floor plan and furnishings. This included typical ED supplies and equipment, computer workstations, medication distribution cabinets, printers, scanners and COVID-19 specific items, such as portable imaging equipment for chest x-rays and PPE for anyone working in the area.
Critical to the success of this initiative was extending our Aruba infrastructure to supply pervasive, secure wireless connectivity in this space.  The need to replicate healthcare provider workflows also required wired ports to support specialty applications and equipment used by the staff in the ED. As the parking structure's ceilings are high, this required blanketing 149,000 cubic feet with Wi-Fi to enable laptops, medical devices and workstations on wheels (WOWs) to access to our electronic health record (EHR) system, Cerner. The deployment also included a charging station with 20 iPhones using Mobile Heartbeat, which are used for secure clinical communication throughout the hospital. To complete the layout and support appropriate distancing of patients, chairs were spaced 6 feet apart in groupings such that a care team could be assigned to each section. Heaters and tent like enclosures were added to provide warmth and privacy.  Security Officers make rounds in the area and provide continuous surveillance.
Our ability to rapidly deliver network services in this space was influenced by an earlier deployment of outdoor wireless access points in the parking structure. This requirement was discovered when conducting a disaster drill earlier in 2019.  For assistance with developing an appropriate networking solution, we consulted with our integration partner, Free Space. Together, we determined seven Wi-Fi 6 outdoor APs would provide us with the advanced performance and traffic management capabilities necessary for such a fast-paced, high-density, mobile-centric facility. In addition, the investment would future-proof our deployment for subsequent crisis needs.
Once our cross-functional team completed the rigorous design phase and collected all the components, it took us about 48 hours to assemble and test the facility.
After the COVID-19 crisis is past in our region, we'll disassemble the facility and store many of the components, while leaving the access points and switches in place. Using this strategy, should the need arise, we believe re-assembling the facility will take significantly less than 48 hours.
Other pandemic strategies: Remote work and pop-up sites
Like so many other healthcare providers, we've also transitioned many administrative employees to work remotely for safety and business continuity. In our case, it made the most sense to rotate employees between on and off-site work to ensure that IT staff were always available to support our team of healthcare workers.
Fortunately, we recently upgraded our wireless infrastructure with higher density access points. This provided us with an inventory of robust lower-density access points, which we repurposed and configured to operate as remote access points (RAPs). Perfect for off-site home officing.
To accommodate the rotating worksite model, we created a take-home package that includes a RAP, information on how to connect it at home and how to use it with company-issued equipment. Deployments have proceeded smoothly with employees reporting they can get up and running at home without incident.
In addition, our networking infrastructure partnership with Aruba is netting us a turnkey solution for establishing pop-up sites with robust connectivity for data, voice and video. This solution can be deployed easily at one of our ambulatory facilities, which could be used to support a community based drive-up triage, testing and treatment facility.
The solution includes software for easily monitoring Wi-Fi performance from a device perspective, which ensures we can troubleshoot and resolve issues quickly, which in turn allows our medical team to stay focused on serving and treating patients.
Leveraging innovation to meet new preparedness needs
No matter how the current pandemic progresses, or what situation we could face next, we're confident our networking infrastructure provides us with the resiliency, scalability, security and flexibility to handle tomorrow's challenges.
About the Authors
Geoff Frank is the Manager for IT Infrastructure Operations and Sara Birch serves as the Senior Networking and Hosting Engineer for Torrance Memorial, 533-bed, nonprofit medical center established 1925. Torrance Memorial, a Cedars Sinai affiliate, has been an Aruba client since 2005 and has received numerous best hospital awards over the years. 
 Read More About Business Continuity
Serving Our Communities in the Midst of a Pandemic
Establishing Calm in the Face of Chaos
Five Networking Keys to Successful Working from Home
Secure Business Continuity with Remote APs
Aruba's Stay Connected webinar series
Aruba's Business Continuity and Work From Home solutions page