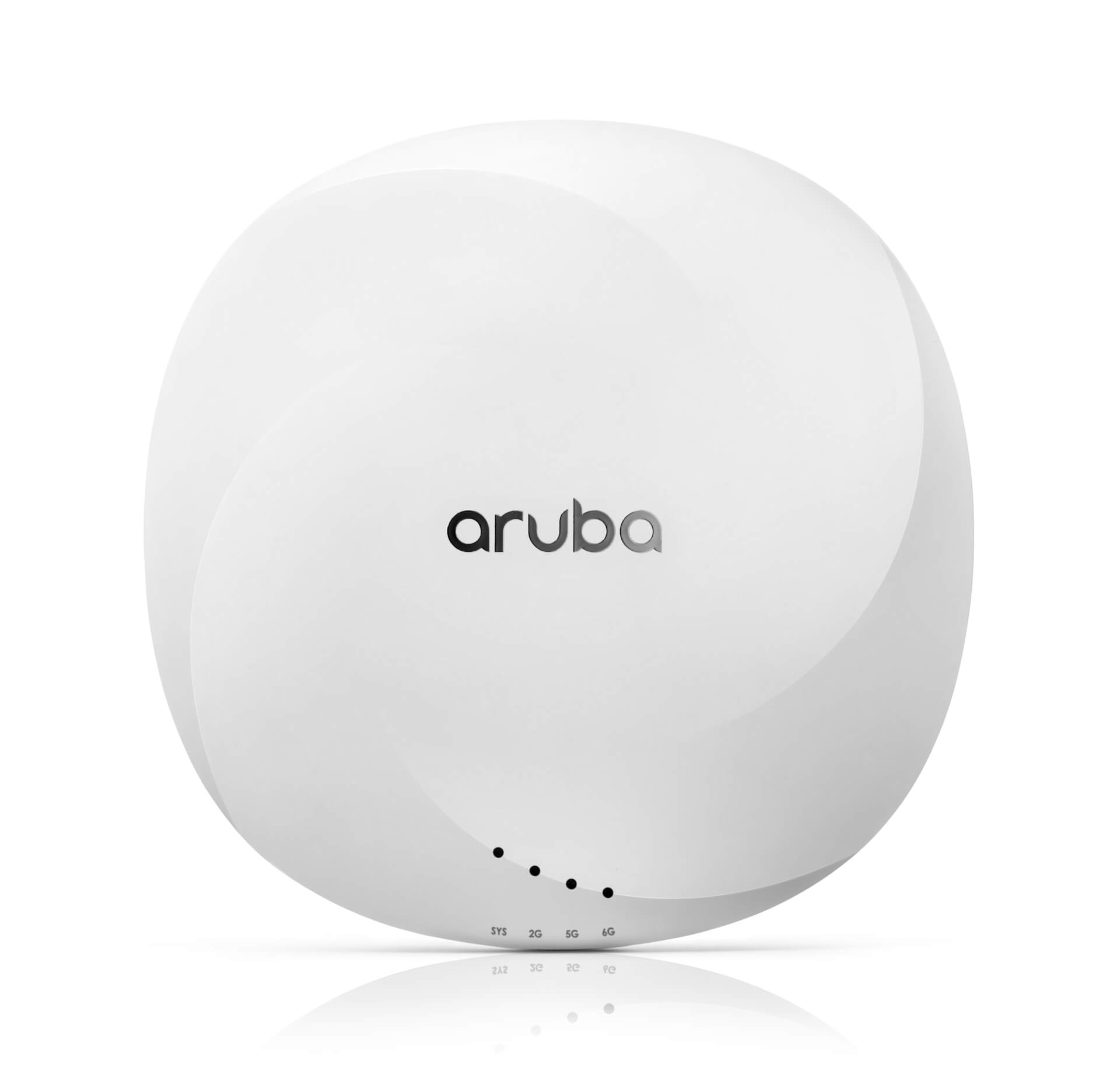 The Aruba AP-635 is the industry's first enterprise-grade Wi-Fi 6E Access Point (AP) on the market. Wait, hold up! What is Wi-Fi 6E? It is all about extending Wi-Fi 6 beyond 2.4 and 5 GHz into the 6 GHz mid-band spectrum. One could compare 6 GHz as analogous to driving a supercar on a brand-new superhighway! Essentially, it allows for faster peak speeds and reduces congestion (traffic jams) by adding capacity.
We announced the AP-635 earlier in May. This AP is the culmination of many years of tremendous effort preparing for Wi-Fi 6E. Kudos to the engineering teams for their rigorous development and testing efforts.
It is a pretty big deal that Wi-Fi 6E enables the use of Wi-Fi in 6 GHz. Getting to this point has been a long journey. And it is largely due to the strong leadership from the Aruba CTO team pushing forward governments and regulators across the globe to open up 6 GHz for unlicensed use.
Ok, cool! What about the benefits around performance? Let's dive in. I will cover the performance results of tests executed by the engineering teams.
Multi-band Test Setup for Wi-Fi 6E
There are two multi-band throughput tests that I will cover, but first, a review of the testbed.
For hardware, we used the tri-radio and tri-band 2x2 Wi-Fi 6E AP-635.
For software, we used ArubaOS 8.9.0.0, which enables support for 6 GHz and 160 MHz channel bandwidths.
The AP uplink is a single Smart Rate multi-gigabit Ethernet port (802.3bz). The link speed is 2.5 Gbps.
Ixia Chariot is the performance testing solution.
Performance Endpoints were loaded on clients using the Intel® Wi-Fi 6E AX210 (2x2) as the Wi-Fi interface.
Each test duration is 60 seconds and the endpoints are tested simultaneously.
Moving on to the tests and the results.
Multi-band Test 1 with 2 bands 6 GHz and 5 GHz
Here we're running 2 bands. 6 GHz and 5 GHz. A single client on each band. In the image below, the 6 GHz client is represented by blue, and the 5 GHz client is represented by red.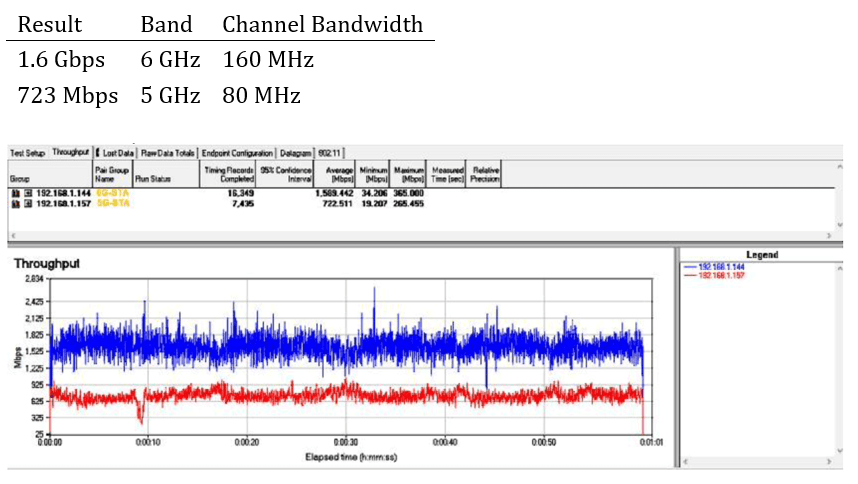 Dual band performance test with 6 GHz and 5 GHz
Multi-band Test 2 with three bands: 6 GHz, 5 GHz, and 2.4 GHz
Here all 3 bands are running simultaneously. 6 GHz, 5 GHz, and 2.4 GHz. A single client on each band. In the image below, the 6 GHz client is represented by green, the 5 GHz is represented by red, and the 2.4 GHz client is represented by blue.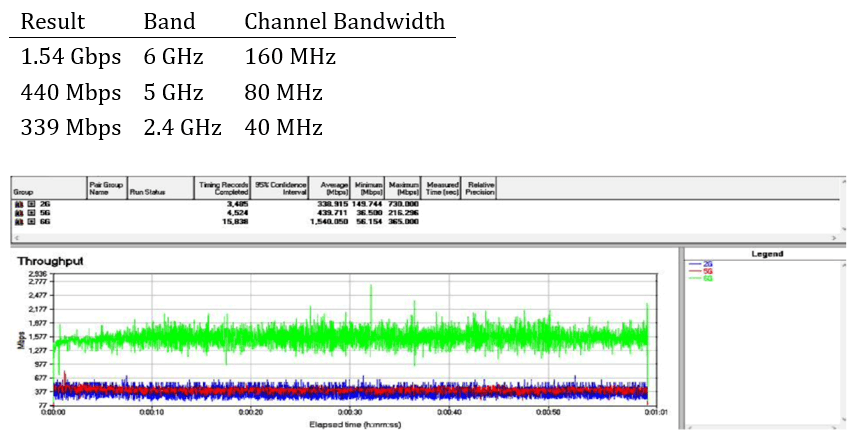 Tri band performance test with 6 GHz, 5 GHz, and 2.4 GHz
Note that we would not typically see the 2.4 GHz radio configured with a 40 MHz channel bandwidth, especially in enterprise deployments. We also found similar aggregate results when testing with a 20 MHz channel width and demonstrated it during Mobility Field Day 6 where we covered Wi-Fi 6E In Action.
Observations
Each of the tests performed in the lab produced a combined throughput of 2.3 Gbps. The bottleneck is the wired interface on the AP and not the radio! With that said, more than 2 Gbps will likely not be realized in the real world from a 2x2 AP. This means 2.5 Gbps link speed is more than sufficient for a tri-radio 2x2 Wi-Fi 6E AP.
No CPU bottleneck in either test.
Throughput remains consistent with no traffic stalls.
Testing 2 bands or 3 bands simultaneously achieves the same results.
The use of 160 MHz channel bandwidth in 6 GHz allows for higher throughput even with 2 spatial stream clients (2x2:2).
These are impressive results. The possibility of real-world multi-gigabit throughput from a single AP raises some interesting considerations for deploying Wi-Fi 6E. See the resources below to learn more.
Learn More