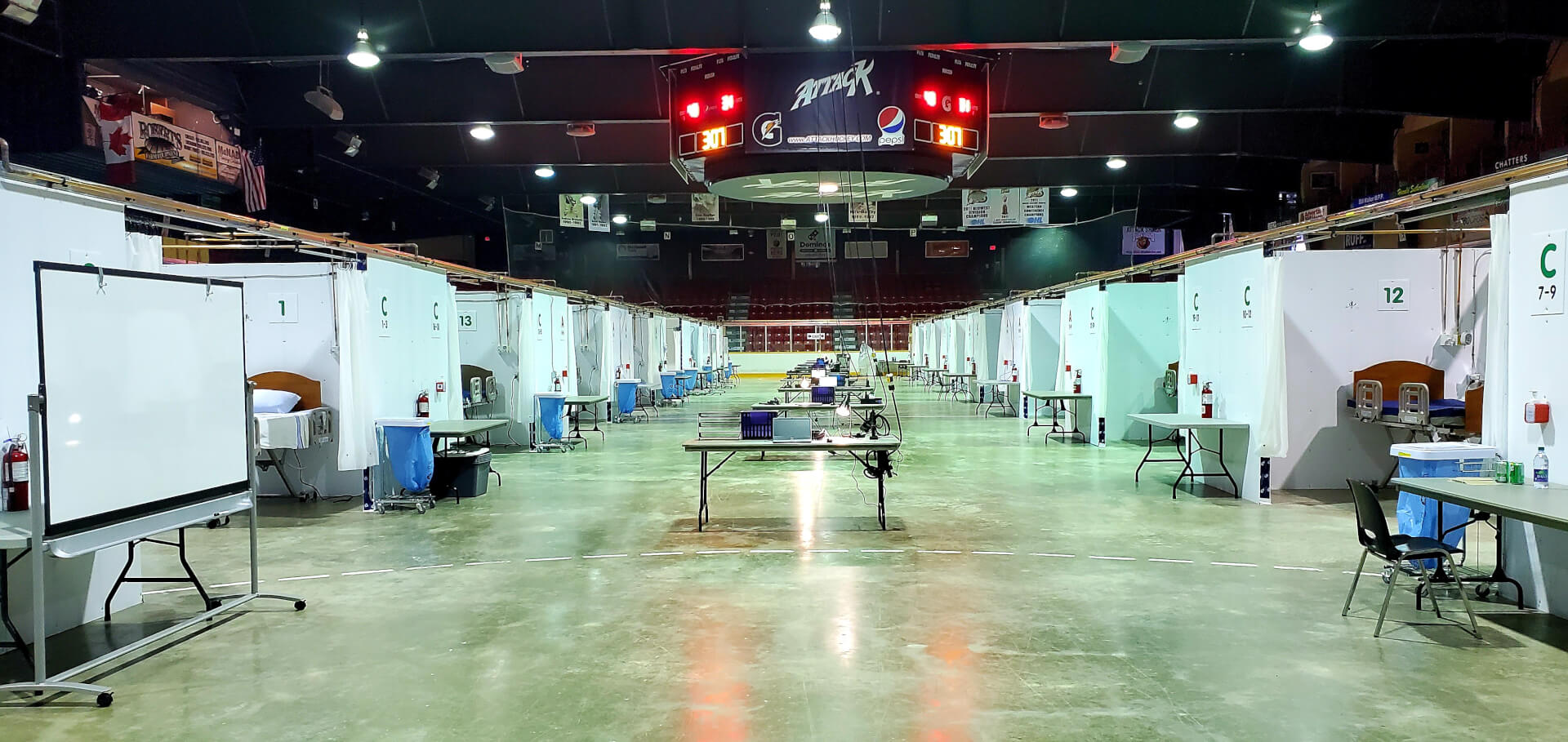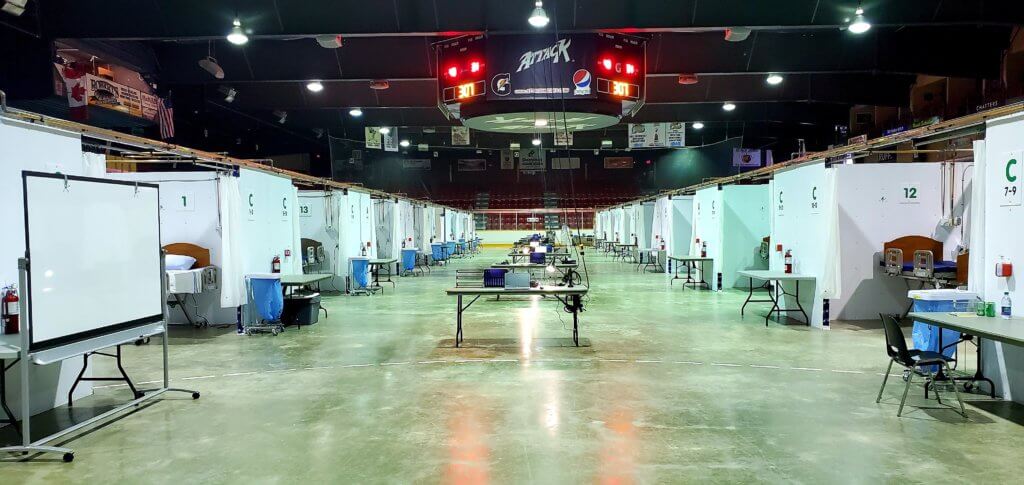 When hockey lies at the heart of your Canadian community, turning the ice rink that hosts your team into an emergency field hospital becomes a meaningful way to serve your constituents. That vision set Grey Bruce Health Services on a path to transform its local 3000-seat arena into a 75-bed non-traditional hospital, with the latest medical and technological advances, for addressing the needs of COVID-19 and beyond.
Establishing on-demand healthcare capacity
Located in the popular holiday destination of Owen Sound, Ontario, Grey Bruce serves a permanent population of approximately 165,000 people across northern Grey and Bruce counties and around 2 million short-stay visitors annually. During average years, this results in about 400,000 hospital visits annually.
With 2020 shaping up to be anything but average, officials in Ontario's provincial government considered how the pandemic was overwhelming existing healthcare resources in jurisdictions worldwide and what actions could be taken. This led to proactively addressing preparedness by asking certain health systems to establish a regional field hospital for added on-demand capacity.
"As a six-hospital health system and the largest in our area, we were selected as one those locations," explains Rob Lee, Vice President of Information Management and Technology, CIO and Chief Privacy Officer for Grey Bruce Health Services.
Due to the rapidly evolving situation, the institution was tasked with standing up a field hospital in two weeks. "Network connectivity was a critical element for extending our existing hospital resources to the emergency facility," Lee says. "This included access to our electronic health record (EHR) system, diagnostics equipment, laboratory gear, bedside systems, and so on. Providing staff with these familiar medical systems in the field environment was key to supplying quality patient care."
For its size and WAN connectivity presence, the Harry Lumley Bayshore Centre's arena, home ice of the Owen Sound Attack, was selected as the field location. "As the design phase began, our Aruba representatives contacted us to share that the company was supporting healthcare organizations like ours with a high-performance, turnkey wireless, and wired solution," Lee says. The solution included APs, switches, and a free six-month subscription to Aruba Central for cloud-based management.
According to Lee, the deployment support his IT staff received was at least as important as the equipment itself. "The APs and switches arrived pre-configured, drastically simplifying our deployment," he says. "When we did have questions, the telephone support team quickly provided answers."
Overall, it took less than three days to design and deploy the network. As the arena is a short drive from the Grey Bruce Health Services data center, the implementation's ease and efficiency were essential for completing the field hospital on time.
Advancing patient outcomes and operational effectiveness
Because the human elements of care are equally vital to enabling positive outcomes, from the start the Grey Bruce Health Services team factored in patient experiences. "We considered how we'd overcome the inherent social isolation required for combating COVID-19 and other crises," Lee says.
Whether the hospital supplied mobile devices or individuals brought their own, Grey Bruce Health Services wanted to give patients access to their loved ones while keeping its internal network secure. "Now, due to our field hospital's innovative Wi-Fi infrastructure, we have guest network capabilities that enable us to do just that," says Lee.
Operationally, another benefit of its new wireless solution is the inclusion of User Experience Insight sensors. Beyond remotely optimizing and troubleshooting connectivity and critical application assurance from the user and device perspective at the field hospital, the institution is considering how the sensors can assist with managing Wi-Fi experiences overall.
"In an effort to improve IT efficiency, we've elected to install the sensors at each of our hospitals," Lee says. "With resources already strained during a pandemic, the sensors can help us meet the many demands while minimizing the number of drives to our various hospital locations."
Preparing for future contingencies
Moving forward, the longer-term value of the institution's new field hospital is its reusability. "We designed the facility to be disassembled, stored, and reassembled as required for responding to healthcare system emergencies, such as this pandemic," says Lee. "Aruba's flexible networking solution is an important element to the success of this model."
Overall, Grey Bruce Health Services appreciates the technology and operations partners who helped make the field hospital happen. "Given the high expectations for healthcare systems to respond quickly during any crisis, we're thankful for Aruba's proactive outreach and support throughout our response to the current pandemic," Lee says.
Video: Learn more about healthcare at the edge
Go deeper
Read more about business continuity in healthcare, education, and government
From Olympic Ice to Field Hospital in a Couple of Weeks
St. James's Hospital, Dublin, enables radiologists to continue their work from home
Four trends healthcare should be thinking about today to provide care tomorrow