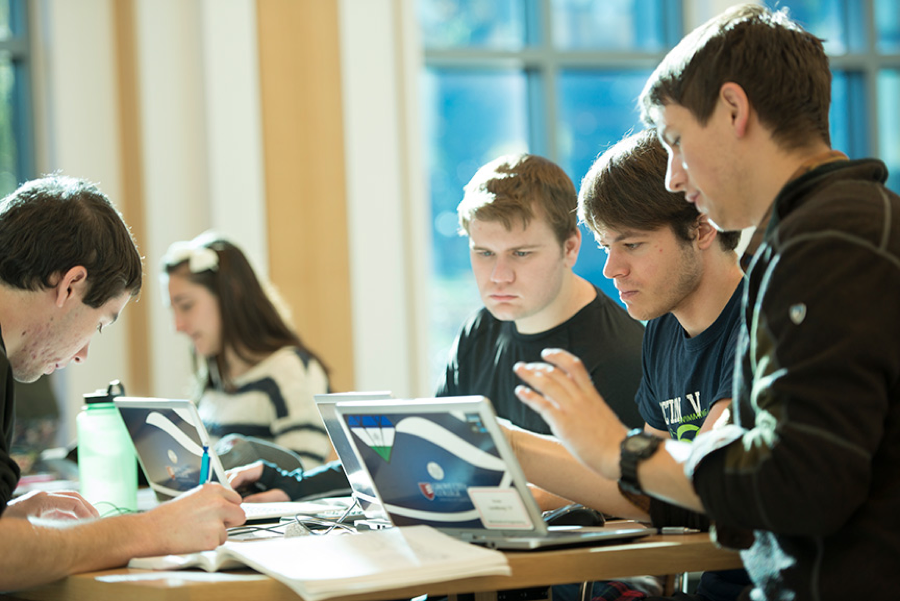 "In my 20 years here, it's the best implementation we've ever had."
– Vincent DiStasi, VP and CIO Grove City College
With the third in our series on leveraging our new class of core and aggregation switches, we'll check out further ways infrastructure born in the mobile-cloud and IoT era is making a difference.
In the first two blogs, Simplicity Now, Simplicity Later: Aruba 8400 and Keeping the Power On: Aruba 8400, we made virtual visits to a coastal school district and an energy company to learn about their reliance on the Aruba 8400 for always-on, high-performance connectivity without day-to-day intervention from IT.
This blog dives into how API-enabled programmability and our industry-leading operating system are helping historic Grove City College, near Pittsburgh, deliver modern experiences for students, faculty, and staff. To learn more, we spoke with Vincent DiStasi, VP and CIO, along with Michael Aque, Network Engineer, about their recent core update to the Aruba 8400 Switch Series.
We understand you face some unique challenges. Can you tell us more?
Vince: Unlike a corporate setting, where the primary traffic load occurs between 8 a.m. and 5 p.m., our 180-acre residential campus is also home to 93 percent of our students, meaning our customers expect connectivity 24 hours a day for the multiple devices they own.
In Higher Ed generally, usage patterns are changing dramatically. Today's students use classroom time to gather information and then they process it outside of class with their colleagues and friends. Also, the increasing adoption of collaborative learning is shifting traffic to various locations on campus, depending on time of day. And, when students finish working, their off hours frequently include data-intensive loads such as streaming videos, gaming or using Skype to connect with their distant communities.
Mike: Classroom needs are also evolving as video utilization become ubiquitous. This ranges from shooting footage of music students learning to be conductors for technique evaluations, to enabling screen capture of a research project with tools like Camtasia Studio to build classroom presentations. Plus, we expect considerable 3-D technology implementations across disciplines, with heavy emphasis in areas like engineering and chemistry.
How did all of these unique challenges become drivers for adopting the Aruba 8400 networking switch?
Vince: As someone is utilizing our network for teaching, research, collaborative learning or entertainment around the clock, a resilient and high-performance network is critical to delivering on experience expectations. Also, with such a high residential population we have significant security requirements, including video surveillance, and door access systems. What's more, the lean staffing model at our 500-employee institution necessitates adopting solutions that increase our productivity in order to meet new computing demands.
Mike: With our existing HPE core solution aging and exponentially greater data traffic expected over the next five years, we required a robust and reliable solution with self-healing features to ensure we could meet our community's always-on expectations. In addition, we wanted a solution that offered management innovations to address the unification of wired and wireless at our core while simultaneously reducing operational overhead.
Why did you select the 8400 instead of another solution on the market?
Vince: Although the short answer is "what's not to love," we can address that by drilling down on the various features:
1) API-enabled Programmability
Vince: We were excited about the 8400's capability to use programming scripts for task automation. The operating system, ArubaOS-CX, is unique in the industry and supplies limitless possibilities for simplifying management using the Python language.
Mike: If you're a CLI-junkie like me, who is unfamiliar with Python, the 8400 provides a multitude of templates right out of the box. I've successfully used many of the supplied templates, which makes it feel less like learning to program and more like learning a new way of doing things. Even so, if you're a younger worker who's grown up with scripting, you'll also feel right at home.
2) Aruba Network Analytics Engine
Vince: The analytics engine is equally exciting for all the visibility it brings to traffic patterns and trends. As our utilization varies dramatically over the course of the day, it's critical to know whether a change in the middle of the night is normal or an anomaly. In either case, it could require addressing. With the analytics engine, we can see those trends and still get a good night's sleep.
Mike: A truly welcome capability is intelligent baselining. I'll give you an example. We recently deployed a new cloud continuity solution which resulted in a significant internet traffic utilization spike from 2 a.m. to 5 a.m. Not only could I verify the event was legitimate, over time the analytics engine learned it was normal, adjusted the baseline and stopped sending alerts.
3) Intuitive UI
Mike: Beyond creating efficiencies due to shear intuitiveness, the UI gives me a single pane of glass for management and troubleshooting. Now, I can apply a script to gather information from multiple traffic tables and present it to me in a manner that's fast to consume. It cuts the discovery and correlation processes from the better part of an hour, or even several hours, to seconds.
Vince: As I'm no match for Mike's capabilities, the UI makes it easy for Mike to walk me through things I need to know as his back up. That's important peace of mind and operational effectiveness when Mike needs to be away.
4) Live Updates/Upgrades
Mike: We're an early adopter of the Aruba Virtual Switching Extension (VSX), which enables us to run two 8400's in tandem for redundancy and HA. With VSX we can apply updates or upgrades in real time, without impacting any traffic. This feature has worked flawlessly.
Vince: From a staffing and security perspective, this capability is killer. Not only can we perform updates during business hours, but we can apply any emergency security fixes immediately, without anyone even knowing we did so. The VSX capability is a critically important feature for making our network self-healing and helping safeguard users.
Wow, it sounds like you're really putting the 8400's innovations to work! Can you tell us about your deployment experience?
Mike: We took a staged approach. We began by using the switch for a limited amount of institutional traffic. Meanwhile, Aruba's engineers came onsite to help us design the deployment plan. Then, on the appointed day, we simply migrated traffic into the 8400 environment according to the plan.
Vince: In fact, it was so seamless we moved subnets to the new switch environment starting around 9:00 a.m. and nobody noticed. In my 20 years here, it's the best implementation we've ever had. I can't say enough about the engineering team Aruba has assembled around the 8400.
Thank you for such high praise. How about 8400's benefits to your business, what have you experienced thus far?
Vince: We're already becoming more proactive than reactive. With the automation, analytics and visibility enabling us to see trends over time, we can focus on why a behavior is occurring rather than launching into reactivity mode because something's broken. We're looking forward to better and faster decision-making, which is really powerful for us.
To learn more about how your modern mobile, cloud and IoT environment can benefit from the Aruba 8400's flexible and innovative approach to new application, security and scalability demands, click here or contact your Aruba team.
In This Series:
Simplicity Now, Simplicity Later: Aruba 8400