Today's higher education needs are changing. Students expect a seamless, always-on network experience whether they are in a study lounge, football stadium, or dormitory. More users need to be on the network at all times, sharing files, voice, and video. With these new trends in the education realm, IT teams are looking for more intelligent solutions to keep up with today's network challenges.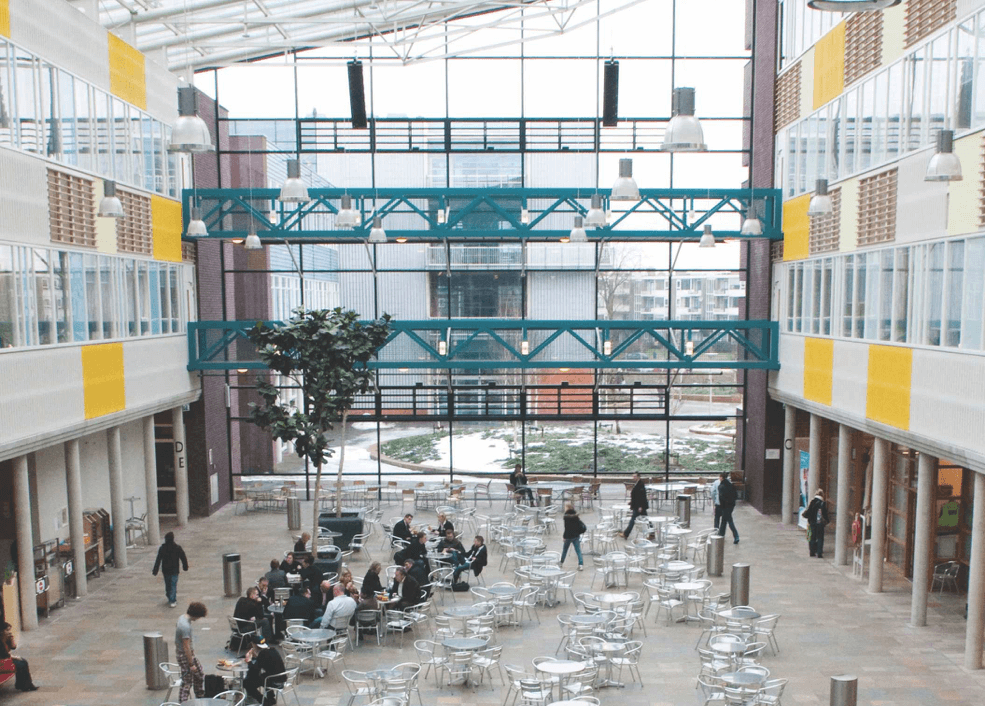 The Netherland's Regional Training Centre
Friesland College is a vocational school in the Netherlands that has more than 10,000 students and 1,300 faculty members. When Friesland refreshed its aging network with a private cloud solution that offered mobility tailored to collegiate usage, it decided on Aruba's core switching solution for its software-defined capabilities such as programmability, automation, and analytics. Our Aruba 8400 core solution is one of our newest innovations in the campus core and aggregation space.
Before the refresh, every building had its network and IT support team. Each team managed countless servers and could feel the weight of new methods of network usage such as video streaming, new education technologies, and online course offerings. When Friesland was ready to deploy the Aruba 8400 switch, it had a running network by the end of the day.
Innovative, Flexible Campus Core and Aggregation
Our game-changing solution in the core and aggregation space has sparked a huge amount of attention. With a flexible and innovative approach, the 8400 comes ready with the Network Analytics Engine (NAE) built into ArubaOS-CX network operating system for higher visibility, faster troubleshooting, easier automation, and improved network assurance. REST APIs allow for programmability and modularity. For high performance in a more compact 1U form factor, the Aruba 8320 Switch Series runs the same innovative ArubaOS-CX.
Friesland College Realizes Tangible Benefits
Friesland College only recently deployed the Aruba 8400 switch, but the 8400's capabilities already have had a positive impact on its users. IDC, a leading provider of market intelligent and advisory for the IT industry, worked with Aruba to perform an ROI study on the impacts of the Aruba 8400. Based on interviews with the college's IT team, IDC calculated that Friesland would see $493,119 of total benefits over a three-year period—resulting in an ROI of 166% over a payback period of three months.
Before, Friesland's IT team had a hard time allotting enough time to address the many network issues experienced by students and faculty, including many complaints about inadequate Skype performance. Ronald Kollen, an IT consultant at Friesland, commented, "Before when we experienced performance degradations, we couldn't pinpoint it to one specific thing. That's all changed with the 8400. It's already meeting my expectations of improved network performance and solving the issues we couldn't pinpoint on the old system."
Friesland College chose the Aruba 8400 switch based on its programmability, automation, monitoring, analytics capabilities, and high throughput. "Using network statistics and automation to improve network performance is one of the most powerful features of the 8400. It can directly improve the user experience without even requiring IT involvement," commented Kollen. IDC also noted that having REST APIs and built-in Network Analytics Engine also provided high automation and increased visibility.
Friesland College takes its high standard of education seriously. It wants students to be able to take advantage of top-of-the-line facilities and services, which it recognizes as crucial pillars of delivering quality vocational education.
Read the IDC Expert ROI Spotlight study on Friesland College.