People expect great Wi-Fi no matter where they are—and that includes outdoors. Workers want to be able to work anywhere on a corporate campus, walking between buildings, wrapping up that customer call while parked outside, or enjoying the sun over lunch. Students want to collaborate on that class project and watch Netflix from the quad. Smooth warehouse operations depend on reliable communications starting at the loading bay, into the refrigerated areas and all the way through to staging areas. So do ports and other industrial sites.
With the introduction of the Aruba 360 Series Access Points (APs), Aruba continues its history of innovation. These 802.11ac Wave 2 access points deliver cost-effective connectivity for mobile and IoT devices in outdoor environments at businesses, schools, retailers, and in industrial settings.
The 360 Series APs are designed to survive in harsh outdoor environments—from the frigid tundra to the blazing hot desert, and in humid and wet environments. They're fully sealed to keep out airborne containments.
The 360 Series APs are ideal in moderate density deployments, and they can be mixed and matched with the 270 Series APs, which deliver the highest performance and density.
Smaller, More Affordable APs
Delivering great outdoor Wi-Fi can be challenging, and Aruba is committed to removing the barriers with solutions like the 360 Series.
The 360 Series APs offer several key benefits:
Cost-effective connectivity –The 360 Series APs deliver a maximum data rate of 867 Mbps in the 5-GHz band and 400 Mbps in the 2.4-GHz band, while supporting MU-MIMO operation for simultaneous transmission for up to two 802.11ac Wave 2 devices. The 360 Series can detect, classify and group 802.11ac Wave 2 capable devices under a single Wave 2 radio, increasing network capacity and efficiency. An integrated Aruba Bluetooth Low Energy (BLE) beacon simplifies remote management and provides advanced location, indoor wayfinding and proximity-based push notification capabilities with Aruba Meridian.
Dependable connectivity – The Series 360 is the second (the other being Aruba 270) outdoor AP in the market to have a limited lifetime warranty. This is possible thanks to our engineers' innovative thermal designs and by eliminating the need for the most failure-prone components, a heater or fan. Fewer moving parts means greater reliability. All electrical interfaces have include industrial-strength surge protection and the enclosure has a Gore-Tex plug to equalize pressure while preventing dust and moisture from being drawn into the AP when it goes through a cooling, and hence contraction, phase.
Easier to deploy – Specifying and installing outdoor APs can be very complex. In the past, you needed to order and install a dozen different components like antennas, RF cables and lightning arrestors. No more. You simply choose the model, whether the AP-365 (omnidirectional and perfect for wide outdoor coverage, usually mounted on a pole) or AP-367 (directional and great for mounting on the outside of a building) and select the mounting bracket. That makes installation much easier when you're perched 20 feet off the ground on a ladder or in a bucket truck.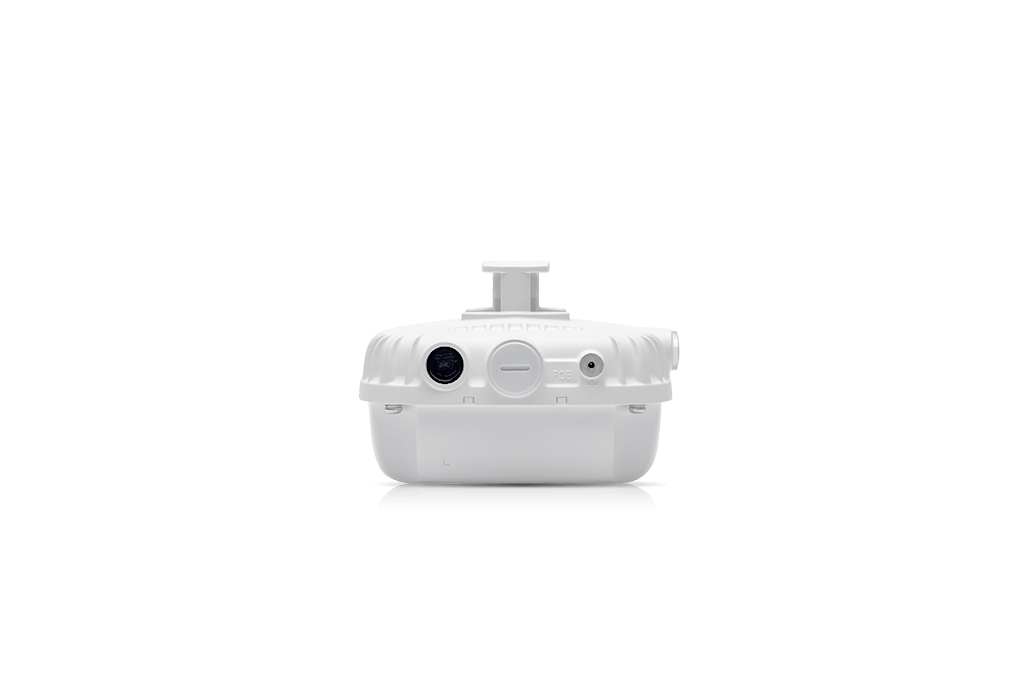 Boosting Creativity and Sales with Outdoor Wi-Fi
Aruba helps customers of all sizes extend their mobility coverage outside the office or venue.
The artists and engineers at DreamWorks have the same digital workplace experience, whether inside their buildings or outdoors. DreamWorks recently deployed Aruba APs for outdoor Wi-Fi across the 11-acre campus—all painted to blend in with the building colors for maximum aesthetic appeal. Now there's great coverage everywhere – when artists walk between buildings, brainstorm in the warm Southern California sun or take a quick break on a patio or balcony.
Great outdoor coverage is within the reach of smaller organizations like Cedar Rapids Country Club in Iowa, too. There, members expect to stay connected whether they're on the golf course, swimming laps at the pool or just finished a set of tennis. Increasingly, people still want to be productive, even when they're relaxing. But poor outdoor Wi-Fi was causing frustration for the club members and staff. People couldn't connect their mobile devices, phone calls dropped, and they couldn't always make purchases because the mobile payment system went down when the Wi-Fi went out.
With outdoor 802.11ac Wi-Fi from Aruba, the club now delivers a great experience. Not only can members stay connected as they please, but also with the BLE beacons embedded in the APs and Meridian, they can order food and have it delivered to their golf carts or poolside.
Ready to learn more?
Learn more about the Aruba 360 Series Outdoor Access Points.  Download the datasheet
Watch DreamWorks and Aruba talk about outdoor Wi-Fi. « Watch the webinar »