Before we start... go ahead and start Google Maps or Apple Maps, whichever is your favorite, on your smartphone. Do you see your glowing blue dot? Everything around you is labeled clearly for you to discover, drawn on a beautiful map. These apps even tell you how long it will take you to walk down to the closest coffee shop. You can literally see yourself moving on the map as the blue dot guides your path. And the crazy thing is we all learned to expect this amazing technology to just always be there. There are high school students who do not know of a world where this glowing blue dot does not exist.
Amazing how quickly these apps have become part of our daily life. During the last several months, we at Aruba tried to improve on the experience and asked ourselves a very simple question: Could we deliver the same experience to every smartphone indoors?
We are starting to tackle the challenge with public facing enterprises - think retailers, hospitals, hotels, convention centers - where there are more visitors than employees or staff. The reason is the undeniable demand for location-based services and/or contextual marketing that retailers, stadiums, healthcare institutions, and others are trying to enable indoors. Their target is the smartphone that every one of their visitors seems to bring with themselves to their venues. As visitors are not able to take their eyes off of their smartphone screen, brands everywhere are rightfully in search for a solution that will allow them to gain real-estate on that 4 to 6 inch screen.
Our solution to this demand of course starts with Wi-Fi that just works. To give you an example of what's really possible, let's talk about the Levi's Stadium - new home for the San Francisco 49ers NFL football team. Levi's team is relying on Brocade for wired and Aruba for Wi-Fi connectivity within the stadium. Reports show that the Wi-Fi usage and performance numbers are off the charts. Great mobile experience for visitors demands a great data connection on their smartphones; without it, mobile apps for venues such as Levi's are inaccessible and the multimedia-rich indoor content is simply unreachable.
Levi's did not stop there though. They partnered with VenueNext, an app developer firm operating in Palo Alto and New York, to deliver an (amazing!) mobile app to the smartphones of their fans. Mobile game tickets and parking passes? Check. Live video replays within 10 seconds of major plays on the field? Check. Ordering pizza from your seat? Check! Level of visitor engagement and the ability for Levi's to be "sticky" to every smartphone that enters their venue is unprecedented.
But there is more. When you are sitting among 1000s of fans at the stadium, Levi's mobile app figures out your precise location indoors to tell you that you have seven minutes of walk time to the food stand where you just ordered your pizza from. It even shows you how to get there with turn-by-turn directions.This experience is powered by Aruba Beacons that leverage Bluetooth Low Energy (BLE) technology to power indoor location and wayfinding, if the visitors have opted into the app's permissions.
There are two types and categories of beacons we offer as part of our mobile engagement solution:
1. Types of Aruba Beacons are defined by the way they are manufactured. They are either battery-powered (lasting 1.5 to 2 years depending on configuration) or USB powered. USB beacons can be installed on USB plugs on the walls or USB ports behind an Aruba access points if available.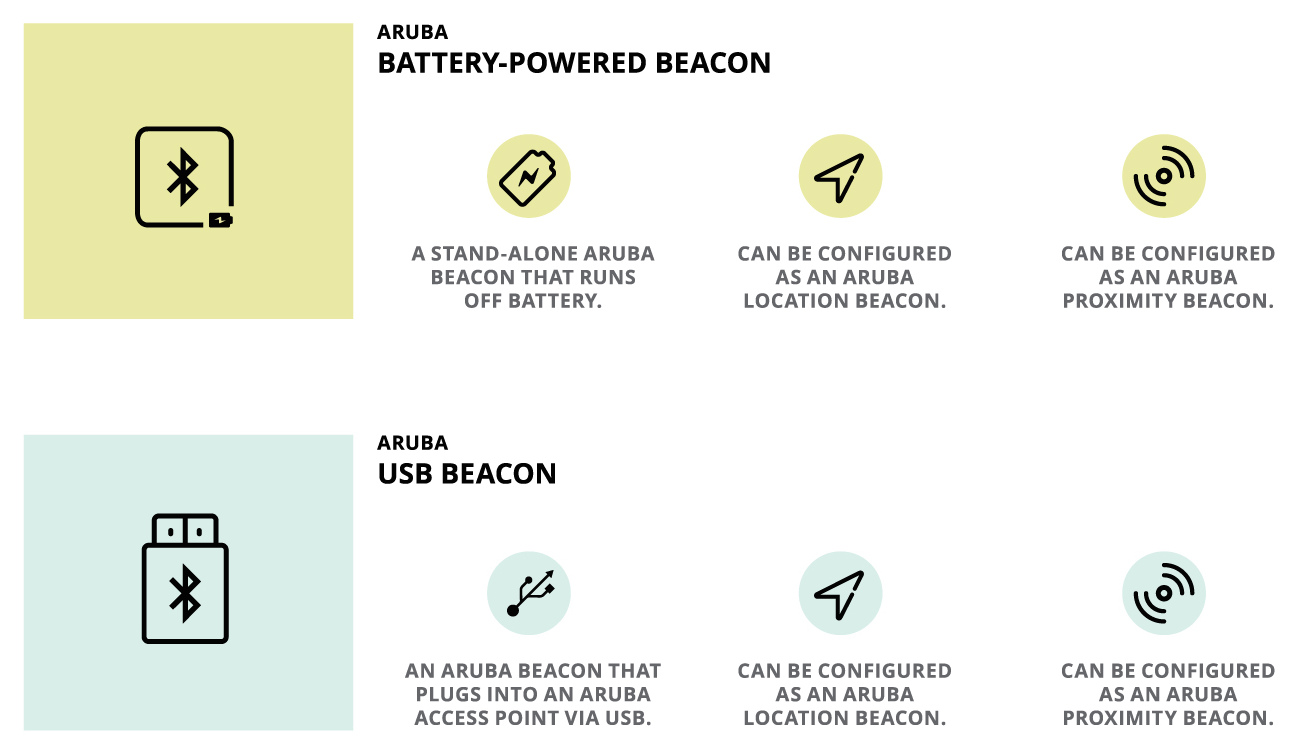 2. Categories of Aruba Beacons are defined by the way they are configured and installed. The ones that are configured for "locationing" help mobile apps identify the precise indoor location of smartphones. The ones that are configured for "proximity" help mobile apps to wake up and present push notifications on the smartphones when they are close enough to the beacon. This distance for push notification is configured via transmit power control on the "proximity" beacon.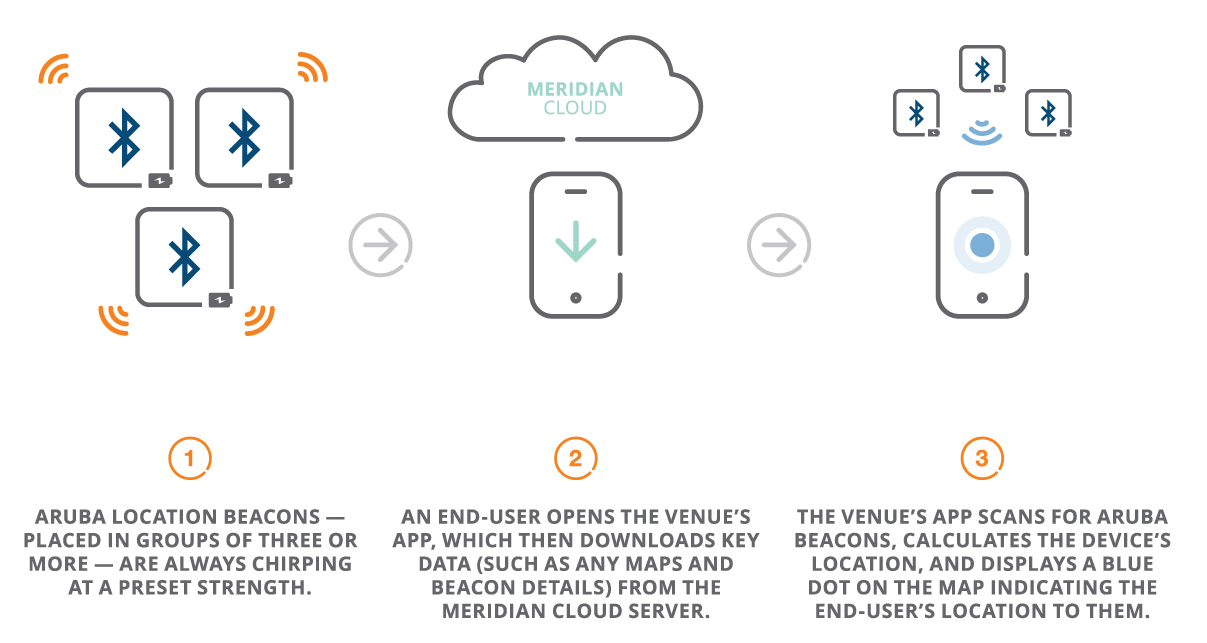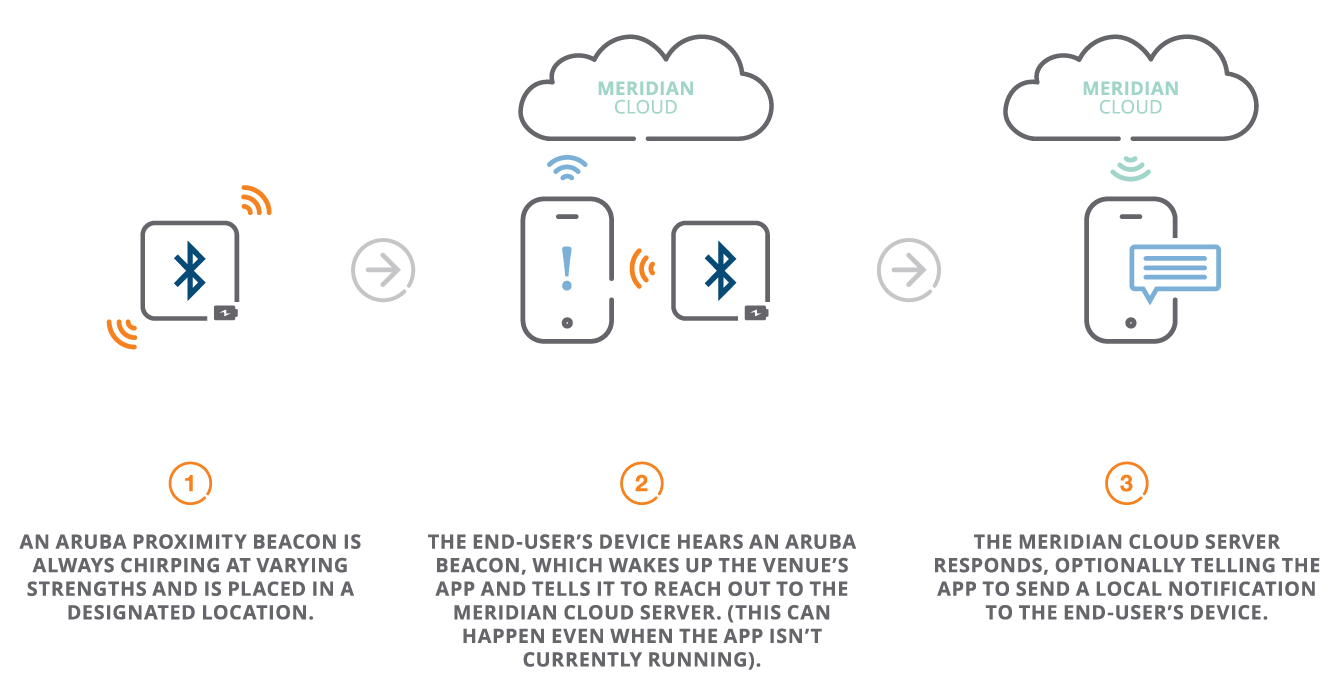 Beside the product specifications, if you want to read more about Aruba Beacons and the Apple's iBeacon API, take a look at Nick Farina's blog titled "Let's Talk about Beacons." For those of you who do not know Nick, he is the developer extraordinaire who co-founded Meridian before the team became part of the Aruba family back in May 2013. I am sure you will appreciate the amount of detail he provides on the topic - and you will clearly see that Nick is as good at writing as he is at coding!
If you have been following us since May 2013, you know that digital, smartphone friendly indoor maps is a unique feature that our Meridian mobile app platform offers to mobile app developers everywhere. Simply ask our Meridian team to convert an AutoCAD drawing to a smartphone friendly digital map, and voila. Points of interest on these digital maps can be edited easily by app developers, and marketing folks who work with them. Here is what it looks like for the Levi's Stadium. With these two pieces of the puzzle working together, loyal 49ers fans never lose sight of the familiar glowing blue dot - even when they are indoors.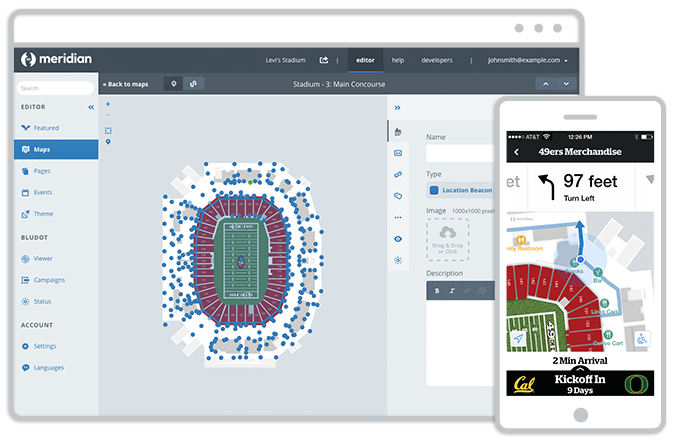 Developers can take advantage of iOS and Android friendly Meridian software development kits (SDK) to update any existing mobile apps. Using a mobile app powered by indoor maps allows visitors to take advantage of turn-by-turn directions as they move between points of interest indoors, and allows IT's business partners in marketing to engage with those visitors based on contextual location-based information. As you might have noticed, developers also have direct access to Meridian team through this app developer zone in case of questions and comments. Faster your developers can find answers to their questions, easier your job gets.
If you are in IT and responsible for supporting the technology infrastructure for public venues, you have all the right to ask yourself a very simple question: "How do I manage hundreds of these beacons?" And if you are a business partner to IT in marketing or business development, you are probably thinking: "How do I overcome privacy concerns of my customers?"
Let's answer these questions in our next article. In the mean time... in case you have any comments, please let us know, we would love to hear what you think. And feel free to follow and join the discussion on Twitter with #arubabeacons.
Thanks for tuning in.