Smartphones and tablets are everywhere. Multiple experts project that the number of smartphones will jump from 1.44 billion in 2013 to more than 2 billion in 2016. With everyone connected all the time, email flows in and out at all hours. Who hasn't been out at the grocery store, soccer game, when a new email arrives? You might not reply instantly, but depending on the urgency of the message you will most likely reply before the next business day.
Mobility is significantly changing the way work and business get done. The explosion of smartphones and tablets is transforming the way we communicate and manage our business and personal lives. The combination of mobile devices and cloud-based apps is also changing the very nature of our work environments, and the #GenMobile workforce expects to be able to work anytime, anywhere.
To support employee productivity in this new work environment—whether working from home, in meeting rooms, or in global or client offices - SMBs need a simple, reliable and affordable network infrastructure that can be supported with limited IT resources while still providing the reliable connectivity required by today's mobile employees.
By empowering employees to interact seamlessly with customers and partners SMBs can build a competitive advantage, increase revenues and speed new product development. A recent article in Forbes shows that SMBs that adopt mobile technologies are seeing two times the revenue growth and up to 8x times the number of jobs created based on their adoption of mobile technologies.
4 steps SMBs can take to move to a mobile-first, cloud-first campus are:
1. Optimize the network for mobility with 802.11ac
Aruba Instant access points powered by the latest 802.11ac technology, feature fast set-up, enterprise-grade security, a built-in management dashboard, and gigabit Wi-Fi speeds – all in one affordable package. The Aruba Instant solution offers SMBs:
Simplicity with a fast set-up that does not require network expertise, and a free built-in management interface.
Performance tested 10x faster than competing solutions when connecting lots of mobile devices all at once, and scalability as businesses grow.
Security with built-in firewall and smart application handling for granular visibility and control of applications.
Reliability with no single point of failover and network survivability to the last access point.
Optimized performance for Office 365 collaboration applications with Aruba Instant AppRF
Investment protection with a flexible architecture that allows customers to evolve to a cloud or controller based architecture as the business expands and network requirements change
2. Integrated switching platform to support the mobile first campus
A selection of basic L2 and L3 high-performance switches provide resiliency for the mobile first campus.

(Source: http://www.arubanetworks.com/products/networking/switches/)
Our switches offer robust security, QoS features and stacking capabilities to build a mobile first campus network that meets corporate policies and compliance requirements and is also ready to support the next wave of the 802.11ac standard with multi-gigabit Smart Rate ports and SDN
3. Management options that evolve with your business needs
With an increasing number of devices connecting to the network, IT needs more granular visibility into users, devices, and applications running on the network to minimize business disruptions. For SMBs Aruba offers flexible management options including the ability to manage your Instant network locally, in the Cloud with Aruba Central or on premises with Aruba Airwave. The Instant access points include a free local management interface that provides visibility into the network and all capabilities to manage the Instant network.
Aruba Central cloud management platform offers IT administrators a simple, secure and cost-effective way to manage their Instant WLANs as well as integrated capabilities such as guest Wi-Fi and application analytics. It also comes with automatic firmware and maintenance management and PCI compliance reporting.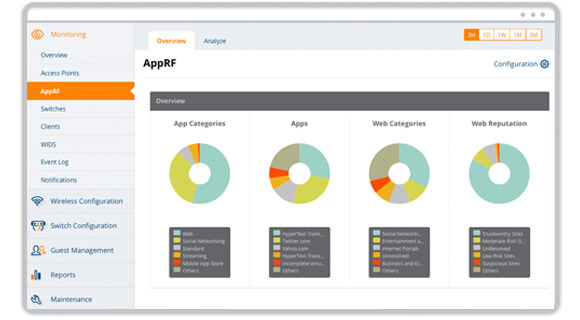 (Source: http://www.arubanetworks.com/products/networking/management/central/)
Aruba AirWave offers zero-touch provisioning with Aruba activate and delivers a powerful and easy-to-use network management solution for multi-vendor wired, wireless, and remote networks. This powerful tool not only allows you to monitor your entire access network but also helps you improve the user experience with rich analytics.
4. Secure the network with smart policy management
The Aruba ClearPass Policy Management Platform allows IT to assert and enforce trust on every user and device on the wireless, wired and VPN network. To do this, ClearPass leverages real-time, trusted, contextual data – a person's role in an organization, device and app attributes, location and insight from third party security solutions – to create policies that satisfy highly mobile security needs.
ClearPass works across multivendor networks offering mobile device profiling, BYOD and guest onboarding services, and integrates with MDM, EMM, firewall, and SIEM solutions from other vendors. Scalability and load balancing ensure that ClearPass will meet evolving business needs.
Learn more about our mobile /cloud solutions for SMB here.