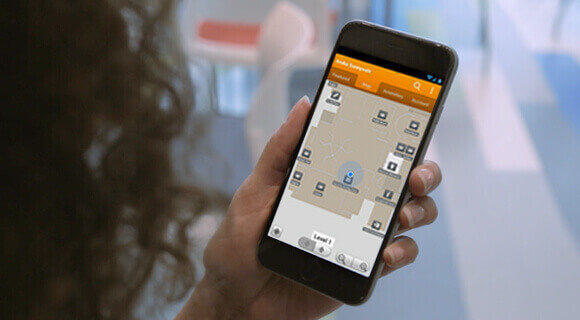 Are employees and management asking for a mobile experience? With almost everyone tied to a smartphone today, more and more corporate organizations are considering employee-only mobile apps. The idea is to put the Intranet and more in the palm of an employee's hand so that wherever they are, they're always connected. But, along with the benefits, come challenges.
Limiting Access to Just Internal Staff
There are a number of ways to distribute an app, but I'll cover what I think are the best two methods. At Aruba, we've published our app to the public Apple and Google stores for employees to download. Once downloaded and started, employees, are expected to enter their login and password in the app to actually use it. Because we're using single sign-on (SSO) that leverages Aruba ClearPass (yes, you can use something similar) and Microsoft Active Directory, this ensures that only active employees have, and continue to have access.
Other companies distribute their app directly to employees via mobile device management (MDM) like MobileIron, Intune, or AirWatch. Using MDM with a corporate app has the added benefit of keeping the app securely out of public view, but it creates an additional step when deploying the app to a large number of employees.
Securing the Data within an App
The second thing to consider is what data, like the maps of a location, you will allow someone to potentially see. Most organizations prefer not to share the maps of their buildings with non-employees. The goal is to ensure that your mobile app supports a secure HTTPS method for accessing sensitive data. In addition to maps, this extends to internal information like employee contact lists, product information, and more.
Adding Location Services
Speaking of maps, the ability to build in dynamic wayfinding and opted-in location sharing within an app can greatly increase its value and use. A majority of users will keep Bluetooth running on their devices, which lets you leverage our Meridian AppMaker and SDKs, Bluetooth Low Energy (BLE) Beacons in our APs and standalone versions.
Getting Started
In summary, make sure your corporate campus app has:
Limited access via SSO linked to Active Directory
HTTPS transmission of all map and internal data
Indoor location with turn-by-turn directions to placemarks
The ability to find coworkers that have opted to share their location
Meridian AppMaker supports all of these capabilities and can be deployed in a matter of weeks for both iOS and Android devices. Alternatively, if a company wants to build its own custom app, the Meridian SDK supports these capabilities. Using this approach opens the door to unlimited possibilities like conference room booking or location-aware notifications in emergency situations.
With either approach, employee-facing mobile apps that put the power of a location-aware Intranet in the palm of employees' hands will soon become ubiquitous. If your company decides to offer one, make sure you take the above steps to ensure it's secure and provides significant value.
Learn more about Meridian AppMaker.